Surge Into The Season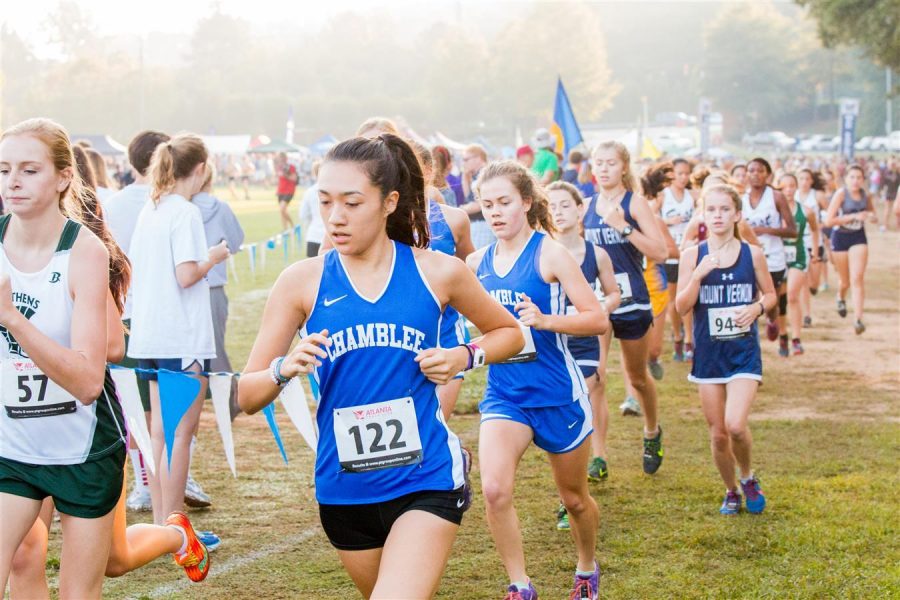 Starting off their season with big goals in sight, both the boys and girls cross country teams are focusing on the future with great optimism. Looking to uphold high expectations, head coach, Hakim Felts, has amped up the training and is prepared to undertake any obstacles this upcoming season may have.
As a second year coach, Felts has seen both teams grow and mature in many different aspects of the sport, both on and off the field. However, one major growth that he noticed was the confidence level within his athletes.
"I saw the confidence from when I first joined the team last year, then we won our first trophy at Arby Gunderson and then they knew that they can do it," said Felts.
This trophy definitely sparked something in the Bulldogs because both the girls' and boys' teams went on to become eighth in the state, which was the first time in almost a decade for the girls and a new Chamblee record for the boys.
For some athletes, these high rankings may have caused tryouts to seem a little intimidating, but that was not the case for new student Karina Delgadillo.
Standing out from the rest of her teammates, Delgadillo has already made some major advancements in her short time here.
"She is making really good progress. In one meet her time dropped by three minutes which is outstanding, so she's looking really good for us," said Felts.
Delgadillo, a junior, really appreciates the effort and the time both her coaches and her teammates put into perfecting their craft.
"Cross Country itself wasn't taken as serious in Ohio as it is here, especially at my school. The training here pushes us [the team] forward and they [the coaches and captains] actually help us get better," said Delgadillo.
In addition to both the boys and girls team gaining new players, they have also gained new captains.
Boy's head captain Liam Henderson is excited for the season and happy with the accomplishments his team has already made.
"After the Double Dip Invitational we found out that the boys are ranked eighth in the state, which is pretty exciting," said Henderson.
This meet not only affected the Chamblee history books but it also kindled a fire in some of the athletes.
"I think that it [Double Dip Invitational] has definitely brought up the moral of the team a lot because people are now starting to realize that what we are doing works and pays off. It's starting to show that we can compete with anybody and should be looked out for," said Henderson.
While the season has just started and many accomplishments have already been made, there are still a few things that need to be improved upon.
Team chemistry and leadership are a couple of them.
"I think there is a lack of encouragement to people who are not doing as well as the others which could really help us I think," said Delgadillo.
Even though improvements still are being made, both the coaches and the athletes all have one thing in common, they are all looking forward the state meet at the end of the season.
"I am really looking forward to state meet, I think the boys and girls who run at the state meet are going to surprise themselves with how well they do and I'm looking forward to seeing those results," said Henderson.
There is still plenty of time left in the season for both the boys and girls team to achieve many new accomplishments and break many more records. Keeping up the good spirit and leadership hopefully takes them to where they want to be.
"If I had to describe this team I would use the words consistency and just guts. They just really want it; They want to get better and no matter what I take them through they continue to come back and I feel like if they are crazy enough to come back after some of the workouts I give them then the sky is the limit," said Felts.