Chamblee Students Compete in Art Throwdown
Ten Chamblee art students joined other Atlanta-area high schools and the Savannah College of Art and Design to show that art can be as competitive as traditional sports. The Art Throwdown was hosted by the Atlanta Botanical Gardens on Saturday, October 1 and featured a variety of art forms, including sculpture, photography, landscapes, and Vines.
This is the second year that Chamblee has attended, and the third year for the Throwdown overall.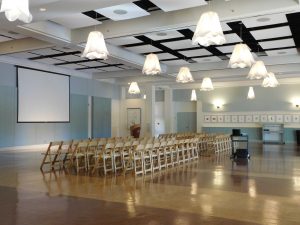 On Saturday morning, students, teachers, and parents assembled in Day Hall to arrange their brought materials, check equipment, and mix paints before the competition began. The day began with a presentation by John Brandhorst, a visual arts teacher at Grady High School and one of the competition's organizers, explaining the purpose of the throwdown: to hold a new kind of art competition, one that was timed and let friends and parents observe how students created their art.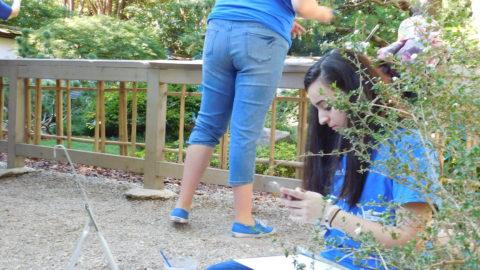 After the presentation, competing students grouped together by their category while event officials explained rules for the events.
The events were Chihuly response sculpture, water sumi-e style painting, vine/looping video, botanical scientific illustration, digital photo, plein air impressionist landscape painting, and American haiku poetry.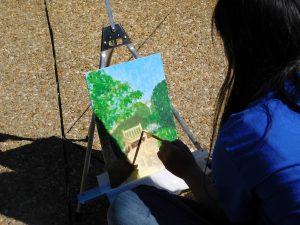 Once everyone was clear, competitors, teachers, and parents simultaneously set their stopwatches for an hour and thirty minutes at 10:30 a.m., before spreading throughout the garden to create their art.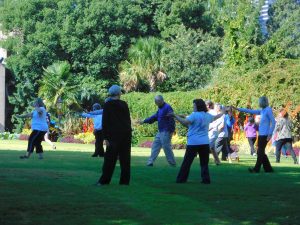 After the 90 minutes was up, everyone returned to Day Hall to submit their finished work. Anyone who was late was disqualified. It was time for the judging. There was no separate period allotted for this, so it overlapped the announcing of the awards.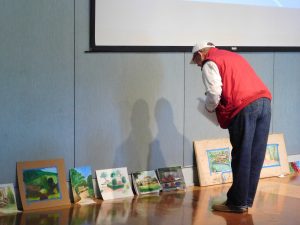 Things did not run smoothly. The announcement was hindered by the lack of identification for several pieces, leading several students to dash off and quickly make ID cards for their art. Technical difficulties also led to the presentation of the looping videos being interspersed by the announcing of other awards. Looping videos were the only category visually presented for the audience, other art forms were occasionally be announced with a title or a description. More often it was just name of the artist and their school.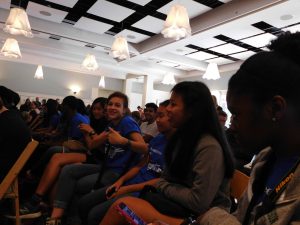 Chamblee placed fourth in Chihuly Sculpture, second and fifth in Botanical Illustration, fifth in Sumi-e ink, and fifth overall.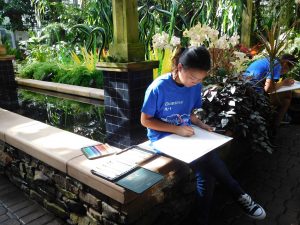 Lisa Guyton, an art teacher a Chamblee, is the head of the team.
"I think they did a good job judging overall," said Guyton. "I was surprised that we didn't do better on the sculpture. After I thought about it more, I think they have given more weight to time it took them to make it, because ours was simpler, but I thought ours was very elegant."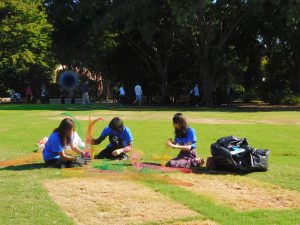 Mia Matrazzo is one, of the art team's seniors, was on the sculpture team.
"We had to base it off a Chihuly sculpture," said Matrazzo. "He uses organic shapes, like plants in the garden, so it kind of blends in, but his color scheme is very bright so it pops out at the same time."
Chloe Hyatt, a junior, who competed in Botanical Illustration, had a plethora of reasons for joining the team.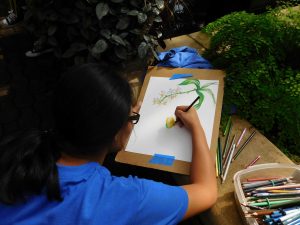 "I need hours for NAHS," said Hyatt. "And I did it last year, and I figured I should do it again. And the weather is nice. And I like the Botanical Gardens."
Maya Torres is a freshman, and this is her first year in the Art Throwdown. She competed in photography.
"This is going to sound really bad," said Torres. "But it seemed like the easiest thing to do. I was kind of scared by all the really professional artist people. I was like 'Hey, photo doesn't sound too scary.' "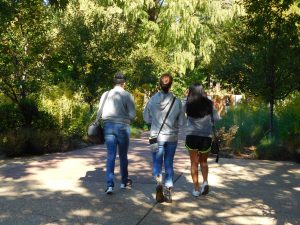 However, an unexpected problem raised stress as the competition wound down.
"We got back forty five minutes before the competition ended to give us plenty of time, but we had computer problems, so we ended up having five minutes to edit," said Torres. "I think photo skill is the biggest part, but editing helps a lot too. We all edited separately, but Jasmine knew the most about editing, so she helped us out a lot."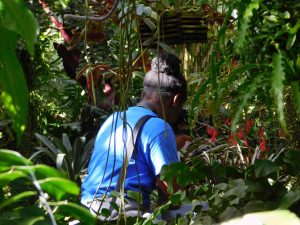 Guyton identified two main mistakes for the team.
"One, we didn't enter the Vine/looping video competition, because we didn't have anybody interested in doing it," said Guyton. "You get points for each category, so we missed that. I would make next time that we have somebody in each category."
The other mistake is also simple to address.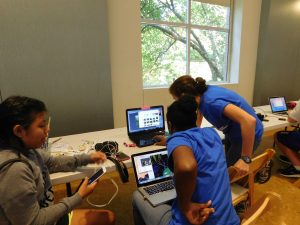 "The second thing would be solving any technical issues, because the photography students didn't really have enough time to get their pictures uploaded properly," said Guyton. "And then I'd say just having one more practice would be good."
However, Guyton was happy with the experience overall.
"It's a unique thing that I'm glad we participating in," said Guyton. "It gives students who like art another way of expressing themselves. It also can show how Chamblee students can compete with other high schools and colleges."