Benjamin Harding Delivers Unbridled Talent to Chamblee
Hang on for a minute...we're trying to find some more stories you might like.
Nobody would ever guess that 14 year-old Benjamin Harding, seemingly just a normal freshman at Chamblee High, has an extensive and impressive repertoire of musical performances under his belt.
He has performed mostly in Atlanta, appearing in shows like James and the Giant Peach and Zorro the Musical, both at the Alliance Theatre. Starting in October 2014, though, he went on a national tour for the musical Elf the Musical. In the show, he played Michael Hobbs, who is the main character's younger half-brother. It was a difficult move for him, as he had to leave the school and program he loved.
"I was magnet, until last year, when I had to go up for the show," said Harding. "[I went to] Kittredge, and then Chamblee Middle for four months. Then I was on the Elf national tour for seventh grade, and then I wasn't there for eighth grade."
Getting an education while on the road proved to be a difficult struggle for the performer.
"I did schooling [during] Elf, and [it] was strange because I didn't actually disenroll from school. I was just gone for four months. They would send me packets [while traveling], and I would print them out, scan them, and send them back in," said Harding. "It was hard, but it was good."
He has been performing in a wide array of shows, for quite a long time.
"I've been in professional shows kind of constantly since fifth grade, but some were regional, so I could still stay in school and do the show after school," said Harding.
He traveled all the way to New York to perform on Broadway in his biggest show to date, Matilda the Musical. He played Bruce Bogtrotter, a schoolmate of Matilda, who most just know as 'the kid who eats the cake.'
"The longest time I've been in a show was Matilda, and that was for seven months," said Harding.  "My favorite show was probably Matilda, and probably the opening night performance of it [was the best], because it was amazing to see a completely different scale of people there."
He remembers the show with only sweet memories.
"It was a completely different experience from many other shows I've been in," said Harding. "Being on that stage and on that level, is amazing, and it was one of the best experiences I have had and probably will ever have."
Harding's sister, junior Brianna Harding, has nothing but kind words to say about her brother's pursuits.
"We've always been really supportive of the arts in general, but when he got his role in New York, we went up to New York a lot, and saw his show way more often than we should've," said Brianna.
The whole family did not move to New York — only Benjamin. While in New York, he attended the prestigious Montgomery Academy in the borough of Brooklyn, so that he did not fall behind in his studies.
"We got an apartment one block away from Times Square, so he could easily walk from the theatre to the apartment easily, and my parents traded off to go up," said Brianna Harding. "We had a caretaker there, that we had known from previous shows, that stayed with him full-time."
His musical endeavours are far from over. In fact, he plans to perform in the school's spring musical, The Pajama Game.
"The closest one [musical] coming up probably is going to be the school one," said Benjamin Harding. "But I audition for as many shows as I see. Right now my mom is sort of my agent, but she's really good. [So], any audition that I want to go for I usually do."
He looks forward to the school musical and other future musicals because of all of the fun they bring.
"[I enjoy] just being on stage, and hearing the music, and the cast. It's always a great family every time you perform. You make a lot of friends, you get to see a lot of people, and make their days better and happier," said Benjamin Harding.
Harding shows no signs of stopping anytime soon, even after high school
"I would like to continue with acting and singing [in the future]," said Benjamin Harding. "That's probably what I plan to do, because I love doing it!"
About the Writer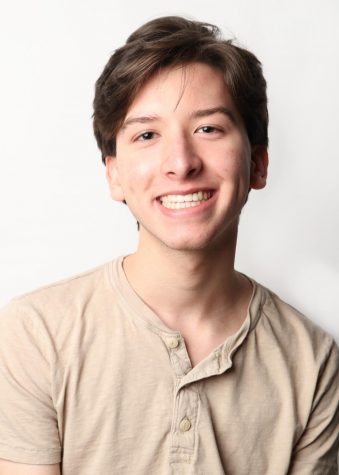 Ethan Rotnem, Editor-in-chief
Senior Ethan Rotnem is an editor-in-chief. He enjoys walking his dog, recommending music to his friends, and looking at cities on Google Maps. This is his third year on the staff.