Farrey finds ways to give back to Chamblee
Hang on for a minute...we're trying to find some more stories you might like.
by Hope Williams
Amid the chaotic daily routine of the Chamblee Charter High School counseling office, one staff member has found a way to combine a love for learning and working with others. Counseling administrative assistant Nancy Farrey starts her days by walking to work, where she spends her time working on various tasks that involve education, students, and other staff.
"I greet those who visit or call the counseling office," said Farrey. "I answer the phone, coordinate the college representative visits, send information and news to the weekly Bulldog Bulletin e-newsletter, update the CCHS Profile and brochure every year, and withdraw all students as well as provide documents that parents or students request."
She is also responsible for tasks such as updating the scholarship notebook, filing test scores of students, and helping alumni with post-high school pursuits. Working in the counseling field is actually not Farrey's first career.
"I was trained and certified as a registered dietitian, so for most of my career my work experience has been in the healthcare field," said Farrey. "I was a clinical nutritionist at Piedmont Hospital for a year and a half, senior clinical nutritionist at Emory University Hospital for eight years, [and] the contracts administrator for Kaiser Permanente and worked as a part time nutritionist at Health Fairs for about five years."
She decided to switch to counseling in part to give back to Chamblee for personal reasons.
"All three of my children graduated from Chamblee. Andy, Class of 2006 and Daniel and Benjamin in 2010," said Farrey.
During her sons' time at Chamblee, she realized that a new career here might work out perfectly for her.
"My husband and I have special needs twins," said Farrey. "When I was ready to re-enter the workforce full time after being home with them for several years, I chose to work in the Chamblee counseling office because my oldest son had such a great experience here and I was very grateful for that. I appreciated how the faculty and staff had been such excellent … [educators] but were also very kind and helpful. Our family values kindness."
Farrey herself did not attend Chamblee, but has lived in the South for many years.
"I grew up in Memphis, Tennessee and lived there until I graduated from high school," said Farrey.
While in high school, she was very involved in her community.
"I loved school and learning," said Farrey. "In high school, I was active in student council, the yearbook staff, French club, and played recreational softball and field hockey. My high school did not have sports for girls, since Title IX legislation had not yet been passed."
Title IX legislation prohibited public schools from restricting school sponsored activities, such as sports, to just male students.
After high school, Farrey attended the University of Mississippi.
"I loved college," said Farrey. "I love to learn, and at Ole Miss, I was active in student government, was an ROTC [Reserve Officers' Training Corps] sponsor, an officer in my sorority and am grateful for my time there."
However, she does acknowledge that Ole Miss had some drawbacks.
"Women students still had curfews and there were rules about not wearing shorts on campus except during gym, which was a required class. Much has changed for the better," said Farrey.
While at Ole Miss, she got her Bachelors of Science in Dietetics, and afterwards, continued to pursue higher education.
"I also have two masters degrees, a MMSc [Master of Medical Science] in nutrition from Emory and an MBA [Master of Business Administration] in marketing from Georgia State University. I spent a year at Vanderbilt doing my dietetic internship after graduating from Ole Miss," said Farrey.
Although Farrey's various careers are in different fields, she sees a common characteristic of both.
"I enjoy helping and working with people and learning new information. All of my jobs have provided me with opportunities to do both," said Farrey.
Outside of work, Farrey has various hobbies and interest.
"I enjoy my family, reading, walking, Zumba and Barre classes at the Y[MCA], baseball, the Braves, gardening, traveling, and volunteering with the Friends of the Chamblee Library," said Farrey. " I am also on the Board of the CCHS Blue & Gold Foundation, a 501c3 non profit whose mission is to raise funds to benefit CCHS. I am pleased to serve and to give back to our great school."
Working at Chamblee had ended up being a rewarding experience for Farrey.
"My favorite part about Chamblee are the students, who are amazing," said Farrey. "I also appreciate that students and all of us can find our place here and that there are so many different educational opportunities as well as extracurricular activities available."
About the Writer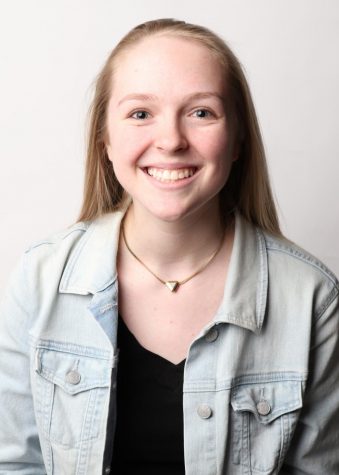 Hope Williams, Staff writer
Hope Williams is a senior staff writer. When she's not churning out articles, you can find her playing with her cats or going on a hike. This is her second year on the staff.