UGA's Quarterback Dilemma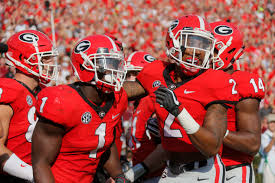 The University of Georgia's football program has a very interesting dilemma to deal with. When most school's have a dilemma at the quarterback position, it is a bad one. But Georgia has a duo of elite quarterbacks currently on the team, something they haven't had since David Greene and DJ Shockley wore the red and black during the same years. The two quarterbacks are Jacob Eason and Jake Fromm. Eason was named the starting quarterback for this season. However, he injured his knee in the first game of the season. He has remained sidelined with that injury throughout the first four games of the season. Jake Fromm stepped in and has led the Bulldogs to a perfect record through those first four games, including a 31-3 bashing of Mississippi State. But Eason seems likely to be cleared soon, and will be eligible to play. The question head coach Kirby Smart is asking himself is whether or not he should even start Eason, considering the level at which Fromm has been playing.
Jacob Eason is a sophomore, and was ranked as the number two pro style quarterback coming out of high school two years ago. He has a cannon of an arm, arguably one of the most powerful in college football. As a freshman, he started 12 out of 13 games. He performed well, throwing for 16 touchdowns and over 2,000 yards. Expectations were high coming into this season. Fans and the coaching staff alike hoped after a year of experience and getting adjusted to playing on the college level, he would fulfill his potential. And according to UGA coaches, Eason looked amazing throughout minicamp and practice prior to this season.
Jake Fromm is Eason's competition. He is a freshman, and was ranked as the number three pro style quarterback coming out of high school last year. While Fromm does not have the throwing power of Eason, he has been continuously touted as being mature beyond his years. Fromm played in the U.S. Army All American game, a showcase game for the top high school players in the country. The first night there, coaches gave all the quarterbacks the playbook. Fromm had the whole playbook memorized by the next morning. During his first drive as a Bulldog, he called audibles. His football IQ is ridiculously high, as is his leadership. Every player in the Georgia locker room looks up to him, and he is not afraid to tell upperclassmen on the team that they need to hustle or they did something wrong. Fromm knew that by coming to Georgia, he would have to compete against Eason for the starting job at quarterback. He didn't back down.
Kirby Smart did not ever tell reporters of a clear timetable for Eason's return. When Eason does return, I'm not even sure Smart knows who will start. Do you go with Eason, who was supposed to start all along and reportedly had made massive strides during the offseason? Or do you keep momentum and start Fromm, who has created chemistry with the rest of the offense and doing spectacularly? I personally think that UGA should stick with Fromm because what Georgia has going is working, and it is working well. But this raises plenty of other questions. If Fromm starts the rest of the year, will Eason transfer? How could this affect UGA's attempt to recruit Georgia native Justin Fields, who is not only the number one high school quarterback in the nation, but the number one player in the nation?
Coach Smart has said that when Eason is healthy, he will base his decision solely on who performs better at practice. Only time will tell who that will be.