Water Polo Learning to Float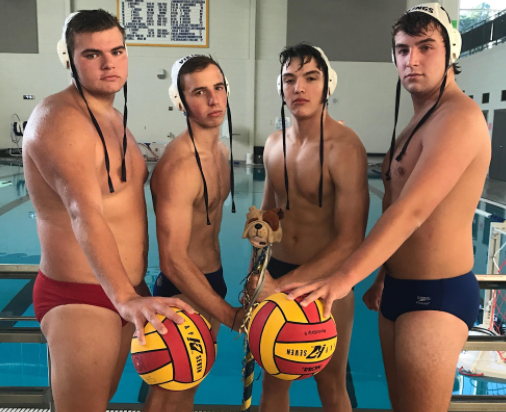 Polo, a sport played on horseback, has been around for thousands of years, since the 6th century BCE. In more recent times, a new variation of polo (that, unfortunately, does not involve riding horses), has taken shape. That new variation is water polo, and this year, water polo has found its way to Chamblee Charter High School.
Several students, including juniors Gib Stanfield and Louis Cardot, have had an interest in playing water polo for several years. But because there was no team at Chamblee, the students were allowed to play for a team at another school.
"We could choose which school we wanted to play at, and everyone at Chamblee chose Lakeside [High School]," said Stanfield.  
However, problems with this began to arise when Chamblee students were told that they could not come to Lakeside for morning practices. They started to think of solutions to their problem, and perhaps the most obvious one immediately came to mind.
"We thought, 'We have a great pool at Chamblee, so why not play here?'" said Stanfield.
With help from their parents, Stanfield, Cardot, and other interested players were able to create a club for water polo at Chamblee in the 2017-2018 school year.
Cardot sought out Gregory Valley, a social studies teacher at Chamblee Middle School, to be their faculty sponsor. Valley was pleased with the success of starting the team.
"I'm proud of the fact that the students were able to start the team and get so many students interested in water polo," said Valley.
The water polo team sparked an interest in girls and boys alike, although the team is comprised mostly of boys. Junior Emilya Ershtein played for the first time this season, and managed to get used to the fact that the majority of the players were boys.
"Sometimes it's kind of hard to fit in with all of the guys, but there are other girls and everyone on the team is really nice, so it's not that bad," said Ershtein.
Since many of the interested students had never played water polo before, the team's main focus early on was to learn the basics of the sport.
"It's a lot harder than it looks," said senior Bart Turney. "I had been to a few practices last year with the Lakeside team, and it didn't really seem that hard, but then I played in a scrimmage, and it was really hard to stay afloat and constantly swim back and forth."
Cardot and Stanfield are the team's captains, and since they have experience with the sport, they also played a role in coaching the team.
"Coaching the new players was really fun," said Cardot. "This season really helped me to learn how to be a good coach."
Most players on the team improved quite quickly, and the team was able to win games very soon after the start of the season.
"Every game you could see a difference in our performance level," said senior Marshall Peters. "We all learned more as the season went on, and it was evident in the way that we performed."
Not only did the skill level of the players improve, but they were also able to develop a close bond with one another.
"As everyone's skills grew, the relationships and the team dynamic also grew and changed," said Turney. "The team definitely got a lot tighter."
Water polo is only a club sport this year, but in the coming years, the players hope it will be able to develop into a junior varsity and eventually a varsity sport.
"Whenever we reach the varsity level of competition at Chamblee, I feel that we'll be a top competing team," said Peters.  
While it is important to improve performance in order to move into the higher ranks, the team leaders know that it is also important to focus on the younger individuals, who will be future leaders of the team when the current seniors and juniors graduate high school.
"Our ultimate goal is to get the newer players to learn and get some experience under their belt, so that even after we graduate, we can leave a lasting foundation for water polo at Chamblee," said Stanfield.