Who Said the PSAT is a Waste of Time?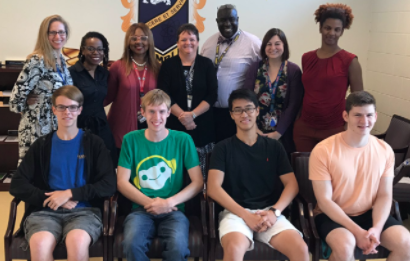 Hang on for a minute...we're trying to find some more stories you might like.
Having even one semifinalist in the National Merit Scholarship Competition is a feat for any school to brag about. Chamblee Charter High School, however, has a staggering eight semifinalists, exceeding both the Marist School's five and Dunwoody High School's seven.
"Not that many people get [to be a National Merit Scholarship semifinalist]," said senior Grayce Robinson, one of the National Merit Scholarship semifinalists at Chamblee. "It's the top one percent of seniors across the country."
Students who qualify for the National Merit Scholarship are seniors who scored very well on their  Preliminary SAT/National Merit Scholarship Qualifying Test which they took junior year. Once the semifinalists are announced, the selected students then submit an application to be selected as a finalist, and from these finalists, the National Merit Scholars are selected. These select few students receive $2,500 towards their freshman year of college.
The application to be a finalist was due on October 11, and consisted of elements typical of college applications.
"I actually just finished the finalist application pretty recently, which asked for the usual honors/awards, extracurricular activities, and an essay," said senior Brian Kang, a semifinalist at Chamblee. "The application is pretty light, compared to the Common App – no supplementals, no extensive academic information. Just the basics."
Because of intense competition and limited scholarships, some semifinalists seem grateful to even be a semifinalist.
"I'd say it's mostly just an honor to be recognized, as it's really competitive," said senior Sophia Wiesenfeld, another semifinalist at Chamblee. "There aren't really that many scholarships available and a lot are specific to children of certain corporations."
Despite the fact that many people take the PSAT/NMSQT as a freshman and everyone takes it as a sophomore, there is no concrete way to determine whether you are likely to qualify as a semifinalist.
"I honestly didn't [think I was going to be qualify as a semifinalist]," said semifinalist Sakshi Sehgal. "I was pretty happy with my score, but, because the selection index is different each year, I didn't know if it was good enough to advance."
Similarly, being a semifinalist was a large surprise to Robinson.
"No, I didn't expect to qualify," said Robinson. "I honestly wasn't even sure what it was and I didn't even know I was a semifinalist until a few days after the names were released. The only reason I found out was because Sakshi stopped me in the hall to congratulate me. I figured there were a bunch of geniuses out there that would get it instead of me so I was kinda surprised when I was named a finalist."
In order to increase one's chances of success on the PSAT/NMSQT, semifinalist Schuler Kleinfelter has a suggestion.
"I slept a little bit more the night before," said Kleinfelter, "which does actually count because the amount you slept the night before greatly affects your cognitive ability the next day."
Kang, however, had a different approach as to how to improve you score, and, therefore, improve your chances of being selected as a semifinalist.
"If you really want to prep effectively, start reading more," said Kang. "The reading/writing section is pretty much just asking: do you read? If the answer's no, you might want to rethink your strategy. As for math, step up your precalc game. Borrow a book from Ms. Tulchinsky or Mr. Wardlow and start practicing because most people don't have trouble multiplying base times height to find the area of a triangle – it's the trigonometry that gets them."
In addition, Kang seemed to think that you should not go out and buy a bunch of practice tests in order to study for the PSAT/NMSQT.
"I'd say that the biggest misconception about preparing for the PSAT/SAT is that you can just buy a few practice books and expect your score to go up significantly with a little practice," said Kang. "It sounds like the right thing to do, but that's honestly like preparing for a marathon by watching videos of people run."
Wiesenfeld has her own piece of advice to National Merit Scholarship semifinalist hopefuls.
"I'd say that just like any other standardized test, it's really easy to study for it and just improve your score, and since it's like the SAT studying will help you for that too, but it's not worth huge amounts of stress or anxiety, said Wiesenfeld. "Like any other standardized test your score isn't actually a reflection of knowledge so much as preparation, critical thinking, and luck."
Although it may seem like being a National Merit Scholar and receiving the National Merit Scholarship is the most important thing a person can achieve to get accepted into colleges and then go to said colleges, it is not the case.
"There are other scholarships," said Robinson, "and there will be other opportunities to prove your genius."
About the Writer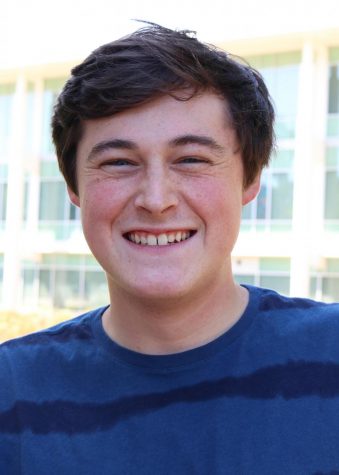 Oliver Hurst, Staff writer
Oliver Hurst is a senior staff writer. You can find him going to Fernbank, talking about his dog, and binging a show on Netflix. This is his third year on the staff.