Redistricting's Role in Restricting Diversity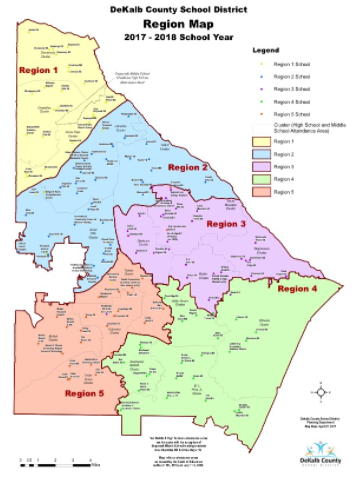 Hang on for a minute...we're trying to find some more stories you might like.
 Trying to create a diverse student body is one of the many challenges that school officials face. There are multiples obstacles that stand in the way of the diversification of schools, one of the most restrictive being redistricting.
DeKalb County is broken up into five separate regions. Each of these regions are broken up into three or four clusters, better known as school attendance areas. These school attendance areas are the determining factor as to which school a DeKalb student is allowed to attend. For example, if you live in Region three within the "Stephenson Cluster" your home school would be Stephenson High School. If you live in Region one within the "Chamblee Cluster" your home school would be Chamblee Charter High School.   
According to Daniel Drake, the Executive Director of Operations for the DeKalb County School District, the Board of Education makes the final decision on redistricting. That said, community and staff input is taken into consideration.
"We have a three meeting policy that we follow," said Drake.
The first meeting includes a discussion about what the issue is, and community input is considered. The second meeting includes the creation of two to three alternative options, discussing the pros and cons of each. The third meeting includes a staff recommended alternative that is also discussed for its pros and cons. After the third meeting, the options are taken to the superintendent, who then gives it to the Board of Education for review.  
This process allows for the creation of specific school attendance areas that assign students to a designated home school.
Under the DeKalb County School District's policy, every DeKalb student is required to attend their designated home school located in their school attendance area. However, there are some exceptions that allow students to attend schools outside of their school attendance area. Board Policy JBCC, sections A through E, outline these exceptions.
Sections A and B allow students with special needs to attend a school outside of their attendance zones if the school they wish to attend can better serve their needs and are not at max capacity
Section C states, "Students may enroll in certain schools outside of their attendance area where space is available." That said students can only transfer to House Bill 251 receiving schools that are published only "after seat availability is determined."
Section D outlines school choice programs such as charter schools, magnet schools, and theme schools.
Section E allows a student whose parent is a full-time employee at a school other than the student's home school to attend the school in which their parent is employed or one of its feeder schools.
According to Drake, there is also an option for students who are redistricted before their last year at a particular school. To avoid being transferred to another school after being redistricted, students who are rising fifth, eighth, 11th, or 12th grades can choose to stay at their original home school, but would need to provide their own transportation.  
Non-resident students can attend a school in DeKalb if they live on a reservation, their parent or guardian is a full-time employee at a school in DeKalb, or if the student pays tuition, which according to the Chief Financial Officer of the DeKalb County School District, is approximately $3,290.61 for the 2017-2018 school year. These exceptions allow for students to be able to attend a school in which they feel comfortable or to experience schools with a majority of a race other than their own.
"My home school is Martin Luther King Jr. High School," said Chamblee junior Samantha Huggins. "I come to Chamblee because I went to Kittredge, which fed into Chamblee Middle. I travel for a higher level of education and a more diverse atmosphere as well."
That said, students who are lucky enough to attend very established schools outside of their attendance zones are often subjected to more expensive, time-consuming transportation routes to and from school.
"A lot of surrounding counties have good options as well," said Huggins. "I'm quite sure if we moved to another county we could save a lot of time, transportation, and things like that."
While school attendance zones help to minimize overcrowding and lack of resources, it ultimately makes the opportunity to attend a diverse school unavailable to students who live in communities that lack diversity, particularly minority and impoverished communities.The exceptions created to allow students to attend schools that are not within their assigned attendance area often disregard these students as well.
Magnet schools require a certain level of academic achievement, and even if a student is able to reach the academic standards, they are subjected to lotteries which only allow two to three students from each school to be accepted into the magnet program.
Charter schools are another option, but with costly and time-consuming transportation routes, not every students has the availability to sacrifice so much time and money.
Private schools often provide scholarships for underprivileged students but their tuition is not always paid in full, and transportation also becomes an issue.  
Though tuition is stated as one option for nonresident students, it only applies to high school juniors who have moved outside of the boundaries of DeKalb County and wish to finish out high school at their previous school.
As for diversification within the school attendance areas of the public school system, diversity is not a concern for redistricting officials.
"We don't consider race, housing, or income," said Drake.
Instead the Board focuses on three other components when making decisions about redistricting. According to Drake, there are three main components to take into consideration while making decisions pertaining to redistricting: "distance, enrollment of the school, and the school's capacity."
Seeing as the Board of Education makes no effort to prevent diversity, the problem must lie within the communities themselves.
Poverty is a direct link to the inability to diversify many student populations. According to research conducted during the UCLA Civil Rights Project, "African Americans and Latinos make up more than half of the of children in schools with the most poverty." This creates a major issue with the distribution of students of color within today's school system.
"That's just how it works," said Chamblee junior Collin Anderson. "The rich live with the rich and the poor live with the poor, because the poor get looked down on."
Unfortunately for many of these students living in poverty, it means less opportunities to interact with a variety of other backgrounds, which according to Rucker Johnson, a professor of public policy at the University of California at Berkeley, boosts the odds of high school graduation. According to Johnson,"for every year a black student attended an integrated school their likelihood to graduate went up two percentage points."
It can also mean less access to AP courses, qualified teachers, and sufficient facilities and materials.
"It will put them at a disadvantage in the future because not having as many AP classes or the same level of education of other students will make it harder to get into a good college, which will not allow them to get as good of a job," said Chamblee junior Tony Fenner.
According to Data USA, the median household income in 2015 for DeKalb County's almost 735,000 residents was around $54,000. Of the 735,000 residents living in DeKalb at the time, 17 percent of them were living in poverty. Minorities made up more than three fourths of that 17 percent, with African Americans accounting for almost 57 percent of DeKalb residents living in poverty.
"There are a lot of factors that go into this, one being financial reasons but another is other races are scared to live in primarily black communities and that comes mostly from racial profiling," said Anderson.
But from these observations arises a new question. Why is segregation within our communities still so prevalent today? The history of segregation in America and its connection to the current condition of the school system will be addressed in the next article of the series.
About the Writer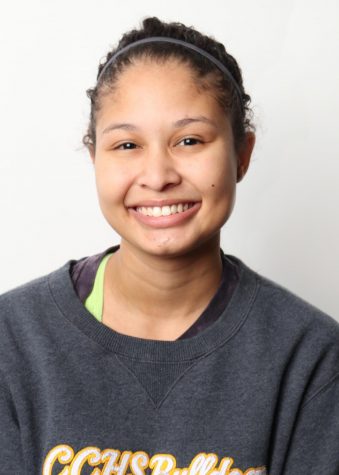 Angela Witherby, Staff writer
Angela Witherby is a senior staff writer. When she isn't writing, she likes drawing landscapes, doing an unnecessary amount of face masks, and trying to improve her driving abilities. This is her second year on the staff.