Model Students Attend First Model U.N. Conference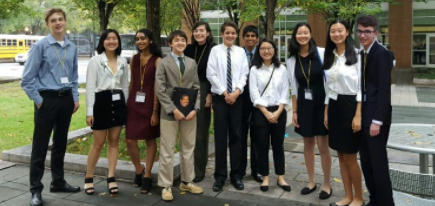 Buzzing around the Georgia Tech campus and advocating for their resolutions to be passed, Chamblee Charter High School's Model United Nations team recently represented Cameroon in the Georgia Tech MUN 2017 High School Conference.
Members of the club, also known as "delegates" of their chosen country, spent two mornings during Columbus Day weekend debating specific global issues and drafting resolutions with other high school students from all around the Southeast. Sophomore Shrika Madivanan, founder of the club at Chamblee, further describes what a Model U.N. conference looks like and how it works.
"Basically, your team at school chooses a country and then each team member becomes a delegate for a specific committee similar to the committees in the United Nations," she said.
"You get to choose one of the committees individually, and then that's what you research and basically become an expert on. The research is all compiled into a single 'research binder' that you can bring into each committee to use while speaking. At a conference, you go and talk about the resolution you have made that would support your country and then try to advocate for that resolution to be passed."
There are 12 committees in each conference, ranging from topics such as global banking crises to gender equality. For example, sophomore Nevin Aresh, who also went to the event in early October, attended the United Nations Educational, Scientific, and Cultural Organization board.
"My committee for the last conference was UNESCO," he said. "In this committee we discussed how to improve literacy rates and education throughout the world."
Aresh goes on to give insight as to how a regular committee session works and how resolutions are developed."
"In Model U.N., our main goal is to pass resolutions," he said. " But first we must discuss our ideas, and we can do this in two ways: through moderated or unmoderated discussion. In an 'unmod', each delegate can walk around the room and speak with others to gain information about their positions on the topic. In a 'mod', we take turns presenting our positions or ideas that we have with the moderator directing us and timing our speeches. Afterwards, we join together with other countries that have the same viewpoints as us and draft resolutions that would help overcome the problem."
As confusing as the process may seem, Madivanan notes that the takeaway from a conference is more about what can be discovered through communication between other high school students.
"I think that Model U.N. is a chance for young people to be educated on specific topics important both to them and the world," she said. "It is also a chance to think of resolutions for global issues that will not only benefit both less developed and developed countries but could also actually be implemented in the future."
Building off of that sentiment, Aresh believes that students attending also get to experience the diversity that makes up the United Nations.
"To me Model U.N. is a fun way to learn about other countries that are a part of the U.N.," he said. "We learn that there is diversity throughout the world–as each country has a different viewpoint on the topic."
Because United Nations member countries vary from powerhouses like the United Kingdom to smaller, developing countries such as Equatorial Guinea, Madivanan explains why choosing Cameroon was better for the team's first conference.
"It was beneficial to be Cameroon,as it is a smaller country," she said. "This meant we didn't have as big as a role in speaking. It was good for us because it was our first time and we weren't pressured to talk if we didn't want to."
As for their first experience, many of Chamblee's members of the club discovered that the conference was not at all what they had initially thought it would be like.
"Originally I expected the moderators to be strict and for all the kids to come prepared with speeches and a jam-packed research binder," said Aresh.  "In reality, the moderators were super nice and truly loved the discussions that we were having. I also learned that no one came prepared, and everyone went with the topic that was being discussed."
Freshman James Hardy also expected a strict atmosphere and worried about how much other students had prepared for the conference.
"I'm not exactly sure what I expected," he said. "My best guess would probably be a more serious classroom debate. When I showed up the first day and saw the massive research binders people had made and their attire–much more formal than mine–I felt a bit out of place. It ended up being just as formal as I thought, in fact, I never learned anyone's names by the end. I only knew them by their country."
Sophomore Amy Lin also felt a bit out of place at first, surrounded by other well-dressed high schoolers.
"When I first arrived lots of kids were dressed pretty formally," she said. "There's was a pack of kids all in suit jackets that looked like a cult."
Lin goes on to describe how, although she did not initially join the club out of interest, her first experience went smoothly.
"I originally joined because Shrika was creating a team and I would end up staying for all the meetings anyway since we carpool," she said. "Since I wasn't especially informed on how things were, I just went along with whatever was happening and things turned out fine. You really aren't obligated to talk or anything but it's better to if you're aiming to win–which wasn't a priority to me."
Although mostly uninformed and unprepared, many team members genuinely enjoyed their first experience and plan on attending further conferences.
"Before I came to this convention I didn't plan on doing Model U.N. again, but now that I've seen how it goes, I think I'd enjoy doing another convention–especially as I prepare more and gain more experience,"said Lin. "I strive to be on the same level as the U.K., who power-played everyone, but would enjoy it even if the convention went the same way as the first one."
Aresh also agrees that attending the conference was worth it, believing that next year holds even more opportunity for the Chamblee team.
"I believe that the first overall experience went well," he said. "I learned a lot of new information and I now understand how Model U.N. works. Given the opportunity, I would definitely go to another conference. The first one was fun and I believe that the whole team can now do better because we know what to expect."
About the Writer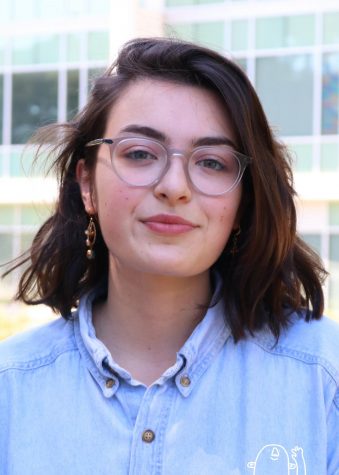 Ashley Veazey, Photo Editor
Ashley Veazey is THE photo editor for The Blue & Gold. When she's not in school, you can find her ordering coffee at Crema Espresso Gourmet, listening to Italian trap music, and talking to herself auf Deutsch. This is her third year on the staff.