Volleyball Team Impresses This Season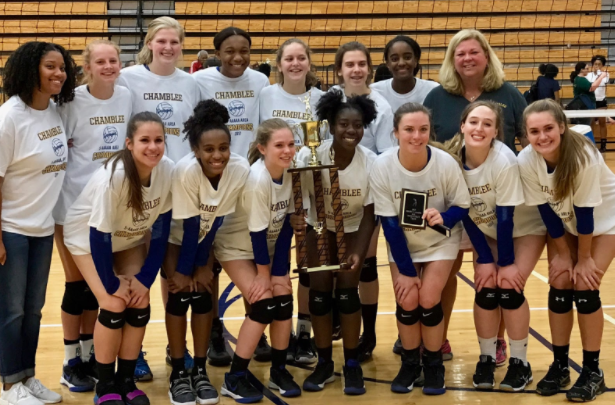 Crushing opponent after opponent, the Chamblee Charter High School varsity volleyball team forged a path to the elite eight of the state 5-AAAAA playoffs. Before losing to the volleyball team from McIntosh High School in Peachtree City, the team held a win-loss record of 28-12.
Their success came as a surprise to health and PE teacher and varsity volleyball coach Lorri Reynolds.
"We had three really good seniors graduate," said Reynolds, "so I thought this year would not be quite as good, but these girls pulled it together and we did the exact same."
Chamblee being in region 5-AAAAA means that Chamblee is in the fifth area of the fifth region. In order to move onto the state playoffs, a team must first compete at area tournaments. Areas are smaller, more localized divisions of regions. For example, the fifth region is composed of high schools from around Georgia of similar  size and contains 58 schools, but the fifth area of the fifth region is composed of eight schools, all located in DeKalb County. In order to advance from the area tournament, a team must place first, second, or third in the area. The Chamblee team placed first, and therefore won the area and moved onto the playoffs, in which they eventually lost to McIntosh in the elite eight.
With the loss of last years seniors, the entire team was forced to pick up the slack, becoming a better team overall.
"As far as skill-wise, we had a better team all around, and there was not just one or two people that stood out," said senior team member Natalie Roberts. "Last year we had Kyla [Manning] and she was amazing and would stand out."
Fellow team member and sophomore Becca Evans seemed to agree with Roberts.
"I believe the attitude is a bit different because, last year, we relied on Kyla [Manning] a lot to get most of the points," said Evans, "but this year everyone had to contribute to getting each and every point."
Despite relying less on one team member this season compared to last season, losing the seniors graduating this year, such as Roberts, will be a large obstacle to overcome next season.
"I think the hardest thing to overcome next season is finding replacements for our seniors," said Evans. "Our seniors this year were very important to how successful we were this year and, after they're gone, we don't know who will take their spot."
Another factor that helped push the team to victory seemed to be the cohesiveness between team members.
"We all really loved each other," said sophomore team member Erin Carpenter. "The chemistry on and off the court was great this season. We really trust each other."
Another team member, junior Kennedy Preval echoed Carpenter.
"I think this year we actually had a couple team bonding things that made us work a lot better on the court," said Preval.
These team bonding activities consisted mainly of going out to dinner to hibachi restaurants.
"[Going out to dinner] made [the season] a lot less stressful," said sophomore team member Debbie Kitzler. We could focus more on the game we were playing, not the people we were with. So it allowed us to become better players and not worry so much about making friends."
Getting to the elite eight in the state playoffs last season also helped the team push to do better this season in order to accomplish their goal of making it to the elite eight again and hopefully going further.
"We were a lot more focused on getting further than we did last year," said Anna McDaniel, another senior team member, "and we had a lot more team bonding and cohesiveness. We were definitely a lot closer than we had been in the past."
Kitzler could tell a difference between the varsity and junior varsity (JV) teams because of the attitudes towards the season.
"Last year, I was on the JV team and we really didn't care about wins or losses. It was more about just having fun," said Kitzler. "This year we got more serious and worked harder to win and make sure we accomplished our goal of elite eight."
In addition, a feeder program at Chamblee Middle School has helped to better the varsity team and their chances of going to the playoffs.
"We have a middle school program that I started eight or nine years ago, so that is a feeder program that we run out of our booster club, and that has been a tremendous help," said Reynolds. "All three of my seniors this year started playing when they were in seventh grade."
All of these factors cumulate into one characteristic of the volleyball program. It is one of the best sports programs at Chamblee, accounted for by four sweet sixteen appearances, four elite eight appearances, and one final four appearance since 2002.
About the Writer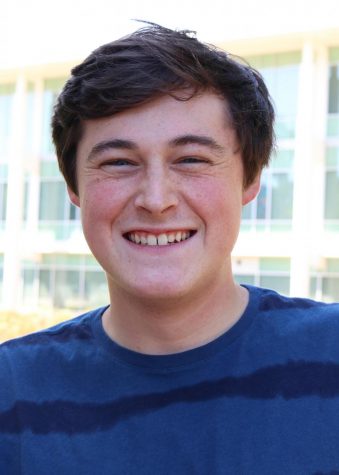 Oliver Hurst, Staff writer
Oliver Hurst is THE senior staff writer. You can find him going to Fernbank, talking about his dog, and binging a show on Netflix. This is his third year on the staff.