New Hotspot Brings Fusion Tacos to Chamblee-Dunwoody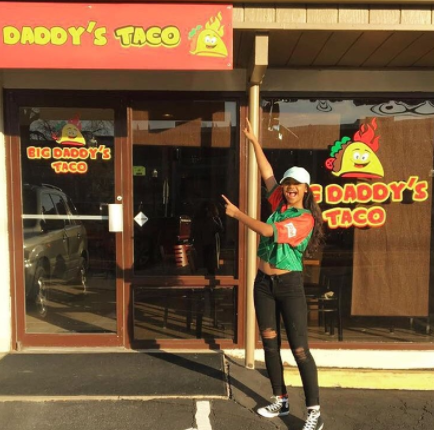 Hang on for a minute...we're trying to find some more stories you might like.
At Chamblee Charter High School, students have a wide variety of interests and food  tastes. However, there are two things that nearly every Chamblee student loves: tacos and free wifi.
Located across the street from Chamblee in the place of former restaurant Cafe Bello, Big Daddy's Taco will aim to satisfy students' desire for both delicious food and wireless internet. Founded by two entrepreneurs both under 30 years old, the restaurant has high hopes of attracting Chamblee students and thriving in the highly competitive restaurant business, where close to 60% of restaurants close or change ownership in the first year.
"We have been talking about opening a restaurant for the last two years together," said co-owner Nazmul Hossain, who founded Big Daddy's taco with his partner Jay Patel. "When we found a good location near a high school, in a heavily trafficked location, we knew that we needed to jump on the opportunity."
Big Daddy's Taco won't be serving your typical Mexican tacos; instead, they are serving International/Mexican gourmet fusion tacos.
"It's not like your regular tacos, like beef tacos or whatever, I mean they have beef tacos and that stuff, but it's kind of like Mediterranean, or Ethiopian, mixed with Hispanic and Bengali," said Chamblee sophomore Zamela Haque. "It's really international, it should be called like international tacos."
Haque's close family friend is a co-owner of Big Daddy's Taco and Haque is helping to promote the restaurant with Chamblee students. Haque believes that the restaurant will be popular with Chamblee students.
"There's free wifi, and there's a TV there," said Haque. "It's a great place to study, the food is cheap, it's fast. I believe that it will be a hit."
Junior Rachel Jordan visited Big Daddy's taco after school with some of her friends.
"I think it will be more popular than the previous places that have been there because it actually has good food and it's open every day," said Jordan.
Jordan enjoyed the chicken taco that she ordered, but found the service slow and the layout crowded. However, she found the interior of the restaurant appealing.
"It was pretty clean," said Jordan. "It was really nice and modern, and they had some art on the side. It was cute."
Big Daddy's Taco had a soft opening on Monday, January 8 and it's grand opening is soon to be announced. It is open from 11 AM to 8 PM Monday-Saturday.
About the Writer
Grace Pietkiewicz, Staff writer
Grace Pietkiewicz is a senior and staff writer. When she's not in school, she likes to play tennis, plan trips across Europe, and argue with her parents. This is her second year on the staff.