JROTC Program Focuses on Community, Students' Futures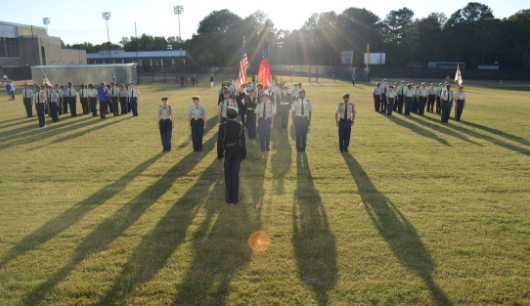 Since 1993, the Chamblee Charter High School Junior Reserve Officers' Training Corps (JROTC) has given students the opportunity to develop leadership skills, get involved in their community, and learn about a potential future in the military.
Wearing pristine uniforms and perfecting their marching skills, the cadets of Chamblee Charter High School are learning material and performing activities not traditionally included in a high school curriculum.
"The overall goal … here [is], not trying to promote any type of military service, what we are trying to do is build better citizens. We are giving them a foundation that has a baseline of discipline from the army, but this is not an army-controlled body. It's a program that takes young people and gives them those basic, daily skills," said U.S. Army Retired Lieutenant Colonel (LTC) Gloria D. Dunklin, the leader of the Chamblee High School JROTC program.
LTC Dunklin, and her assistant, U.S. Army Retired First Sergeant (1SG) Terry C. Horton each served in the military for 24 years.  They now teach JROTC, hoping to inspire a new generation of hard-working citizens.
"One of my goals, since before joining the military, was to do something with young adults. So, when I started my second career, I knew exactly what I wanted to do, and JROTC fulfilled that goal," said Dunklin.
The JROTC program has its beginnings as early as 1916 when the National Defense Act was passed. This Act allowed for high schools to be loaned federal equipment and employ military personnel for teaching. Chamblee's program was founded in 1993.
"The program has grown since then," said Horton.
Initially, there were approximately 84 cadets, but the program now has between 100 and 150 cadets per year. All students start out as "cadet," but that title can change.
"As they [cadets] show potential for greater responsibility and they become more active in the program, they will move up in rank and position becoming cadet private first class, battalion commander, lieutenant colonel, etc.," said LTC Dunklin.
Senior and JROTC member James Harding sees the title changes as a reward for hard work.
"You start off on the bottom, so whenever you have a chance, you can show your talent or potential and they [the adults] will see that and give you a bigger task to do," said Harding.
Although cadets are not required to join the military upon leaving high school, there are many benefits that they can take advantage of.
"I'm not planning on joining the military, but you can get a lot of good scholarships from ROTC [the college version of JROTC]," said freshman Isabella Cates, who is currently in her first year of JROTC.
The possibility of getting a scholarship for college is a large motivating factor for many students to join JROTC.  
"They [the cadets] can actually win trips to [Washington] D.C. to network for different types of scholarships," said Dunklin.  
Other students already have plans to join the military.
"I'm joining the Marines after high school," said Harding.
For right now, however, the cadets are learning a wide variety of topics that the curriculum covers.
"We usually practice marching movements and history of the United States and meanings behind wars and stuff like that," said junior Brendan Perez.  
Junior Cody Shaw also agrees that there is a wide range of content.
"It's a bunch of different stuff [that we learn]. It's like leadership lessons, history lessons, group activities," said Shaw, who plans on joining the United States Army in his future.

There are several extracurricular activities that motivated cadets can take advantage of, which not only provide greater experience but aid in creating teamwork skills.  
"We have a couple of teams. We have a physical team, which is called the raiders. They compete in outdoor physical stuff. Then we have drill teams. They do ceremonies with rifles and they perform color guard at sporting events," said Perez.
Having a large group of cadets who are willing to get involved in these activities, helps the school's overall receptivity to visitors.
"Whenever the school hosts VIPs or need help with high-visibility events, JROTC students are always called upon to support providing escort service or whatever is needed to make the event go smoothly," said LTC Dunklin.
This is reflective of the pride the faculty has in JROTC Students.  The color guard also plays an important part in the school environment.  
"All the major activities at the school, like open house and things like that, we provide color guard for doing presentation of the colors," said 1SG Horton

The JROTC program also focuses very strongly on community service.  
"One of the cadet's main jobs each year is building a community service learning plan, which [is when] they volunteer in the community supporting different initiatives," said LTC Dunklin.  
These volunteer opportunities normally include mentorship at elementary schools. This year, however, the program decided to focus on a different project; Heads, Hands, and Feet (HHF).
"Winter comes, holidays come, and people are interested in giving away clothing and other items.  With HHF, the idea was to try to put something on their head, hands, and feet to keep them warm before the winter actually hits really hard," said LTC Dunklin.

The Chamblee JROTC Program continues to look forward to opportunities to support the high school, help the community, and most of all instill a sense of pride, purpose, and service in young adults.
About the Writer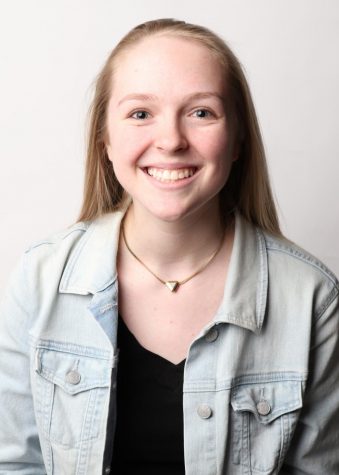 Hope Williams, Staff writer
Hope Williams is a senior staff writer. When she's not churning out articles, you can find her playing with her cats or going on a hike. This is her second year on the staff.