Reigning Champs Serve Into the New Season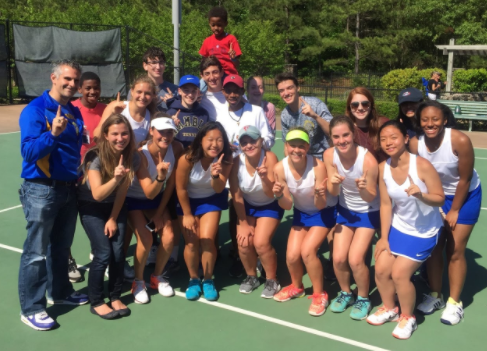 Hang on for a minute...we're trying to find some more stories you might like.
A new semester may mean a chance to start fresh academically for some students, while for others, it means the start of the spring sports season.
The Chamblee Charter High School tennis team is looking forward to the 2018 season and hopes to work towards a state title through teamwork and dedication.
"We hope to win the region again like we did last year and get a good seed going to state and hopefully make it pretty far," said senior and boy's team captain, Dixon Hall.
The team lost two seniors last year, but is eager to gain new freshmen.
"We didn't lose too many seniors, only two, so I think for the most part, the dynamic hasn't changed too much, and there's still a lot of upperclassmen, not too many new freshman, so we can kind of role model for them and keep the same kind of dynamic going," said junior Madeline Meer.
Although the team dynamic may be similar to last year, the boy's team is looking into getting a seperate coach, as well other opportunities to build team spirit.  
"We're not so much breaking away from the girls team, it's just to have an extra coach to help our practices. Ms. Tulchinsky's busy with math team and math class overall," said Hall. "Most other teams have a boy's and a girl's coach. We don't need it, but it would be a nice luxury."
The boy's team will also have a new sponsorship opportunity with an apparel company, Southern Proper.
"They're a company that's in Buckhead and they're pretty big. Basically, they're going to give us free hats, free clothing [for] the entire tennis … [season]. … We get discounts on all their clothes, and in return, we just have to wear some of the clothes around the school and we're starting this thing called bow tie Tuesday, where every Tuesday, if you're a member of the tennis team, you have to wear a bowtie, if you're a guy," said tennis team member and junior Chase Starks.
The team is also travelling to new locations to play and watch tennis.
"We actually have a tournament in Jekyll Island, so I don't know if there are going to be teams from South Carolina, but there are going to be teams from all around Georgia. We're also going up to Athens for a tournament," said Hall.
As for reevaluating the team's practice strategy, some players already have ideas about improvement.
"I think something that worked last year that [we] didn't really do well in previous years is that people actually showed up to practice. I know like, big surprise, because if you don't show up to practice, how do expect to get better? How do you expect to win matches? You need to get the experience in," said Starks.
The varsity captains for this season, Hall and Olena Bilukha, will replace last year's captains, Leeza Ershtein and Manav Mathews.
"I really feel like this year, we have pretty good captains. I feel like we're going to be a lot more organized than we usually are and we have a really good plan," said Starks.
Varsity coach Larisa Tulchinsky is already looking ahead to the new season and hopes for success.
"We have the same girls that are very highly skilled and we believe in them, we know that they will do their best again," said Tulchinsky.
She also believes the boy's team will improve compared to last year.
"I think we have [a] much stronger boy's team this season and we have a little bit more experience with [the] boys, so we really believe the boys will do much better," said Tulchinsky.
Most players have already set goals, both for their team and themselves.
"I think one of the goals for the boy's team is definitely to probably try to get to the state tournament and get further, because usually we get to the first round but we don't win, whereas the girls have won state," said Starks.
He also has a personal goal to work on throughout this season.
"My personal goal this year is to practice a lot more and get used to the high pressure situations, because sometimes when I'm in matches, it's just kind of stressful," said Starks.
Others have more general goals for their season.
"Of course always contribute as much as I can to the team, help bring back another win, and just do anything I can to build this team's spirit," said Meer.
About the Writer
Hope Williams, Staff writer
Hope Williams is a senior staff writer. When she's not churning out articles, you can find her playing with her cats or going on a hike. This is her second year on the staff.