Budding Conservationist Spends a Semester in the Wilderness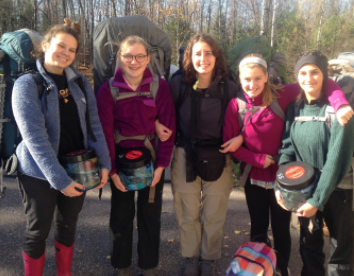 Participating in an exchange program during the summer for a couple weeks is one thing, but spending an entire semester in a different part of the country is another.
Alexandra Jakobsen spent the fall semester of her junior year in Land O' Lakes, Wisconsin at the Conserve School, a semester school that focuses on developing a love for nature in its students.
"I've always been really connected to nature and the idea of spending a semester in the forest learning about environmental science and conservation seemed like the perfect fit for me," said Jakobsen.
Conserve is part of the Semester School Network, which consists of 13 different schools from all across the country. Students from all over the world can apply to any one of these schools, but the Conserve School only accepts 60 students per semester.
Jakobsen heard about the program through a family friend who had previously attended, and decided to apply. Soon after, she was accepted to the school.
"I was super excited," said Jakobsen. "Conserve called my mom beforehand, and she was so excited that she told me before I even got an acceptance letter."
In the weeks leading up to her departure for Wisconsin, Jakobsen admittedly felt nervous.
"I had no idea who my roommate was going to be, what my schedule was, who my teachers were," said Jakobsen. "It's like going off to college without meeting anybody or seeing the campus."
Upon arrival, however, Jakobsen felt immediately welcomed and cared for by the administrators and teachers. She could also tell that she had found a group of people who shared her interests and ideals.
"The other kids there were so happy to be there, and we all shared this intense love for nature," said Jakobsen.
The first few weeks at Conserve were an adjustment process. Jakobsen was not only feeling a bit homesick, but was also getting used to the boarding school experience.
"Everything was pretty much the opposite from Chamblee," said Jakobsen. "I ate meals and lived in the same houses with some of my teachers. Conserve also didn't cancel school for anything, because all the teachers, kitchen staff, and administrators lived on campus with us."
During the semester, Jakobsen and her fellow students learned useful and interesting information about the outside world in addition to the core material taught in a traditional high school.
"We learned archery technique, how to predict the weather, how to tag grasshoppers, cross country skiing, organic gardening, lumber jacking skills, and making debris shelters, just to name a few," said Jakobsen. "We also went night hiking, stargazed, and watched the Northern Lights."
Jakobsen had some unforgettable experiences at Conserve, including a weeklong backpacking and canoeing trip into the Ottawa National Forest. But perhaps the most memorable experience was a solo camping trip.
"I was completely by myself in the woods for two days," said Jakobsen. "It was the most empowering experience of my life."
When Jakobsen returned back to Atlanta after the semester was up, she found herself wishing the program had been longer.
"Just as I started getting super close with the students and staff at Conserve, I had to leave my family from the Wisconsin Northwoods and come back," said Jakobsen.
Jakobsen still makes it a priority to keep in touch with the friends she made at Conserve.
In addition to valuable experiences and great friends, Jakobsen also gained some important wisdom and knowledge about herself.
"I feel like I've gained an incredible sense of place, and I feel comfortable being by myself in nature," said Jakobsen.
Just as the name of the school suggests, Jakobsen has also become much more aware of the importance of conservation and protecting the environment in her time at the program.
"I still feel like people aren't taking climate change seriously," said Jakobsen. "We have to act now, if we want a healthy, balanced planet to live on."
All in all, Jakobsen's experience at the Conserve School provided her with knowledge and memories that she will never forget.
"I felt like I found my home," said Jakobsen. "Conserve deepened my desire to respect and preserve our environment, and inspire others to do the same."