Chamblee's Own Winter Olympians?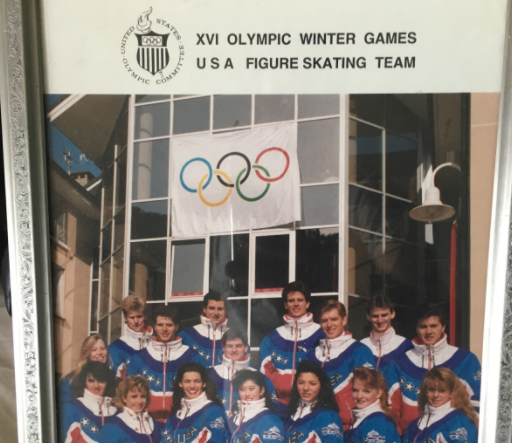 With the conclusion of the Winter Olympics, Chamblee students reflect upon their own winter sport goals.
Though Chamblee is definitely not known for its winter sports program, there is a smattering of Chamblee students on the slopes and in the rink in their spare time. Not all have Olympic level aspirations, but it is certainly an enjoyable pastime.
"[I ski] with my family and friends but we are always trying to get better and ski more advanced terrain," said sophomore Andrew Rodgers.
Rodgers, a skier and snowboarder, enjoys watching Shaun White, especially watching him win a third gold medal after a tough run in Sochi in 2014.
Sophomore Kasi Puri also enjoys skiing, but has dedicated her time to figure skating from a young age.
"I got into my sport when I was nine when I went to a hotel with an ice skating rink inside and saw people skating," said Puri. "I knew that I wanted to skate from then on; however, neither of my parents knew how to skate at the time and didn't let me. In January 2010, they surprised me with my first group lesson and I've skated ever since."
Since then she's been training both on the ice and off to master all the skills to perform at a competitive level with multiple programs and costumes.
"I train at the Cooler [Skate Center] in Alpharetta, which isn't too far so it's not too much of a problem," said Puri. "I go up to Minnesota in the summer to train. I travel all around Georgia for my competitions. I always get nervous before competitions, but as soon as I start skating my nerves go away. I've gotten first and second in competition a lot."
Even with all the training, Puri does not plan to go to the Olympics with ice skating.
"I would love to go to the Olympics for my sport, but that is not my main focus," said Puri. "Skating to me is for reducing stress and spending time doing what I love with amazing people."
Her favorite Olympic figure skater is Mirai Nagasu. Nagasu became the first American woman to land a triple axel at the Olympics during the team event this year. Nagasu's participation in this years Olympics was speculated about after she was controversially left off the team for the 2014 Sochi Winter Olympics after winning third at the U.S. Championships in favor of the fourth place winner, Ashley Wagner.
But regardless of Puri's future in the sport, figure skating is still one of her favorite things to do.
"I enjoy ice skating because it is a challenge," said Puri. "Ice skating is also very communal with coaches and peers as well."
Junior Angela Witherby has a slight favoritism for figure skating. Her cousin Russ Witherby competed at the 1992 Winter Olympics, which he could only describe as "electric".
Witherby competed with Tonya Harding at the 1992 Winter Olympics as well as internationally for five years and on the world championship team.
He officially started training at age 18, claiming he had a "natural feeling" for the ice, but was practically born on the ice with two figure skating parents.
"Certain moves, like gliding, you can't get that feeling anywhere else," said Witherby. "Not in the car or on a pair of roller blades, only on the ice."
Of the four ice skating disciplines, he chose ice dance due to "the challenge and the creativity of the moves. There is a lot of repetition that help make the skills feel like yours."
       When he was still competing, he enjoying the traveling aspect. One of his favorite places he visited was China.
"The most interesting place I traveled to was China in 1996," said Witherby. "This was before the internet, and China was kind of like how Korea is today, very disconnected from the rest of the world. The kids there looked at you like you were a Martian, because they had never seen someone with blue eyes before."
 For the past 20 years, he has been coaching ice dance teams, trying to keep up the changes to sport since his time, as ice dance has become much more athletic in the skating and acrobatic in the lifts. But Witherby stills looks back fondly on his times as a competitive Olympic skater .
"You get there and you realize that it is just not your sport anymore," said Witherby. "You meet all these different people from different countries and sports coming together for the right reason."