CCHS Football Star Signed to SEC Juggernaut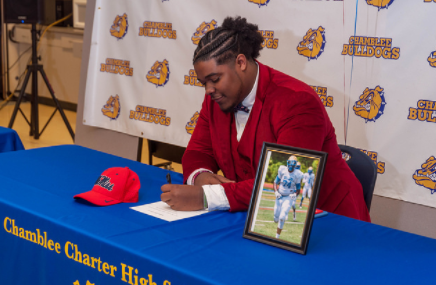 What would you do if you had to line up against 340 pounds of raw power ready to rip you apart every friday night? If it's me, I'm sprinting in the opposite direction.
Such was the decision often posed this year, as opponents on the field continuously faced off against Chamblee High School star lineman, Hamilton Hall, to no avail. Hall recently made his collegiate commitment to the University of Mississippi on National Signing Day, affirming his long-awaited dream of playing football in one of the most prestigious leagues in the country: the Southeastern Conference. As a three-star rated recruit, and a member of the top 100 ranked linemen in the nation, Hamilton's talents were heavily sought after, and after finding his love for the game throughout his high school career, the decision for Hall became relatively simple.
"I tried a lot of sports when I was younger, but football became something I really got into around middle school, but going into highschool, I started to take it much more seriously. I think even ninth grade is when it really hit me," said Hall.
Hall's 6'5'' frame has always given him substantial athletic ability, but his time at Chamblee really groomed his love for the grind that is a football season. After enrolling as a freshman and posting a dominant high school career, Hall's packed highlight reel frequently depicts him easily shoving aside unexpecting defenders, firmly planting them on the ground. Hall knew that his ceiling was higher than just high school ball, and his aspirations of playing on college began to come into focus.
"It has always been my dream to play at this level, but even when I got my first offer last year I didn't settle, I kept acting like I didn't have one. I think that's what got me to where I am," said Hall.
Because Hall's athletic talents could have landed him at any number of top tier programs, the focus of the decision began to shift to a school's overall aura, not just athletics. He was intent not only on finding a good fit for his abilities, but also a great fit socially.
"I've been to a lot of colleges and a lot of campuses, but Ole Miss has that family atmosphere that I was looking for," said Hall. " The whole town is supportive, the place is amazing and beautiful, and it just felt like that was the place where I would fit out of everywhere I'd been."  
Over the course of the past season, Hall developed a particularly unique relationship with a member of the Chamblee coaching staff, Coach Daniel Shugars, defensive specialist. Shugars, who worked intimately with Hall on his performance, had nothing but praise for the young prospect's on-field capacity.
"Hamilton was a monster, and if he ever got his hands on you, there was no getting away from him. He was just an extremely determined young fellow, always working to be better than the next person," said Shugars.
But even more important was what Shugars saw in Hall outside of the field. This is what set him apart from the standard athlete, and proved potential.  
"He's really a big teddy bear, a gentle giant. He is someone that is always caring about his brothers on the team.You know, it's not all about him, but about the team," said Shugars.
At the end of the day, Hamilton will always have a lasting connection here at Chamblee, and will be remembered as one of the most talented players the school has produced. It may be odd seeing big number 74 absent from the friday night lights, but his growth through the Chamblee program has certainly made a lasting impact on the school's community.
"The first time I ever got in a game for high school, I got destroyed, but ever since then, I've just had the mentality to not let that happen to me again, I'm never going to get put on my butt again," said Hall. "Thats a big memory that I'll never forget, and even though I'm moving on to bigger and better things, I'll never forget Chamblee."
About the Writer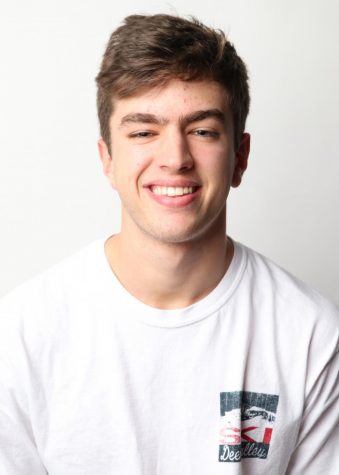 Matthew Welsh, Staff writer
Matthew Welsh is a senior staff writer. When he's not writing articles, he enjoys watching sports, wrestling his brother, and playing with his dog. This is his second year on the staff.