Star Pitcher Finds Home Close to Home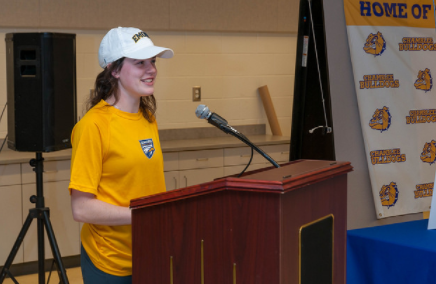 Hang on for a minute...we're trying to find some more stories you might like.
The pitcher is the focal point of any softball game; the quarterback of any successful team; the glue that holds together all the pieces. Chamblee High School was lucky enough to have one of the most effective in school history, shine through its program from 2014-2018.
Team captain and touted pitcher, Carlin Waddell, led the Chamblee softball team to a deep run in this year's state playoffs, inspiring and leading those around her. Waddell's talents have not gone unnoticed as she signed to play softball for Emory University on National Signing Day. Now that her time is here, all bets are off.
"When I was 14, I think I decided that I wanted to play travel ball because I thought it would help me get into academic schools that I wanted to go to. Since then, it's always been a big goal of mine to play in college."
Waddell was a four-year starter here at Chamblee, and in addition to striking out batters left and right in games, repeatedly homered in the classroom, making her a perfect candidate for an accredited school such as Emory. Coupling her love for the game along with her passion for learning was imperative in her decision.
"Actually I didn't want to go to Emory at first because it's right down the street from where I live. But then I realized that I don't know what I want to major in, but everything that I am interested in majoring in, they have a really good program for," said Waddell. "And it's D3, so it's not as big of a commitment like it is in D1. I still want to have time to be able to focus on school."
For Waddell, the choice came down to the essentials that school's offered her, a quality program supplemented with a quality academic environment. Her search brought her around the nation, a process that really opened her eyes.
"I had a couple offers from other schools, and I really liked NYU too, but Emory just seemed like the best fit because I really liked the team and the coaches," said Waddell.
Head varsity coach, Alan Loper, had the pleasure of seeing the young talent blossom throughout her time in high school, and knew from the moment he first saw Carlin play, that she possessed something special.
"Carlin was a great player, through her grittiness, determination to succeed and to not give up and keep going, and her ability to overcome adversity both on and off the field. I just can't say enough good things about her," said Loper. "She has the determination and leadership skill that is very impressive for her age."
A a seasoned veteran of high school softball at the school, Loper was with the varsity team from Carlin's sophomore to senior year. It was his pleasure to enjoy many of the magical moments Waddell had on the field, but one he remembers in particular sums up her competitive nature.
"During her 10th grade year, we were playing at Marist, and she took a line drive back off of her leg. It was hit hard, and she was hurt, but she hung in there and kept playing. I think that really sticks out in terms of resilience and determination to play," said Loper.
He also sees an amount of untapped potential that while in college, could be drawn out from Waddell. Although she performed admirably in high school, Loper has no doubt that Carlin could reach an entirely new level while experiencing the college game.
"She's throwing pretty hard, and with Emory's strength and conditioning program, she'll get stronger, faster, and quicker. I think by the time she graduates, she'll be pretty dominant, if not before then," said Loper.
Despite having settled on choice of school, Waddell knows that she will not be able to settle on the field if she wants to seriously pursue her goals. Propelling herself to a collegiate opportunity is one thing, but performing is a different hurdle. We may no longer hear the familiar pop of the catcher's mitt from a Waddell Fastball bless the grounds of the Chamblee campus, but Waddell is determined to make a name for herself at Emory.
"I definitely will have to keep on a strict schedule to make sure I get everything done. I'll have to work my way up, being a freshman, especially cause a lot of things are different in college," said Waddell. "I'm hoping that I'll be able to work hard and make adjustments and do well when my coach gives me playing time."
Looking back on her time at Chamblee, a time packed with ecstatic highs, Waddell realizes what the Chamblee Softball Team, and school in general, has really meant to her and her aspirations of continuing her passion.
"It's kind of hitting me now that the season is over, and I'm sad its over, but the program has really grown, and I'm just proud to be a part of it," said Waddell. "We have gotten better every year, beating teams that we didn't before, and it's been really great to look back on it."
About the Writer
Matthew Welsh, Staff writer
Matthew Welsh is a senior staff writer. When he's not writing articles, he enjoys watching sports, wrestling his brother, and playing with his dog. This is his second year on the staff.