JUULs in Schools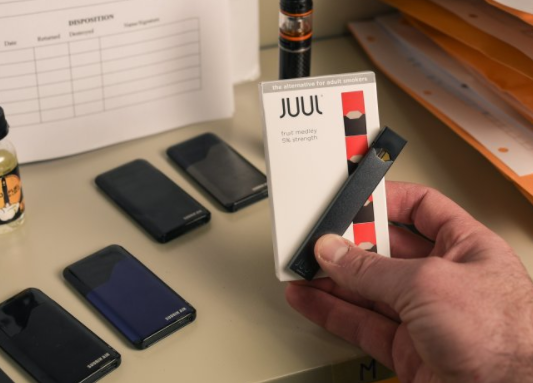 Teachers: Is that a student's flash drive? Or is that a perfectly camouflaged vape, known as a JUUL.  
JUULs, like other types of vapes, are electronic devices that vaporize a mixture of liquid nicotine, flavors, and other chemicals. Unlike vape pens, which are refillable, you have to buy cartridges for JUULs. Each cartridge contains the same amount of nicotine as one pack of conventional cigarettes. Although the company that makes JUULs aims them at adults trying to quit smoking, the size and flavors of JUULs, which include mango and creme brulee, make them attractive to teens. It is so common with teens that when someone uses a JUUL, it is now known as juuling.
One sophomore, who wishes to remain anonymous, recognizes the prevalence of vapes in school.
"I think juuling is a pretty big problem," said anonymous. "I see kids hitting their JUULs in the bathroom between classes and sometimes even in class when the teacher isn't looking."
That said, there are also many students who still do not believe that JUULs and other types of vapes are a prevalent problem in schools. One freshman, Shaun Breaux, thinks there are other problems schools should be focusing on.
"[Juuling in school] is a stupid trend," said Breaux, "but it does not compare to some of the other problems [schools] have. For instance, there are people upset and scared about school shootings, there is a massive bullying problem, and there are people that need attention, like people with mental issues."
Another student seems to think that vaping is still relatively unpopular for high schoolers.
"I do not think it is a prevalent problem," said another sophomore, who also wishes to stay anonymous. "I know people who vape, but it has not affected school life very much, at least from what I observe. However, I think over time, as juuling and vaping become more popular, it definitely may become a potential problem."
However, the statistics about teenage vaping tell a different story. One California study found that approximately 14 percent of Southern California high school seniors had vaped in the last 30 days. The last time researchers in the study had seem similar levels of nicotine use in high school seniors since the nineties.
The first interviewee cites the previous inaction of CCHS faculty and staff to to the rise of use of JUULs at Chamblee.
"I do not think that the school has made any effort in trying to stop [use of JUULs]," said anonymous. "I do consider it a sort of drug but no teacher or administrator has said anything along the lines of JUULs being banned or just a bad thing at all. That's why I think these students are so comfortable doing it at school."
Sophomore Victoria Ordonez suggested how CCHS could help students addicted to nicotine.
"If the school actually wants to do something to help these kids," said Ordonez, "I would suggest reaching out to the kids, and find out why they are doing it, and help them get out of it."
About the Writer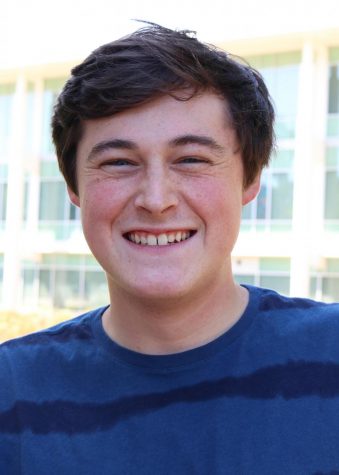 Oliver Hurst, Staff writer
Oliver Hurst is THE senior staff writer. You can find him going to Fernbank, talking about his dog, and binging a show on Netflix. This is his third year on the staff.