New Executive Coaches Emphasize Communication, Approachability
Chamblee Charter High School has gone through quite a few changes in last month, including the introduction of executive coaches. Chamblee students may notice two new executives milling around, ensuring that the school is running properly.
Terese Allen and Robert Williams will be the CCHS leadership team's executive coaches for the 2018-19 school year. They are here to observe and make suggestions as to where improvements can be made, as well as support the administrative team and school community with any concerns they may have.
This summer, teacher and parent surveys were released, which raised concerns about climate between leadership and staff at Chamblee. Parents voiced those concerns at meetings over the summer, which drew media attention. Allegedly, this is the reason there are executive coach here to assist and make suggestions to help the school function at its best capacity.
"[The issues brought up this summer] are all part of the reason we're here to observe, but mainly concerns have been raised that just need to be handled," said Allen.
DeKalb County School District superintendent Dr. Stephen Green asked Allen and Williams to come to Chamblee to address the concerns that have been raised.
Williams stated that executive coaches have been "trending" in different counties, and although such a position remains relatively uncommon in DeKalb County, he and Allen are not the first to occupy this role.
At Chamblee, the coaches will be serving more as a guides than as decision makers.
"We can help and work within a leadership team to give more input into things we see within the school that may need adjusting or applauding, like something that's going on that's not getting enough recognition," said Allen, "but we're here to help everyone, not just the leadership team, but we're here for students and teachers and the parents and the community [as well]."
They will be working with the administrative team to focus on key problems the coaches see.
"As an executive coach I'll be working with the principal, Ms. Braaten, trying to provide assistance in whatever areas she feels like she needs support in," said Williams. "I have a wealth of experience and I feel I'll be able to share from those experiences to give her support."
Those experiences include time spent at the helm of Columbia High School and Chamblee Middle School. Although he retired in 2003, Williams has since served as interim principal at different schools in Fulton and DeKalb counties.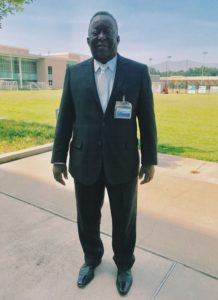 Allen comes from a similar background, having served as assistant principal at Chamblee Middle School and as principal of Henderson Middle School. After retiring in 2014, she has continued to serve as interim principal at different high schools.
The coaches will use their own experience to advise principal Rebecca Braaten, but she remains the ultimate authority at CCHS.
"Our position has no decision making power," said Allen. "We are also a liaison to work with all the stakeholders, not just the leadership team, but anyone who has a concern. Our door is always open so we can try and discuss to find a solution to their concerns."
Williams plans to focus on three key areas that he believes are crucial in running a school.
"One is communication. Second is building relationships and third are operational kind of things," said Williams. "A principal has to have a great foundation in those areas to lead the school effectively. It's important you be a good communicator. You need to be approachable. People need to feel comfortable coming to you. You're the mom and dad of the staff as well as a colleague. Students, teachers, and parents need to be able to approach you without feeling intimidated."
Though the school year has just begun, Allen and Williams have already noted some concerns they would like to address.
"It's very common, especially in a high school setting, to have a schedule changes that are needed, but this sure seems to be more than usual here," said Allen. "So I think in the future we have to look at the time of the year when it's initiated so we don't have so many conflicts when students do get back and they can get into the right classes."
Williams is concerned about the communication and interactions between school community members.
"Mainly the key focuses need to be enhanced," said Williams. "Communication needs to be stronger with more defined lines of communicate between school and community, staff and administration, and certainly between the student body and administration. There also needed to be some emphasis on building relationships. They have to be nurtured and cultivated. I'm looking for a school community family."
Allen and Williams have met with teachers, parents, and community members over the summer to gather their input and to see if they can embrace those ideas within Chamblee's school culture.
"In all of my experiences, my main thing has been collaboration–collaborating with parents, teachers, and staff to make the learning environment conducive to learning and make it a better place for students to come and learn," said Williams. "I'm passionate about students and engaging with parents. I like to see students be successful. I want all students to feel like they can indeed be successful. I try to be encouraging to my teachers and staff, and make them feel good. We have a great staff at Chamblee. I'll be visible and encouraging, making sure our teachers and staff are using the best practices for learning."
Their main goal is to create a comfortable space for both staff and students.
"I try to be affirming to my staff, making them comfortable so they can do their jobs to the best of their ability," said Williams. "I believe in staff moral and having great school spirit. I like the pep rallies to be crunk and hyped up. School ought to be a for learning, but it can also be a fun place. A place where kids love coming, so they don't feel pressured to drop out. You should feel safe. School is the cool place to be."
With a long year ahead of them, both executive coaches are hopeful and glad to be here.
"It feels like coming home," said Allen. "I've met wonderful people and look forward to working with [them] this year."