AP Harris Hopes to Unify Chamblee (New APs Part 3)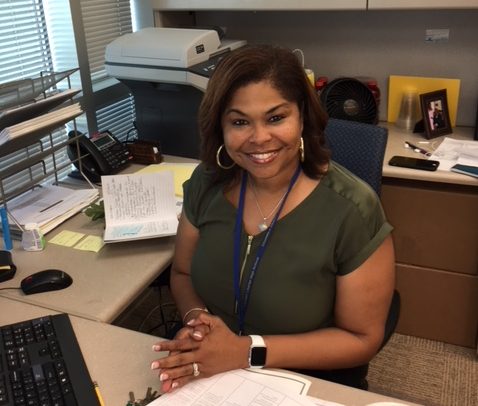 This is the last article in a three-part series. You can find the first post here and the second here.
The third and final addition to Chamblee's assistant principal team is the energetic, enthusiastic, and impassioned Dr. Melisha Harris, who was previously an assistant principal in Gwinnett County. With experience in a variety of different educational fields, Harris is confident her diverse professional career will help aid her transfer to the Chamblee community.
"I've taught special education and regular education, splitting my time for about 10 years, and then I entered into leadership roles where I was pulled out of the classroom to help teachers that needed extra support. I also traveled out of the country and had the opportunity to teach 30 minutes south of Dubai, where I became the head of faculty, and got to learn a lot," said Harris.
Although extensive and fluctuating, her past never deducted from the initial reason she sought a future in education.
"My mother was a special ed teacher, my grandmother was a special ed teacher, and my grandfather was a university professor, so education has really always been in my life. It's something that my family has always been passionate about," said Harris.
Student interactions around the school is an aspect Harris sees room for improvement in, and she has plans to reinstate an electric atmosphere among the school's population. And like the other administrative additions, she hopes to instill a unifying message among students and staff alike.
"I just want us to be one. I really want us to come together and focus on providing a positive environment, a positive atmosphere, and positive opportunities for our kids," said Harris. "I'd really like everyone to start doing some student engagement activities that will make everyone want to be here and want to make Chamblee a great place."
As a mother of four, all of whom are at varying levels of education ranging from middle school to college, Dr. Harris has her hands full at home and work. Education is her passion, but outside of school, much of her attention turns to those closest to her.
"I stay pretty busy with [my kids], and I don't get to have much of my own life because everyone is involved in sports and activities," said Harris. "So that's pretty much what I'm doing away from work — spending time with family."
Inside Chamblee, Harris focuses on her next closest family: hundreds of ambitious students ready to learn. Imperative in her mind is activating and motivating these minds, so that they can reach their goals.
"We need to really think about what's best and what we are really here for. At the end of the day we are here for the kids. I want us to be able to embrace each other and find ways that we can make sure each kid feels important here at Chamblee. I want to see kids be successful. I want to see them go to the best colleges possible and then come back and visit me after they have found their place in life," said Harris.