What, Exactly, Did Taylor Swift Do?
After three years of radio silence, Taylor Swift is back — and she's back with a vengeance.
Her departure from her usual album-every-two-years cycle, combined with the ominous clearing of all her social media accounts, suggested that her sixth studio venture would not be business as usual, something confirmed by the release of her latest single, "Look What You Made Me Do."
The song is dark, especially when compared to her past work, which ranges from the sugary pop sound of "1989" to the straight up country flavor of her self-titled debut album.
But then, her past albums were not written in the context of a bitter, tangled, and highly publicized feud between Swift and celebrities Katy Perry, Kanye West, and Kim Kardashian.
"Look What You Made Me Do" is Swift's next move, an edgy, melodramatic proclamation that "the old Taylor" is dead and gone.
In spite of a lukewarm critical reception, the song rocketed to the top of the iTunes charts and broke the Spotify record for most plays in a single day.
I have to admit, though, that the critics might have been onto something. Perhaps in the context of an entire album, the song's weaknesses would not seem quite as glaring, but as a standalone the record feels a little lacking.
The lyrics are vengeful, sure, but they don't pack nearly the punch of some of Swift's other works. "You said the gun was mine," she sings at one point, which sounds like a promising setup, before she goes on to declare, "Isn't cool, no I don't like you."
"Look What You Made Me Do" is, in this sense, a very shallow song (not that that stopped me from jamming out to the song at 6:30 a.m. the day it was released). I admit that Swift is vindictive in the a very archetypal, predictable way. It doesn't take more than a single listen to understand what it is that Swift is trying to get across: that she's mad and out for blood.
So although the song may be able to dominate the airwaves for the next couple of months, it doesn't present any nuance or deeper meaning that would make it likely to last–that is, until the music video is brought into the equation.
Released three days after the single dropped, the accompanying music video showcases an attention to detail that makes the song more interesting, too.
Although the music video struck me as disjointed and confusing upon the first viewing, it became infinitely more entertaining once I noticed that the video is littered with references to various media scandals Swift has found herself a part of in recent years.
It's not an apology for anything so much as it is an acknowledgement of who the media and the general public view her as, and it makes Swift seem much more sympathetic and real than the resentful Swift her single presents her as.
The most obvious example of Swift's mockery of her own image comes at the end of the video, when various iterations of Swift stand in a line and act out exactly what so many people loved to hate about Swift: her "fake" surprised face, her habit of playing the victim, her infamous request to be "excluded from this narrative."
But it is some of the subtler touches that really sell the "Look What You Made Me Do" music video as a planned work of satire. At one point, Swift is depicted in the midst of robbery, with the words "Stream Co." scrolling in the background, a reference to her decision to pull her music from Spotify that many viewed as evidence of her money-grubbing tendencies. In another scene, Swift presides over a huge crowd of eerie, almost-human robots as screens in the background flash "SQUAD" over and over, an allusion to criticism that Swift superficially selects certain "perfect" celebrities to be part of her very public friend group.
The "Look What You Made Me Do" music video is, as a result, a much more significant step forward for Swift than the song itself. Instead of trying to deflect criticism, she owns it and pokes fun at past versions of herself. Admittedly, it gets a little grim when Swift stands on top of a writhing pile of other Swifts and then declares them all to be dead, but then, Swift has always had a flair for the dramatic.
But the message that her new music video sends is an important one: the Swift of this new era isn't a Swift we've met before. She has new outfits, a new sound, and plans, at least, to build a new reputation for herself.
I know I'm excited to see if and/or how well she pulls it off–but I'll admit I'm not too concerned. Reinventing your image is nothing compared to literally rising back up from the dead, and that's something Swift assures us she does all the time.
Swift's new album "Reputation" will be released November 10.
About the Writer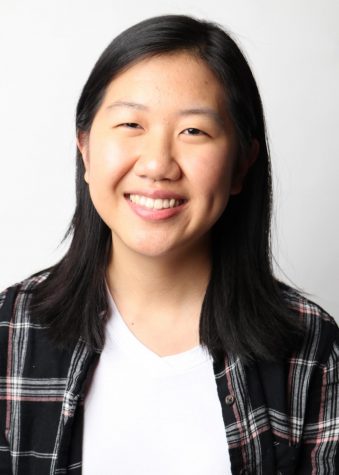 Alice Bai, Editor-in-chief
Alice Bai is a senior and editor-in-chief. In her free time, she likes to read, work on her bullet journal, and shop online for fun and funky crew socks. This is her third year on the staff.