Has Digital Dreamers Turned into a Digital Nightmare?
With all of the hubbub surrounding Chromebook distribution this year, many parents and students have expressed confusion regarding many aspects of the process. For example, no one has addressed the pressing matter of what should happen to students who may be incapable of paying the $20 Chromebook insurance fee, and consequently will be denied the right to an equal education when compared to their more fiscally privileged peers.
"[Chromebooks] are definitely a beneficial tool. I use them to disseminate information without doing a lot of copying; anything that we can do electronically to save money, time and the environment," said history teacher Theresa Abernathy, who is admittedly hopeful about the educational supplement that Chromebooks provide to the classroom environment.
Despite the general consensus, not everyone is so excited about their Chromebooks.
"My computer is really slow and has to restart at least 5 times a day," said sophomore Sammy Fisher, who is heavily dependent on her computer, especially in her A.P. classes. "It affects me because all of my work gets lost and I have to restart it. I love Chromebooks because they're a huge help, but they need to be fixed."
Fisher is not the only one experiencing technical difficulties. Some people have already made a trip or two to the library to sort out why their Chromebooks are already malfunctioning after only having them for about a week. As a result, many students have resorted to bringing their personal laptops to school.
Students and teachers alike are continuing to struggle to find balance between the dependence on virtual learning and wanting to provide equal opportunity for students who haven't yet received their Chromebooks or will not be getting one.
Some classes are more heavily laptop dependent, such as language classes or ones in which students conduct research.
"I truly hope that all my students will be able to have Chromebooks access which makes it super convenient to shift from traditional teaching to high tech class, however, we try to accommodate the students by making some paper copies of the assignment, think pair share activities, working in pairs, awareness of public library cards, media center passes, etc.," said Shaheen Begum, the 2017-2018 Teacher of the Year of Chamblee Charter High School.
Begum, along with other teachers, bring up an interesting point: since they aren't clear on the procedures for how to get Chromebooks to students without the means to get them for themselves, they might not even know whether a student has one or not. Without this knowledge, they could be unknowingly assigning work to students who physically cannot do it.
As of now, there isn't much word about how the administration plans to tackle all of the problems that have arisen due to Chromebooks. Attempts to contact the administration were not successful. Even most teachers are in the dark about what is being instituted as an aid for those who can't afford to get a laptop.
The one outlier is tenth grade English teacher Zachary Welser. He has taken initiative to find out which students still don't have Chromebooks, so that they can get a device.
"I've asked adults in the building to identify students who need financial aid and get their names to me as soon as possible. We've already found ways to pay the insurance for many of these students," said Welser, who, seemingly, has taken on a large role in ensuring an equal education for students of all financial standings.
"Since we no longer have computer labs, I worry about those students who do not have their Chromebooks being able to stay on pace. Sure, I can obtain a laptop cart, but they take ten minutes to start on a good day, and we have to get them out and put them back up and make sure they're charging. Fifteen minutes of a forty-nine minute class period are eaten by basic technological issues that would be avoided if the students all got a Chromebook," said Welser.
About the Writer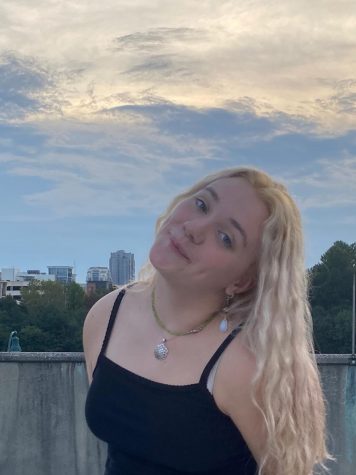 Stella Garrett, Editor-in-chief
Stella Garrett is a senior and editor-in-chief of the Blue & Gold. Outside of journalism, you can find her making costumes for Chamblee Onstage, drowning at water polo practice, sleeping, and playing with crystals. In five years, she hopes to be working on a farm or traveling the world in her converted sprinter van. This is her third year on the staff.