Student Swimmers Pursue Goals Outside of Swim Season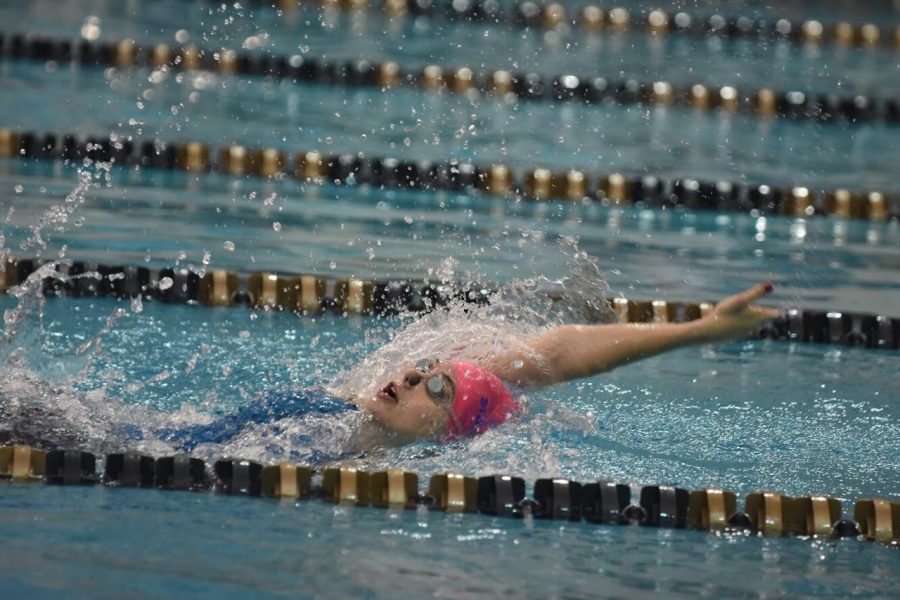 Although the swim and dive season is several months away, some Chamblee Charter High School students have been participating in competitive swimming clubs outside of school to further strengthen their skills.
Seniors Theo Hardy, Teresa Maloney, Jade Foelske, and Tyler Trocchi all swim at Dynamo Swim Club. Maloney sees swimming not just as a sport, but a form of stress relief and therapy.
"During the school day, and the day in general, you're bombarded with people talking to you and all this phone and social media stuff, and so then, when you get in the water, you're alone," said Maloney.
Hardy enjoys swimming for other reasons.
"I first started getting really serious about swimming when I was a freshman," said Hardy. "I really like being able to really work at something then have all your hard work culminate into one time, as opposed to a team sport, where you depend on a lot of other people. In swimming, you can kind of see everything that you've worked on for the past year in a number and you can quantify it."
Hardy, like Maloney, swims at the Senior 2 level. Foelske, however, swims at the highest level, Senior 1.
"Once you get to high school they divide you up into four training groups. From fastest to slowest , they are called Senior 1, Senior 2, Senior 3 Gold, and Senior 3 Green," said Trocchi.
The levels are fairly similar and often train at the same time, but they have different coaches.
"She [Maloney] has a more long-based coach, and mine … has more of a purpose to details and strokes," said Foelske.
Their practices follow a set schedule.
"Once the season gets into full swing we have eight practices per week, usually two hours of swimming and an hour of dry land, although the morning practices are an hour and a half," said Trocchi.
The morning practice are on Mondays and Fridays. At each practice, the activities vary.
"In the mornings, we just swim," said Hardy. "The workouts change day to day. Some days we'll do an aerobic capacity set and some days we'll do a strength set. In the mornings a lot time we'll do pulleys… There's this pulley system which you strap around your waist and you put weight on it. You swim very short distances but as fast as you can with the weight."
Meets occur frequently, about once a month.
"At the beginning of the season, we'll have meets that really aren't that important in the long run because you're still in the middle of the training, so you're not rested or anything," said Hardy. "It's just kind of to figure out your races and to get experiences."
Foelske swims at various competitions on the national level.
"I usually go to Junior Nationals, which is [ages] eighteen and under… those are really hard meets so it's really hard to make it into the finals," said Foelske.
She also swims at Winter Nationals, which tend to be harder because they are open to a larger group of swimmers.
"You're swimming against people [who can swim as well as] like, I don't know, Ryan Lochte, Michael Phelps," said Foelske.
Maloney swims at the state level and zone, which is comprised of other states.
"We're in the Southeast zone, which is like Georgia, Alabama, Tennessee, the Carolinas," said Maloney.
Outside of club swimming, both Foelske and Maloney will be captains of Chamblee swim team for the 2018-2019 season. They are able to use their Dynamo practices as replacements for schools practices.
"We just go to the [school] meets that are afterschool and then we miss practice," said Foelske.
In terms of managing both academics and swimming, all agree that it's a careful balance.
"I try not to choose classes that are going to overload me. I think it's very important to be able to forsee what you're going to have to do and make sure that you have time to dedicate yourself to multiple things," said Hardy.
Foelske stresses the importance of keeping the two areas of her life separated.
"You can't think about school during practice, because that's going to mess up your swimming because you're not going to be focused," said Foelske. "Our coach says we 'throw it away' for practice."
Maloney focuses on the importance of self-discipline and control.
"The key word is time-management. I don't know how to explain it because I've been doing it for so long, but I don't really go on my phone a lot a night other than to play music," said Maloney, "You just have to focus on what you have to do for the next day."
With graduation and college fast approaching, all have various attitudes towards swimming in their future.
"I'm in contact with some colleges but it's not like I need to swim in college," said Trocchi.
Maloney agrees.
"Right now, I'm more focused on finding a college that I like, so swimming is not really a high priority…it's just such a highly selective sport that I'm not really looking to be fully funded by swimming," said Maloney.
On the other hand, Foelske has already planned where she will be attending college.
"I committed to Arizona State University because Michael Phelps' coach is there and I swim the same distances as Michael Phelps, so I think he's going to really help me reach my goals… I hope I can go to the Olympics 2020 through him," said Foelske.
About the Contributor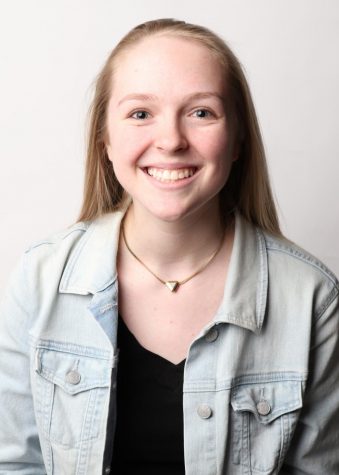 Hope Williams, Staff writer
Hope Williams is a senior staff writer. When she's not churning out articles, you can find her playing with her cats or going on a hike. This is her second year on the staff.