Girls' Volleyball Teams Win and Lose at Warrior Classic Tournament
On Saturday, September 8, the high-spirited girls' varsity volleyball team went to Alpharetta High School to compete against some of the best volleyball teams in Georgia.
Along with them was the Chamblee Charter High School junior varsity volleyball team, who was playing in the Southern Volleyball Conference tournament. The varsity team was set to play Etowah, North Gwinnett, Hillgrove and East Coweta, while the junior varsity team was set to play a whole array of teams throughout the southeast.
Although the varsity girls played their hardest, they ultimately lost their undefeated title (losing three out of four games). Not all of the tournament was a loss, though.
"Kennedy Preval and Becca were standout – they held the team together when we didn't do our best," said varsity team member Ava Grace Samford.
"I felt amazing to be undefeated for so long. But it sadly came to an end this weekend. We played a lot of tough teams with solid players," said senior co-captain Camille Vanleer. "Losing the streak was definitely a wake-up call. It's more apparent now than ever before this season that we need to continue to put our best effort forward in practice and work towards getting better every day."
While most people are a bit dejected about the Warrior Classic's outcome, hopes are still high for what is still in store.
"It was cool to play challenging teams because our area doesn't have many strong teams, so it's helpful to play intense games that prepare us for state playoffs," said Samford.
On a more positive note, the JV team made it to the gold bracket of playoffs of the SVC tournament and were relatively successful in all of their endeavors on Saturday. It was a favorable outcome that has been a highlight of their season.
"My proudest moment at the tournament was playing against Dunwoody High School," said freshman Dana Higgins. "We played extra hard and gave it everything we had and that was the best we have ever been."
Despite the undesirable outcome for varsity, both teams played their hearts out.
"We played really well together and it was some of the hardest we've ever worked," said junior varsity player and sophomore hitter Taylor Stone.
About the Writer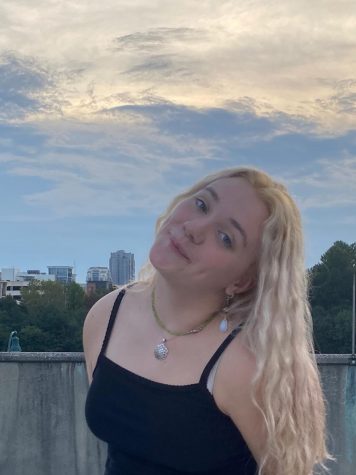 Stella Garrett, Editor-in-chief
Stella Garrett is a senior and editor-in-chief of the Blue & Gold. Outside of journalism, you can find her making costumes for Chamblee Onstage, drowning at water polo practice, sleeping, and playing with crystals. In five years, she hopes to be working on a farm or traveling the world in her converted sprinter van. This is her third year on the staff.