A Look Into the Jewish High Holy Days
Hang on for a minute...we're trying to find some more stories you might like.
Just as December represents Christmas for Christian students, September brings the High Holy Days to the Jewish community of Chamblee Charter High School.
The High Holy Days are comprised of two holidays, ten days apart: Rosh Hashanah and Yom Kippur.
"Rosh Hashanah is the Jewish new year," said junior Debbie Kitzler. "It's based off of the lunar calendar, which is why it doesn't fall on January first. It's wishing for a happy and healthy new year for everyone."
Jewish students typically ring in the new year by going to services at their temples and spending time with their families.
"We go to synagogue in the morning, and to services all day. Some people take two days and go to synagogue for both of those days, and there's some people who take one day," said sophomore Samantha Hopper. "It depends on how religious you are. You're basically celebrating that you've existed for another year."
Some observers, however, are less traditional in their celebrations. Freshman Olivia Shearer does not attend services, but she still celebrates the holiday with her family
"I just get together with my family and we have a good meal together," she said. "We eat brisket and apples and honey."
Apples and honey are eaten across the globe during the Jewish new year, and symbolize sweetness throughout the upcoming year.
Contrasting the joyous tone of Rosh Hashanah is Yom Kippur, the day of atonement.
"Yom Kippur is ten days after Rosh Hashanah, and this is the day of atonement," said junior Lucy Adelman. "We have this day to think about the past year and ask for forgiveness for all the things that we've done wrong."
Yom Kippur begins at sunset of one day, and ends at sunset of the next day. Traditional observers spend the day in long services in temple, and many, like Kitzler, go without food, water, or technology for the entire 24 hours.
"I get really hungry, and services at the end of the day are so hard, because all you want to do is eat, but you have to pay attention," said Kitzler.
Without the burdens of food preparation and phone usage, Jews have the entire day to reflect on their sins throughout the year and how they can improve in the future.
"It does get kind of boring, because you don't have much to do," said Kitzler. "But it's really nice to have a day where you detach from your environment and you can just focus on slowing yourself down and thinking about how you want to become better."
About the Writer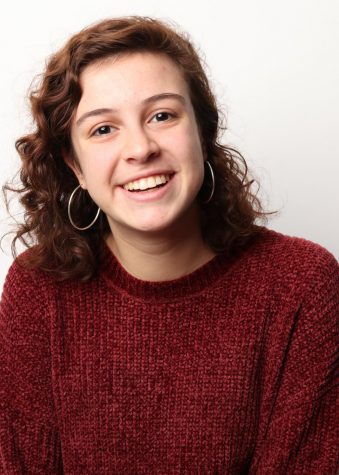 Maya Torres, Staff writer
Maya Torres is a junior and staff writer. She enjoys expanding her sock collection, making Spotify playlists, and practicing Shakespearan monologues in the bathroom mirror. This is her second year on the staff.