Atlanta Students Gain New Perspective through TILE Speeches
TILE, an international conversation series where influential speakers engage directly with their audience, is making its debut in Atlanta. Led by students and targeted towards students, TILE stands for Talks on Innovation, Leadership, and Entrepreneurship.
Similar in purpose to TED Talks, TILE creates an accessible, inclusive platform, where students can attend hour-long interviews with leaders from their own communities free of charge, offering students a chance to gain a new perspective on finding their own career paths, being part of a community, and using leadership to better the world.   
Atlanta's branch of TILE was founded by Chamblee student and junior India Hetherington, who stresses how impactful TILE can be, especially to teens currently forging their own paths in life.
"It's run by students for students," India said. "It's just a way to introduce new fields of study and new career choices to students that they wouldn't necessarily learn about or have access to."
TILE is an international organization, but TILE at Atlanta, which India runs, is open to all Atlanta students, and its first meeting was held on September 13 at the I.D.E.A. Gallery in downtown Chamblee.
"The majority of people that came were Chamblee students," said India. "It's a good way to incorporate kids from Chamblee and create a bond that unites us through different career paths and ideas."
Her twin sister, Sahara Hetherington, assists in organizing the events, along with juniors Hattie Carter and Leah Edwards.
"I'm the founder, so I supervise [the events] and get in touch with people," said India. "But [Sahara, Carter, and Edwards] are the marketing coordinator, the logistics coordinator, and the content coordinator, and we have two interns, which are [Chamblee juniors] Andrew Rogers and Oliver Hurst."
India's inspiration for starting TILE in Atlanta came to her through an Instagram post, where she witnessed the story of 18-year-old Mohammed Al-Adlani who used TILE to escape his war-torn country of Yemen.
"[Because of the post], I looked at where TILE is all around the world," said. "We have a friend who lives in Madrid, and one of the TILE groups is centered right at her school. It was really weird to see that schools and people that I knew were connected to this."
Once she saw how wide TILE spanned, India immediately began working on bringing TILE to Atlanta.
"[Because of] Atlanta being such a big metropolitan city, it's just a good way to connect everyone," she said.
At the first meeting of TILE, students were able to connect with one another when they were given the chance to have a conversation with entrepreneur Tracey Pearson, founder of her own hair salon and the Prissy Tomboy Foundation, which focuses on helping girls of all ages build strong friendships with one another.
"She gave the students who came advice and tips on starting a new business and how to get involved in starting a new business," said Sahara.
Pearson's conversation with the students that came to the first TILE meeting gave them an important message to take away and opened their eyes to new perspectives.
"I personally took away that sometimes you need to be your own boss," said Rogers. "But you need to be able to realize when you need help and when you need to go and learn from someone else before you can do your own thing."
For India and Sahara, the message Pearson communicated was one of empowerment and overcoming circumstance to reach goals.
"It's really interesting to see how as a Latina woman, the obstacles she had to go through to get to where she is now," said India. "She literally started from nothing, and her small cleaning jobs and little clothes shop turned into her becoming a full-force entrepreneur."
In the future, TILE is hoping to expand its boundaries not just within Chamblee, but within other areas of Atlanta as well.
"One of our biggest hopes […] is to start training younger kids, so that when we graduate, TILE is not left to fend for itself," said India. "One of the other things is incorporating high school students from all around Atlanta. […] I think it would be a good way for kids to make contacts with kids from other schools."
For the upcoming TILE meeting, which is free of charge, students can expect to hear from Chamblee alumnus and 2017-2018 Student Body President Jake Busch at the I.D.E.A. Gallery on October 11th at 5:30 pm, where he will recount his experiences as a leader within the academic community.
About the Writer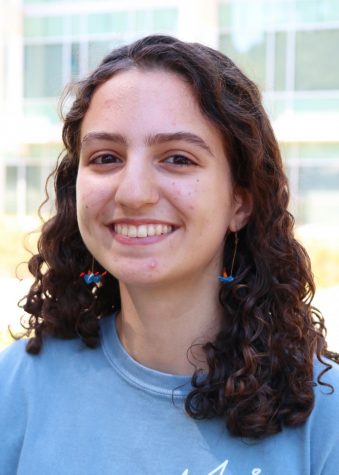 Iris Tsouris, Editor
Iris Tsouris is a junior and editor for The Blue & Gold. Outside of the paper, she likes eating soup, designing club t-shirts, and doodling in her sketchbook. This is her second year on the staff.