Homecoming Hype at Latest Pep Rally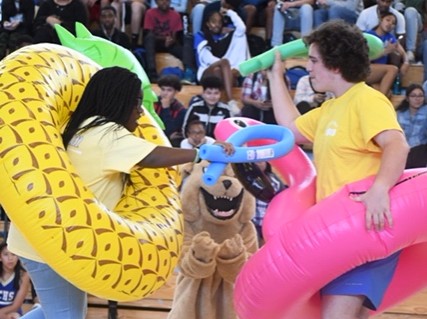 Friday, October 12 sounds like a normal date for most, but for CCHS students, it was the day of homecoming football game, and of course, a homecoming pep rally.
As students filed in, the marching band played their stand tunes while the dance squad, color guard, and cheerleaders danced. Something that was different from a normal pep rally was the cluster of girls and boys in the corner wearing semi-formal attires. This was the homecoming court and their escorts.
Once the pep rally began, Chloe Kaspar, social studies teacher and head of SGA, welcomed everyone and gave a recap of homecoming week, focusing mostly on the dress-up days that the students took part in.
After this, two captains from the volleyball team talked about their impressive season, and the softball team captains announced similar successes. Girls' football and boys' volleyball powderpuff champions–seniors in both cases–were also announced to a round of applause.
Kaspar then declared the winner of the hallway decorating contest. This tradition returned to Chamblee last year; each class decorates a floor designed for the theme of the dance. The freshmen were declared the winners, beating out the juniors by one vote from the judge's panel.
Following a cheer routine to "Level Up" by Ciara and reminders from Kaspar about the homecoming parade and the football game against Lithonia that evening, it was time to introduce the homecoming court. Each girl walked out with their escort as Kaspar announced who they were and what club they were nominated from. They all received a rose and lined up around the gym.
Once the girls were introduced, the crowd grew quiet in anticipation for the announcement of the 2018 homecoming king. This silence did not last long, though, as the senior section started chanting "SIFAT, SIFAT." Senior Sifat Raihan was the fan favorite of a large group of seniors, and lo and behold, he won, much to the delight of these students. There was a lot of confusion, though, among the underclassmen as to why this was so amazing.
"In 8th grade, everybody voted for Sifat for the heartbreaker superlatives as a joke, which surprised us since it had originally been a little inside joke," said senior River Harper. "When homecoming came along, we all kinda remembered this and decided to try again, and it took a life of its own and worked again."
Another tradition that started last year was the crowning of a king and queen from the teaching staff. This year, the two lucky teachers were Brain Ely, social studies teacher, and Theresa Anderson, Spanish teacher. Ely gave a speech telling students to eat their vegetables and take their vitamins.
"It was an honor," said Ely. "I really enjoy and appreciate my divine right."
After all of this excitement, students from each grade were selected for a game. These students were Joanna Louis-Ugbo, freshman; Megan Woo, sophomore; Hunter Flowers, junior; and Henry McKlin, senior. Students stood on three raised blocks with a pool tube around them. They were given pool noodles and told to stand on one foot and whack the other person until one fell off.
After several rounds of competition, McKlin emerged victorious after a rematch in the final round against Louis-Ugbo.
"I had fun," said Woo. "Even though it was kind of embarrassing, I'd do it again."
In the next game, the class presidents choose one person per grade to compete to down a can of soda the fastest. There was no clear winner because both the junior, once again Hunter Flowers, and the senior, Eric Patlan, shotgunned the soda in about two seconds and immediately threw them in the trash.
The final activity of the day was a dance-off between teachers and students. The teachers were math teacher Irvin Wardlow and science teachers Leila Warren and Jennifer Gaffney. Wardlow took to a floor in a wrestling mask; senior Michael Acker did a back-flip.
The festivities at an end, the seniors concluded the pep rally with their well-recognizable chant of "SENIORS, SENIORS!"
About the Writer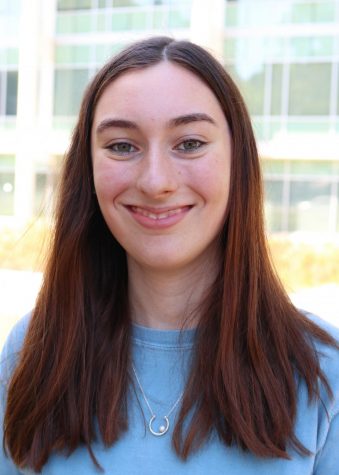 Sophie Maxwell, Staff writer
Sophie Maxwell is a junior staff writer. Outside of school, you can find her binging a sitcom on Netflix, drinking way too much coffee, or volunteering with Beta Club. This is her second year on the staff.