"Theory of Relativity" to Dazzle, Entertain Onlookers
Hang on for a minute...we're trying to find some more stories you might like.
For one night only, Chamblee Charter High School's musical theatre students are taking the stage for the first one-act musical to ever take place at Chamblee, entitled "Theory of Relativity."
A one-act is a condensed play/musical, usually about an hour, without any breaks or intermissions.
"The Theory of Relativity is about a variety of seemingly unrelated college students, who don't necessarily know each other, but they do know how they got to where they are," said senior student assistant director Blair Varney, "Through a series of songs and monologues, we [the audience] discover[s] that they are all interconnected in their humanity."
The play was originally longer, but had to be cut down for the sake of the competition the students are competing in.
"I wanted a show that would trim down for a one act nicely, and this one, because it is almost like song cycle in nature, it's not as dependent on certain plot points," said Linda Lirette, director of the production. "Because there's a lot of linking that takes place across different numbers, we can still make those connections while trimming it to fit the one act competition's length requirements."
The competition is an annual one-act competition hosted by the Georgia High School Association (GHSA).
Students planned on competing against two other schools in Chamblee's region for a chance to participate in the state level of the competition, but both schools dropped out, so the production is automatically headed for state on November 10.
The performers have been preparing since mid-September, when the audition process began. Rehearsals have taken place only during Lirette's fourth period musical theatre class.
"It's during school, so there's a lot going on," said junior and ensemble member Nicole Arendt. "It's harder than after-school rehearsals."
The students have experimented with different ways of doing scenes, and seeing what like the most.
"It's a lot of trying different things and seeing what works and what doesn't," said sophomore Hope Collins, who plays the character Amy.
Collins has a particular struggle in embodying her character in the show.
"The hardest part of playing Amy is letting myself really figure out her," she said. "She's a lot like me, but I'm so used to playing people who aren't like me, that it was kind of weird to let myself just exist, and trust myself that I'm making the right choices when I'm acting."
The show is happening October 23 at 7:30 p.m.. Tickets are $10 for students and $5 for faculty and staff members.
"Come with an open mind," said Varney. "It's about the humanity inside all of us, and about the seemingly unrelatedness of twenty-five individuals, coming together to present their life story."
About the Writer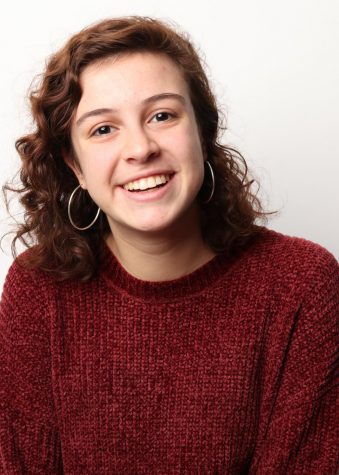 Maya Torres, Staff writer
Maya Torres is a junior and staff writer. She enjoys expanding her sock collection, making Spotify playlists, and practicing Shakespearan monologues in the bathroom mirror. This is her second year on the staff.