New Elementary School Could Affect Middle and High School Zoning
Hang on for a minute...we're trying to find some more stories you might like.
It has been many years since Chamblee Charter High School students attended elementary school, but for many residents in DeKalb County, recent developments regarding construction of a new elementary school may affect their children's futures.
In the fall of 2019, the new John Lewis Elementary School will open. This school will be located at 2630 Skyland Drive, Atlanta, GA 30319. It will have 900 plus seat capacity, which means that the county has begun receiving community input on the best course of action in terms of how to redistrict.
The redistricting process began on October 2, 2018, at a meeting at Cross Keys High School. Parents, students, teachers, members of the Superintendent Dr. R. Stephen Green's cabinet such as Region One Superintendent Sherry Johnson, Interim Chief Operations Officer Dan Drake, and Board of Education Representatives Stan Jester and Marshall Orson were in attendance. This meeting was focused mainly on community input and no formal plans for how areas around the elementary school will be redistricted were discussed.
The meeting consisted of a 40 minute presentation followed by small group discussions in which participants could voice ideas and opinions relating to six criteria: safety and traffic patterns, previous redistricting, balancing of special programs, school feeder alignment, intact neighborhoods (such as subdivisions, apartment complexes, and strong neighborhood identity), and efficient and economical operations. These ideas were recorded for the county to use in developing their first plans.
Cassie Malloy, Bridget Kay, and Maria Neal are all mothers whose children will be greatly impacted by this decision.
"We're interested in the redistricting at the school. Right now we're zoned for some schools that we would like improvements to, so this would be basically a huge benefit to our children, who are all young," said Malloy.
Neal believes that because they have such young children and are new home owners, the county's decision could have an extremely large impact on their lives.
"I think part of it too is, we don't want to have to move out of the community to find a better school district, when a lot of us have purchased our home within the last ten years," said Neal. "We've seen this area get built up a lot more and kind of change, so we kind of want to ride with the change."
Kay brings up an important point about how the location of a school can affect daily routine.
"The new school is closer to us than the school we're districted to," said Kay. "Also, the traffic is much better to get to that school as opposed to the school we are going to."
Although DeKalb County will not present any plans until October 24, 2018, at the October 2 meeting, certain criteria was presented that will be taken into account.
For example, Woodward Elementary School is currently at 116% capacity, Montclair Elementary School is at 100% capacity, and Dresden Elementary School is at 122% capacity.
In terms of planning ahead, a new elementary school called Cross Keys North Elementary School will be opened in fall 2020, and in the fall of 2021, a new Cross Keys High School will open, the current Cross Keys High School will be converted to a middle school, and Chamblee Charter High School will receive an addition. These are all approximate dates.
It is board policy that students entering the fifth, eighth, eleventh, and twelfth grades can choose whether they would like to continue attending their original school or attend their new districted school.
However, for young parents like Malloy, Kay, and Neal, their children still have many years at whichever schools they end up getting zoned for, so their participation in the process is crucial.
The next meeting will be November 27, 2018, at 7:00 PM at Cross Keys High School. The Board of Education will approve a final plan in February 2019 to take effect August 2019.
About the Writer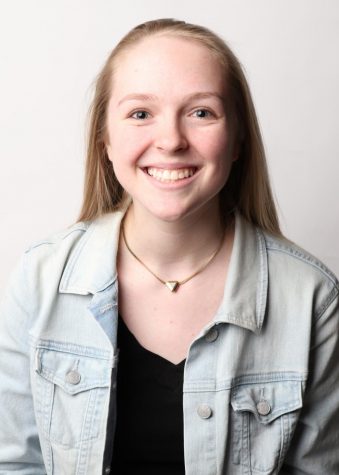 Hope Williams, Staff writer
Hope Williams is a senior staff writer. When she's not churning out articles, you can find her playing with her cats or going on a hike. This is her second year on the staff.