Model UN is not a Power Struggle — Unless You Make it One
During the end of my freshman year, I was convinced by a friend to join Chamblee's Model United Nations team. As someone who was a former member of Academic Bowl in middle school and had roots in being a history nerd, I jumped at the idea of a chance to roleplay as a country delegate at one of the many national conferences, located at Georgia Tech on October 8-9.
What I was not aware of, however, was that the Model UN conference at Georgia Tech, known as GTMUN, would not only mirror the procedures of the original UN, but also the petty drama, passive aggressive comments, and manipulative, corrupt tactics used by actual delegates.  
I entered GTMUN with the resolve to being the "chill," yet involved delegate. In my head, the delegate version of Iris was cool and relaxed, with charisma that instantly won everyone to her side and a dazzling worth ethic that stunned the Dais and assembly alike.
Little did I know that in my first Model UN Conference, what was originally supposed to be a calm, civil debate dissolved into complete chaos, where there was one essential rule: hunt — or be hunted. The shyer, more soft-spoken delegates became prey, chased after by a cult of shockingly aggressive and power-hungry wannabe politicians, who had a singular primary goal: to bend the assembly's will to their own.
And on the first conference day, I was subject to this. Not only were my ideas blatantly ignored by the delegates I was allied with, they were stolen. During the unmoderated caucuses, I was barred from contributing to the conversation, so much so that I had to fight to even get a single idea in. When I countered the Brazil delegate's idea to distribute mobile phones to all citizens of third world countries, I was immediately shot down, only to have my point reiterated a few moments later by Japan during debate.
And thus, my first day of the first Model UN conference I had ever attended was concluded with disappointment, dejection, and the slow, painful shattering of my hopes. I could only pray that the second day would be somewhat more fruitful.
When I took my seat at assembly on the second day of the conference, I resolved to not take what I was doing too seriously, in hopes of preserving my spirit. Instead of a stressful, fast-paced power struggle, Model UN became much more lax and later, much more enjoyable.
In retrospect, it is interesting to see what caring a lot less about the conference did for my confidence levels. By revealing a more casual side of myself, the true colors of the other delegates were also exposed. France, who filled the caucuses with long-winded and elaborate speeches about his own success, was actually just a friendly, normal high schooler who doodled smiley faces on his sticky notes, and Bolivia, who spoke using the most extensive vocabulary I have ever heard, had actually done most of his research the night before.
With being able to realistically view who the people surrounding me were came success. Not only was I able to fit in a couple of speeches on the second day, but I found an attentive and considerate bloc of countries to sponsor a resolution with, which the vast majority later voted in favor of. I also found some genuinely great people, specifically Italy and Ghana, who I later traded numbers with.
At some point during the conference, I remember the Lebanon, Palestine, and Iran delegates banding together to write a working paper denouncing the status of Israel as a nation. Upon hearing this, the Israel delegate was on the verge of tears. Dejected. Betrayed. Lost. In a frustration-induced tantrum, she began to indignantly complain to the chair.
During her rant, I really saw a little bit of first-day-conference-Iris in Israel. We had both been so disheartened during the conference, and we had admittedly both been very petty. I can only hope that Israel later realized what I did: Model UN is not a power struggle unless you make it one.
When comparing my state of mind before and after my first Model UN conference, it is clear how naive and high-strung I was previously. On the second day of GTMUN, I left with a clearer mind, a resolve to improve, and a degree of self awareness I had not previously had, along with an excruciating headache induced by hearing Israel and Lebanon argue for seven hours straight.
About the Writer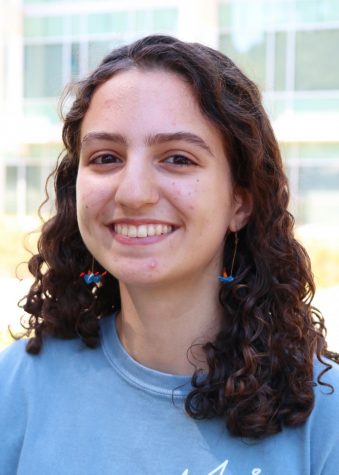 Iris Tsouris, Editor
Iris Tsouris is a junior and editor for The Blue & Gold. Outside of the paper, she likes eating soup, designing club t-shirts, and doodling in her sketchbook. This is her second year on the staff.