Welcoming a New Round of Hall of Fame Inductees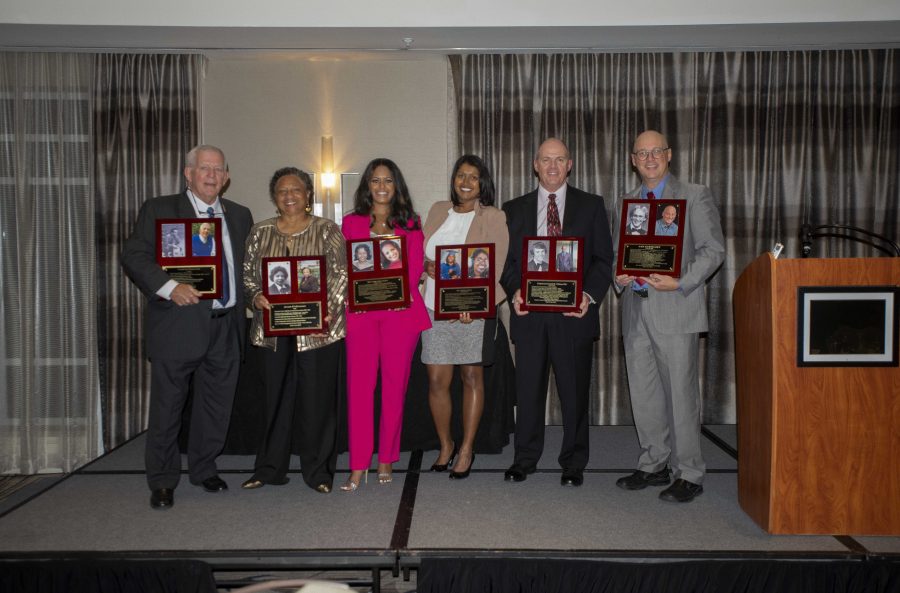 On October 25, Chamblee Charter High High School faculty, alumni, students, and supporters gathered at the Villa Christina for the Blue and Gold Foundation's fourteenth annual Hall of Fame Dinner. There, the Business Champion, Kenny's Great Pies, was recognized, and the Lifetime Service Award recipient, Lynn Pascale, was announced. The Business Champion is awarded to a business or organization that has contributed to Chamblee over time, both financially and otherwise, and the Lifetime Service Award is given to individuals who have committed their time and services to Chamblee. Additionally, six new people were inducted into the Hall of Fame: Adrienne Alexander, Jean Coleman, Dr. Sathya Silva, Jay Stewart, retired Col. Garland H. Williams, Ph.D, and Ed Winterstein.
The Blue and Gold Foundation President, Nancey Farrey, offered some insight into how the awardees and inductees are chosen.
"We receive nominations from alumni, family members, and faculty and staff in letter or email form," said Farrey. "So, we have a list every year that we look over and choose from. That means someone not selected one year, will stay on the list for next year's possible inductees. We tend to select four alumni and two former faculty or staff members. We not only look at what [nominees] did at Chamblee, but also what they did afterwards."
In addition to having to be nominated, alumni inductees must have graduated at least ten years ago. The selection process results in a diverse base of inductees, representing many different fields, from politics to athletics.
The day following the dinner, October 26, the honorees gathered at Chamblee for lunch and a tour of the school. Stewart also put on a clown workshop for some of the school's drama classes.
More information about this year's awardees below:
Kenny's Great Pies — Business Champion
Kenny's Great Pies, this year's Business Champion, was founded by Kenny Burts, who founded the company in 1989. Since then, Burts has turned his company into large regional chain, dedicated to selling extraordinary pies, capable of baking 6,000 pies a day. Their signature pie is their key lime pie, which, like their other flavors sold, can be bought online and in various stores. Burts hopes to eventually make Kenny's Great Pies a global company, distributing its pies all over the globe.
Lynn Pascale — Lifetime Service Award
This year, the Lifetime Service Award was given to Lynn Pascale, the mother of Chamblee alum and current teacher Renee Pascale. Lynn began volunteering at Chamblee when Renee started school at Chamblee and continued volunteering long after her daughter left. Lynn is perhaps best known for her talent as a calligrapher. Throughout her time volunteering, she often signed certificates and helped market various Chamblee activities.
Adrienne Alexander — Inductee
After graduating from Chamblee in 1996, received a B.S. in Marketing and a M.B.A. from Florida A&M University before moving to Washington D.C. to get her J.D. from Georgetown University Law Center. Throughout her career, she has represented clients in the corporate, advertising, technology, and entertainment sectors as an attorney and business strategist. Currently, Alexander is an independent producer of BET's Mancave, an all male talk series. While at Chamblee, she was the senior class president, basketball cheerleader, and band player, and member of multiple different clubs.
Jean Coleman — Inductee
Of all of the Hall of Fame Inductees, Coleman has truly done almost everything related to Chamblee. Coleman graduated from DeVry University with a B.S. in Network Management and Communications, and later joined the Chamblee staff, serving as an administrative assistant from 2005-2016. Before that, she volunteered at Chamblee as a parent. Outside of school, Coleman was instrumental in bring High School Fast Pitch to Softball to Georgia. Additionally, she began a non-profit for mental wellness and the prevention of suicides, called Chamblee Cares, in 2016.
Sathya Silva — Inductee
The next inductee, Dr. Silva, is a rocket scientist and certified pilot. She received her pilot license as a member of the Yellow Jacket Flying Club while getting a B.S. in aerospace engineering at the Georgia Institute of Technology. She then lived in Boston, where she received her Master of Science and Ph.D in Aeronautics and Astronautics from the Massachusetts Institute of Technology. Throughout her career at NASA, and now at the National Transportation Safety Board, she has authored many academic papers on aeronautics.
Jay Stewart — Inductee
Stewart holds the distinction of attending the Ringling Bros. and Barnum & Bailey Clown College, which, at the time, was more difficult to get into than Harvard University. Before that, he attended West Georgia College for a B.A. in speech and theatre and Wake Forest University for a Masters in Theatre. He has numerous clowning-credits, including the "Boss Clown" for Ringling Bros. Greatest Show on Earth. He also performed as a stooge in the MGM Grand Las Vegas production "The Three Stooges, Live!" Currently, he is the supervisor and a clown in The Laughter League, a group of clowns and variety artists who perform at the Boston Children's Hospital. While at Chamblee, Stewart was the editor of this paper, the Blue and Gold.
Garland Williams — Inductee
Williams served in the army for 28 years in various posts, including as the Garrison Commander of US Army Garrison – Japan. He holds a B.A. in pre-law/journalism from Auburn University and a Masters and Ph.D in political science from Duke University. After working at the Pentagon as an Assistant Secretary of the Army, he completed a fellowship with the US Army War College at the US Institute of Peace, where he completed his first book, Engineering Peace.
Ed Winterstein — Inductee
Winterstein, the final 2018 inductee, is the longest active wrestling coach in the State of Georgia, having coached from 1968 to the present. He started coaching while at Appalachian State University and has since coached at almost every school in DeKalb County, starting at Chamblee in 1968. He has received numerous awards, including the DeKalb County and Georgia Athletic Coaches Association coach of the year. He has also been inducted into the National Wrestling Hall of Fame as well as Dunwoody High School's Hall of Fame.
About the Contributor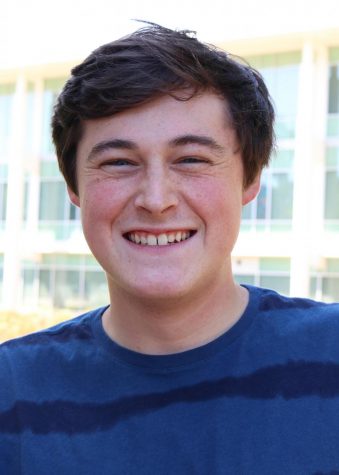 Oliver Hurst, Staff writer
Oliver Hurst is THE senior staff writer. You can find him going to Fernbank, talking about his dog, and binging a show on Netflix. This is his third year on the staff.