Cross Country State Championship Leads Runners to Personal Success
"It [was] literally a marathon, pun intended."
That's exactly what cross country coach and teacher Jennifer Tinnell had to say about this year's cross country season. It was a marathon, she said, that ultimately led up to the State Championship meet.
On Thursday, November 1, 14 of Chamblee Charter High School's fastest runners, along with their coaches, loaded up a school bus and traveled 70 miles to Carrolton High School in Carrolton, Georgia for the annual Georgia High School Association (GHSA) Cross Country State Meet on Friday, November 2 and Saturday, November 3.
"State used to be held all on one day, but now that schools have gotten so much larger, they have to split the meet ino two days," said Tinnell. "The past two years, we have run on a Friday."
After arriving in Carrolton and checking into a hotel, the team did one last practice before the meet the next day. Then everyone went out to dinner together.
"We love the bonding aspect and we try to extend the glam of going to state," said Tinnell. "The kids have are more inspired and feel more recognized because we try to make it something special instead of just getting up the morning of, driving down there and running."
Although staying a night in Carrolton has its downsides, the students seem to enjoy the experience.
"Going down the night before sometimes means the kids aren't as well rested, but we hope that the adrenaline and excitement can counteract that," said Tinnell.
On Friday, everyone got up and made the short trip to the high school. Both Chamblee teams ran mid-morning.
Several runners had been to state before and knew what to expect from the course.
"I wasn't nervous beforehand because I'd been to state three times before then," said senior Bennett Soloman.
Among others, however, nerves were high.
"I was really worried about it because this was my first year running cross country and I had a lot building up to it," said junior Hattie Carter. "Going into state, I felt like there was a lot of pressure because I wanted to out-do myself."
In addition to the worry that some runners were already feeling, the course itself and unfavorable conditions added another layer of difficulty.
"Some of the courses [we run] are a little bit tougher as far as hills go," said Tinnell. "Carrolton is definitely a tougher course, and it rained a good 24 hours before the race."
However, Tinnell believes that the hills and wetness shouldn't have a huge effect on performance. She also indicated that the conditions were the same for everyone and that it was a good test of the durability of the runners.
"If we were running a flat course, that wouldn't be a good indicator of who should be state champion," said Tinnell.
Despite the terrain and weather, the runners all seemed to enjoy the experience.
Carter noted that the energy of the crowd was something she'd never seen before.
"At normal meets, there will be spaces where there aren't any people but at state, at every lap you were going through there were people screaming and that got your adrenaline going," said Carter. "When everyone's cheering for you, you get really into it."
Carter felt proud of herself afterward because she had achieved her goal: to finish in the top 75 runners.
"I was exhausted after the race, but I felt accomplished," said Carter. "I wanted to get top 75, and I did that."
For some runners, like senior Maddie Miller, the state meet was the last race they'd ever run for Chamblee. Miller was focused on savoring her experience.
"I told myself that entire week that I didn't want to focus on times, something I have stressed about for the last three years," said Miller. "I wanted to run one final race that felt good and that didn't stress me out, so I definitely wasn't as nervous. I just wanted to enjoy the moment and run my last race ever."
Leave a Comment
About the Contributor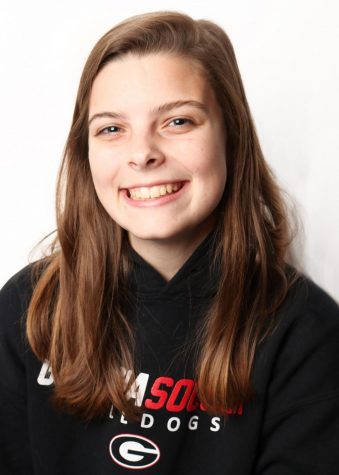 Ellie Furr, Staff writer
Ellie Furr is a senior and staff writer. When she isn't writing, you can find her playing soccer, hiking anywhere and everywhere, and bird-watching. This is her third year on the staff.