Chamblee Junior Published to National Platform
Hang on for a minute...we're trying to find some more stories you might like.
On Sunday, November 4, CNN posted an op-ed about gun violence on its website in response to the shooting at the Tree of Life Synagogue in Pittsburgh, PA. At first glance, this op-ed may seem like any other, but the author is Chamblee Charter High School's very own Lucy Adelman.
Adelman is a junior at Chamblee and her class president. She is also an active member at her synagogue, where her op-ed was originally used in a speech she made.
"I was asked to write the speech a couple weeks before the shooting, and then since the shooting at the synagogue happened, that kinda shaped what I was talking about," said Adelman.
It was purely coincidental that when she gave her speech, there was an editor for CNN in the audience.
"There was this national hashtag, #showupforshabbat, and so Jews all around the country were going to Friday night services, so that service had over one thousand people at my temple," said Adelman. "One of the people in the congregation was an editor for CNN. She reached out to my family the next day and asked me to write a version of that speech as an op-ed."
While Adelman was proud that her op-ed was published, she did not like the fact that it was necessary.
"I felt like I was doing something good, however it was sad because I did the speech and wrote the op-ed because people died and people continue to die," said Adelman.
Adelman wants people to be more aware of the impact people make, even if they don't realize it.
"I want people to know that their votes matter, and that who we elect into office matters because those are the people that are representing us and ultimately have the job of keeping us safe," said Adelman.
She also wants younger people, like high school students, who can't vote yet, to understand that they, too, can make a difference.
"Using your voice anyway you possibly can, whatever your outlet is, is the perfect way," said Adelman. "[For example] speaking up and doing walkouts for things that you think are wrong in the world."
Adelman will continue to use her voice whenever she can, and she hopes that one day soon, change will take place.
About the Writer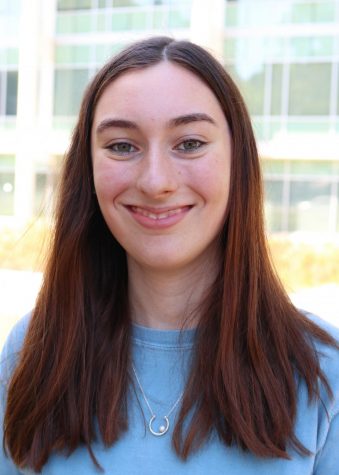 Sophie Maxwell, Staff writer
Sophie Maxwell is a junior staff writer. Outside of school, you can find her binging a sitcom on Netflix, drinking way too much coffee, or volunteering with Beta Club. This is her second year on the staff.