Musical Theater Debuts on State Stage
Hang on for a minute...we're trying to find some more stories you might like.
In recent years, the Chamblee Charter High School drama department has taken on many competitions to bring their program to the next level. On Saturday, November 10, for example, the musical theatre class competed in the One Act Competition for their first time ever.
"Every year I try to do something new to grow personally as an educator, to grow our program [at Chamblee], and to push the kids to the next level," said musical theatre teacher Linda Lirette.  
This competition is sanctioned by the Georgia High School Association (GHSA) and works similar to regular sports like cross country and volleyball. First, students competed in Chamblee's region, and then at the state competition in class 5A at Mary Person High School, where they came in fourth place. Their production this year was titled "Theory of Relativity."
Lirette began preparing for the competition as early as last year.
"The first thing I needed to do was read the rule book and figure out how art as a sport works," said Lirette. "I also had to figure out if there are any differences in producing this play, other than its length requirements."
Once this school year started, the students began getting involved in the production.
"We rehearsed everyday in fourth period musical theatre since September to put 'Theory of Relativity' together. We've also had a couple of after school rehearsals," said junior Lucy Adleman.
According to junior Phoenix Rosso the practice seemed very methodical.
"We learned all ensemble songs first," said Rosso. "Then we chose soloists and worked on solo songs. After getting the singing down, we worked on the blocking and acting elements."
Benjamin Harding offered how he personally prepared for the competition.
"Individually, I prepared by learning the basics of my music and my lines, then I began to add more character into the parts of the show that were mine," said Harding. "A large majority of the time during the show is spent reacting to other people, so the only real way to prepare for that is to practice with these people and to get into a comfortable routine, so that when you react, it doesn't look forced."
After performing in the regional competition, the cast received feedback from the judges and were able to make any changes to their production they felt necessary. Then, at the state competition, they were able to watch the other schools in Chamblee's class perform. Lirette mentioned how informative and eye-opening the experience was.
"It was so exciting to see what other schools in Georgia are doing and it was very validating to see that [Chamblee] is offering a high quality musical training experience," said Lirette.
Students also echoed Lirette's positive attitude towards the experience.
"What I took away from the competition is that our school and our musical theater program is a viable competitor and a threat," said Harding. "The program has grown so much since when I first walked through the door. As our program goes on and grows, as the the students receive more experience, I know that we will only get better. We have the talent and the drive as a program, all we need is more experience."
When preparing next year for the competition, there are some things Lirette would like to change.
"The kids will always tell you that I am keeping a running list of notes for next year, so I am always making notes about the ways we will do things differently," said Lirette. "I would say the biggest might be finding a way to get our tech crew to feel more prepared. They did a phenomenal job but they had to work under pressure."
Some students also offered some suggestions as to how the process might be improved for next year.
"I think we could be more organized and not talk as much or be so distracted in rehearsals," said Rosso. "I think it could also help to add more after school rehearsals."
Harding also mentioned how vital it is to have more members of Chamblee's student body be involved next year.
"There is almost no such thing as too big of a cast at a high school," said Harding. "Opposed to professional theater, where all of the ensemble is thoroughly trained and can "fill up the stage" in a dramatical sense, high school theater is almost dependent on having a large ensemble. The more people that at least try out for any of our shows, the more diverse talent we have, and therefore, the better show we have."
About the Writer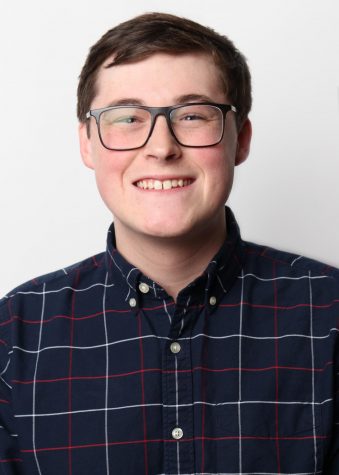 Oliver Hurst, Staff writer
Oliver Hurst is a junior staff writer. You can find him going to Fernbank, talking about his dog, and binging a show on Netflix. This is his second year on the staff.