Coach of the Year Alan Loper Reflects on a Successful Softball Season
On October 30th, Chamblee Charter High School's softball coach, Alan Loper, was designated the Coach of the Year at the DeKalb County Fast Pitch Softball Awards Banquet at Tucker High School. The team also won awards for Field of the Year and Team of the Year. Loper was delighted to receive the awards and excited about the softball team's successful season.
"I was humbled and honored to be named Coach of the Year," said Loper. "I'm very blessed to coach such a wonderful group of young ladies. They improved their skills during the season and peaked at just the right time. Their determination to succeed was beautiful to watch, and I am very proud of their accomplishments."
The award was selected based on several criteria concerning the softball team's recent performances. Loper was unsure about the exact factors considered in the selection process, but he did have a couple of ideas.
"I do know that Chamblee was the only team in the county to advance to the second round of the state playoffs," said Loper. "I believe that winning our region may also have been a factor."
Loper is very involved at Chamblee, fulfilling several different roles around campus in addition to coaching the softball team. His experience in coaching spans many years.
"I substitute-teach quite a bit, and I have the pleasure of working with Coach Ely's baseball program by serving as the JV coach," said Loper, "I've coached JV baseball since 2001 and have seen some very good players perform on the baseball field. I coached JV softball for several seasons prior to 2015 when I became the varsity coach."
Loper sees one of the most valuable coaching strategies as simply being flexible with the dynamic of each team.
"I've learned that each team has a certain personality, and I don't try to change it," said Loper. "For instance, this year's team was a 'have fun' sort at practice.  Initially, I was a bit concerned, but then I realized that was just their way of doing things. When it became game time, they were ready to compete, have fun, and learn."
Loper was inspired to coach by his high school football coach, who was a major role model for him and whose philosophies Loper hopes to pass on to his players.
"I played football and baseball many years ago at Towers High School," said Loper. "One of my football coaches, Don Braswell, who coached at Chamblee before coming to Towers, was a tremendous influence on me. He taught his players the importance of doing your best on every play and to 'leave it all on the field.'  That's really where I got the urge to coach."
Loper also enjoys coaching for other reasons.
"I also believe that coaching helps to keep me feeling younger than I am," said Loper. "I always look forward to practice and games."
Loper saw several of the softball team's wins as extremely memorable, especially when they twice defeated one of their major rivals, Arabia Mountain, ultimately winning 10-4 against them in the 5-AAAAA Region Championship.
"Defeating Arabia Mountain during the regular season was a first and then winning the region championship game against them really 'put the icing on the cake,'" said Loper. "A key moment in the championship game was when Mary Axelson hit a bases-loaded double to give us a three-run lead in the tenth inning. That hit propelled us to the title."
Loper looks forward to future seasons with Chamblee's softball team. He has many goals that he would like to see achieved in the coming years. Some of his goals have already been reached.
"Our goals since 2015 have been to defeat Arabia Mountain, win the region, and advance as far as we can in the State Playoffs," said Loper. "We can check off Arabia Mountain and the Region Championship. I would love to see us continue to win the region and advance to the Elite Eight next year and take the trip to Columbus."
Loper is optimistic about achieving those goals and is enthusiastic about coaching future softball teams at Chamblee High School.
"We are in a 'reload mode' which means that we have some very talented young players from the junior varsity team who are ready to step up and continue our success," said Loper. "I'm excited about the future of Chamblee softball."
About the Contributor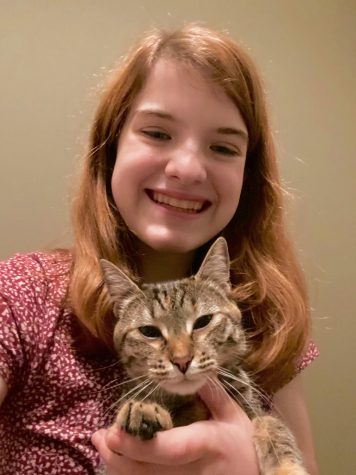 Catherine Cossaboom, Editor
Catherine Cossaboom is a senior and editor of the Blue & Gold. In her free time, you can find her solving way too many math problems, going on wandering walks to make friends with the deer in her neighborhood, and training her kittens to compete at the next Kentucky Derby. In five years, she hopes to be traveling across the country, running math circles, writing columns, and turning math into a performance art to empower girls to take on the world's problems. This is her third year on the staff.