Freshman Reprimanded for Wearing "Fire Braaten" Stickers Brings Lawsuit Against CCHS Admin, DCSD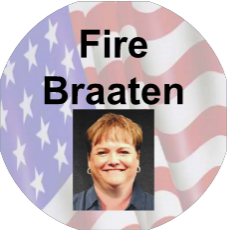 In the last few years at Chamblee Charter High School, students have staged a number of peaceful protests — to stop gun violence, to protect a teacher and coach, and to show support for government policies such as DACA.
"I believe that school walkouts are student rights and we should be allowed to do that," said freshman Tani Blankenship.
These protests had something in common. They were all "allowed" and facilitated by the school administration. But recently, a different kind of protest was staged, one that was a direct criticism of the leadership at Chamblee Charter High School.
In early October, three freshmen were reprimanded for possessing, wearing and/or posting stickers that read "Fire Braaten," referring to Principal Rebecca Braaten. Following the discovery of the stickers by an administrator, the three students involved were sent to Assistant Principal Clifton Spears's office. All three students initially received four days of out-of-school suspension for "creating a disturbance," which violates the DeKalb County Student Code of Conduct. After parents spoke to Spears, two of the students were let off with a warning. But Keegan Brooks, who had created and printed the stickers, received one day of in-school suspension (ISS).
Despite a lesser sentence, Keegan and his family were still concerned about the suspension, which would now be on Keegan's permanent record. Feeling that Keegan had been treated unfairly and that his rights had been violated, the family brought the issue to court.
"It was a non-disruptive, silent act of protest against the principal's leadership at the school," said Keegan Brooks. "It was an act of protected speech under the First Amendment, so it should have been allowed."
As of now, the freedom of speech lawsuit has been filed against the DeKalb County School District (more specifically, District Superintendent Stephen Green, as well as two of Chamblee's administrators, Braaten and Spears). No parties have been served. DCSD is aware of the filing, and released this statement: "DCSD supports the First Amendment right of its students to peaceful assembly and free speech […], but in alignment with the Student Code of Conduct."
In an interview with CBS News, Russell Brooks, Keegan's father, defended his son despite the supposed violation of the Code of Conduct.
"This is a public school, and students have a right to criticize its administration," said Russell Brooks.
On Wednesday, November 28th, Braaten announced to the entire school that she will be resigning her position as principal of Chamblee, effective on December 17, 2018. According to an email Braaten sent to parents on Wednesday, she will be reassigned as an administrator on special assignment.
This change in leadership does not change the Brooks family's decision to sue.
"While the speech at the center of the lawsuit was about [Braaten] and she is responsible for the disciplinary decisions at the school, the lawsuit is about something bigger: whether the school can discipline a student for criticizing school administrators," said Russell Brooks. "It concerns students' rights to freedom of speech and petition the government, established in the First Amendment."
Keegan and his family feel that free speech rights of students should always be protected in a school environment, and it is for this reason that they plan to follow through with the lawsuit.
"We feel strongly that Keegan's actions were protected by the U.S. Constitution and that Chamblee Charter High School's administrators were wrong to discipline Keegan in an effort to suppress his speech presenting a viewpoint to which the administration objected," said Russell Brooks. "We will continue this fight until that is acknowledged."