Chamblee Encourages Students to See Their Strength
Hang on for a minute...we're trying to find some more stories you might like.
Earlier this month, Chamblee counselors placed a handful of positive messages on bathroom mirrors around the building. These affirmations are the result of a donation from "See Your Strength," a company that produces mirror decals geared towards uplifting others. Founder Amber Murray explains her reasons for starting the initiative.
"See Your Strength is a movement of self compassion, love, and hope that teaches the importance of positive personal language by using the mirror as a tool to see the inherent worth in yourself and everyone," said Murray.
The idea for the decals was a result of her own personal struggles.
"I suffered from anxiety, panic attacks, and intermittent depression my entire life," she said. "As a child of abuse and dysfunction, my self image and worth was non-existent. Four years ago, I was suicidal. I felt worthless and helpless. After obsessing over a loaded gun for three days, I found a way to reach out for help."
Rather than ending her life, Murray was able to transform it with one simple message.  
"The next morning I wrote, 'Step into your life.' with soap on my bathroom mirror… right across my face," she said. "This moment defined and transformed me. I continued the practice and wrote hundreds of messages to myself over the last four years."
Recognizing that she was not alone in her struggles, Murray set out to help others.
"When I look around today, I see so many people, even our youth, suffering from the same lack of self love," she said. "I had to do something! I'm on a mission to encourage everyone to see their strength by using positive personal language on their mirror."
By offering over 30 different messages, See Your Strength allows schools, businesses and individual buyers to purchase decals, with a portion of the proceeds benefiting their donation program.
"20% of all positive message mirror decals and 100% of all suicide prevention resource decals are used to donate decal packages to schools who've recently lost a student to suicide," said Murray. "Currently I have made over 60 donations, with many more to come. Additionally, See Your Strength mirror decals are now in almost 500 schools and universities nationwide."
Chamblee is one of the 28 schools as of January 2018 to receive the decal package as a donation. Counselor Anna Holloman believes that the stickers will have an overall positive impact on the school environment.
"We [the counselors] want you guys to see these messages and we want the faculty to have a positive message too," said Holloman. "I feel like small positive messages are not going to bring an immediate big change, but seeing anything positive throughout the day, and knowing that someone else went through something difficult and was able to overcome it by changing their negative thoughts to positive ones can be helpful."
When asked what she would tell students who are currently struggling with self-esteem or confidence issues, Murray gives the following advice.
"If you are currently struggling with self esteem or confidence issues, you must first know that is a very normal feeling," she said. "Seriously. When you haven't yet recognized how powerful and naturally wonderful you are just by your mere existence, it is easy to compare yourself to others and feel less than or better than them. The real truth is… the secret we don't talk about much… is that we are all miracles. Every single one of us. Not because of what we have or don't have. Not because of our experiences or lack of experiences. Not because of our actions or lack of actions. We are all miracles because we exist. Being born is a miracle. Think about it… what are the odds that your parents would meet and create you exactly as you are? You are powerful and the language you use with yourself is powerful."
Similar to her own experience, Murray believes that change can start with one simple action.
"Grab a bar of soap and write a positive message to yourself on a mirror," she said. "You might not even believe it. But keep repeating it every day until you do. Then erase it and write something else. You can learn to speak nicely to yourself, and when you do, it is my hope that you will recognize how wonderful you are… exactly as you are!"
About the Writer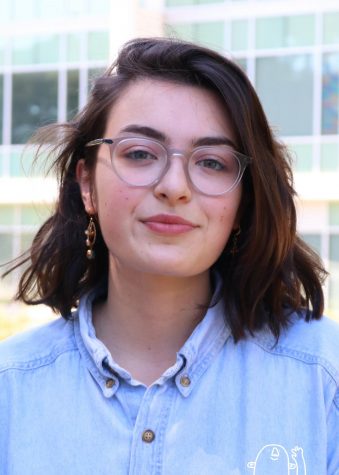 Ashley Veazey, Photo Editor
Ashley Veazey is THE photo editor for The Blue & Gold. When she's not in school, you can find her ordering coffee at Crema Espresso Gourmet, listening to Italian trap music, and talking to herself auf Deutsch. This is her third year on the staff.