DeKalb Alumna Supports Current Students
Hang on for a minute...we're trying to find some more stories you might like.
For the past 18 years, Stephanie Ingram has taken on the responsibility of school social workers for five DeKalb County schools including CCHS. She herself went to a DeKalb high school.
"I truly love my job. I know that that's a gift to be able to say that," said Ingram. "[But] my least favorite part, I think, is having five different schools and being pulled in a lot of different directions. I feel like there just isn't enough time to often follow up with situations that I wish I could do more with."
Ingram developed her love for helping others after being involved in a program in high school called Peer Helpers, where juniors and seniors helped the underclassmen with any struggles they had with high school.
"That's kinda where I guess I got my first taste of helping people," said Ingram. "And then when I got to college, I was sort of interested in school counseling but realized that's only kind of what I had in mind. My career counselor told me 'you're talking about school social work.'"
Because the school she attended for undergrad, Georgia Southern, didn't have a bachelor's degree in social work, she went on to grad school and got her master's from Georgia State.
"I started with DeKalb Schools fresh out of grad school. I was very lucky because there's not a lot of turn over. I was very lucky to get into the school system," said Ingram.
Many people might not know what goes into being a school social worker.
"In a nutshell, my job is to help in any way that I can," said Ingram. "We [school social workers] serve as the link between the school, the home, and the community. We provide resources and information to families and students about outside agencies and outside resources. Within the school setting it's all focused around promoting academic success and removing any barriers that are in the way of a student's academic success."
Two aspects of Ingram's job include attendance and family situations.
"I'm the person who has to refer students to court when they're truant […] and I work with homeless families, making sure they get whatever they need," said Ingram. "I am also the mandated reporter to the county. If there's a concern that a child is being abused or neglected in any way, I am the person that makes that report."
Now that Ingram is a proud mother of two sons, she has found her job a bit more difficult.
"When I deal with tough situations where kids are hurt, emotionally or physically, or just a tough family situations, that's hard to deal with day after day, especially now that I have kids of my own." said Ingram.
She realizes, though, that she has it better than most parents.
"One thing that's so attractive about the school system setting is that I get time off in the summer to play with them [her kids], so I think it's kind of the best of both worlds," said Ingram.
Some of her favorite aspects of her job are the spontaneity and flexibility it allows.
"I like not knowing that the day will bring. I could have my day set and my agenda set, but the phone could ring with two different emergencies in two different places, and I never know what I'm walking into. It keeps me on my toes," said Ingram.
And ultimately, she finds great fulfillment in helping others.
"I think a lot of the families that I work with, they themselves had bad experiences in school, and I think that when you are able to connect with the family, and help them realize we're truly here to help your child, and you make that connection, that's definitely a fun part. That's the good part," said Ingram.
About the Writer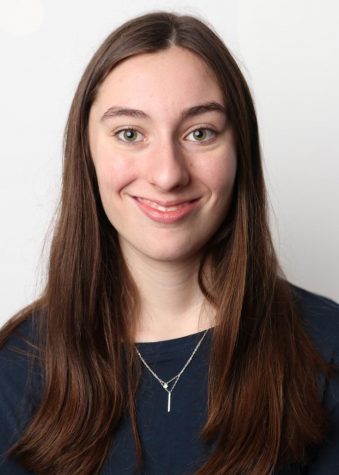 Sophie Maxwell, Staff writer
Sophie Maxwell is a sophomore staff writer. She likes playing softball, running the school through SGA, and participating in Model UN. This is her first year on the staff.