Cluster Meeting Sheds Light on State of Chamblee
Principal Rebecca Braaten's resignation, CCRPI scores, goals for the Chamblee Cluster, and Career Technology: parents gathered in the Chamblee Middle School (CMS) cafeteria on November 28 to learn more about these topics during a meeting lead by DeKalb County Region One Superintendent Sherry Johnson and Chamblee Cluster principals. The Chamblee Cluster is defined as the group of elementary schools and middle schools that feed into Chamblee Charter High School.
Braaten's Departure
Johnson began the meeting by announcing CCHS principal Rebecca Braaten's resignation from her role at CCHS, following the announcement to CCHS faculty and staff earlier that day. Braaten thanked the CCHS community for their support during her one and a half years as principal.
"Thank you. I see a lot of parents here, very supportive parents here, so I just thank you for your time and I have appreciated working together," said Braaten.
CCRPI Scores
The Chamblee Cluster meeting was the first of three meetings planned, one for each of the clusters in region one. The focus of the meeting was on the Chamblee Cluster's overall College and Career Ready Performance Index (CCRPI) score. These scores are derived from a series of criteria and then calculated by the state.
"The data for the schools is derived from what I call buckets. For elementary and middle school there are four buckets," said Johnson. "They are content mastery, progress, closing gaps, and readiness. High schools have a fifth bucket, which, naturally, is graduation rate."
Johnson thoroughly explained the overall score for the cluster in each category. Overall, the Chamblee Cluster received a B plus score. The only area that stood out from the other categories were the large performance gaps among different groups of students, which are measured based on the percentage of students who demonstrate content mastery on the Milestone End-of-Grade and End-of-Course tests. The Chamblee Cluster received a C in this category, due to gaps in percent mastery among different demographic groups; the biggest gaps exist between white students and black and Hispanic students.
Chamblee Cluster Goals
Next, the CMS principal, John Martin, began speaking about the various goals for the Chamblee Cluster. He highlighted four main themes: communication, verticality, cultural competency, and the gap piece.
This year, the Chamblee Cluster hopes to increase communication with parents with technology. Martin specifically mentioned the popular Remind app as a useful tool and Kittredge Magnet School as an example of a school with exceptional communication. Martin also emphasized that parents also need to do their part to have good communication.
"The key is for [parents] to make sure that if there is written communication to read it in its entirety," said Martin. "If there is communication from School Messenger, listen to the entire message."
In the realm of verticality, the cluster hopes to ease the transition from one school to the next by offering tours of the middle and high school in fifth and eighth grade, respectively, and offering summer bridge programs.
Chamblee Cluster principals believe cultural competency is needed in order to increase students' content mastery, and thus increase the cluster's CCRPI score.
"In order to meet the needs [of our students], we must be more in tune to what our students are bringing to us," said Martin. "We need to be in tune with everyone's baggage and what their strengths and weakness are. This way we can address all of our students."
To decrease gap piece, or achievement gap, between student groups, Martin feels like the schools need to work with their teachers to figure the best way to teach the students at their school. He went on to outline what his school is doing for their achievement gaps.
"I can talk about what [CMS] has done [to decrease the achievement gap]," said Martin. "On November 6, election day, I met with all of my team teachers for what we call 'data talks.' We met with each team for about thirty minutes throughout the day… We talked about data because I expect to know the individual strengths and weaknesses and what standards have been mastered for every individual student in their class, and what plan they have in place to address the unmastered standards."
Closing
The meeting ended with a pitch of the DeKalb High School of Technology – North, which is housed in Cross Keys High School. This school offers multiple career pathways for students all over the Northern part of DeKalb County School District, including mechanics, nursing, and law enforcement. Interested parties were encouraged to visit the DHSTN website or physically visit the school on the last Friday of every month for what they call "Coffee and Education."
In closing, Johnson thanked everyone for attending the meeting and supporting the Chamblee Cluster.
About the Writer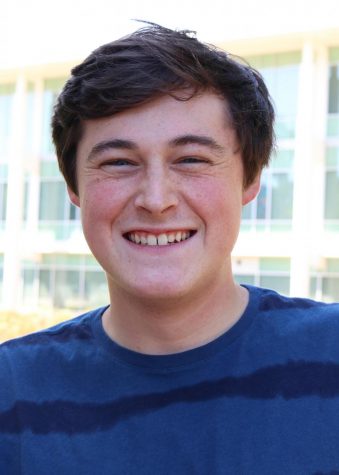 Oliver Hurst, Staff writer
Oliver Hurst is THE senior staff writer. You can find him going to Fernbank, talking about his dog, and binging a show on Netflix. This is his third year on the staff.