Teacher Spotlight: Peterson Spearheads STEAM Initiative
Hang on for a minute...we're trying to find some more stories you might like.
Chamblee Charter High School is full of top-notch teachers, and science teacher DeAnn Peterson is no exception; for the past few years she has been working tirelessly to bring a brand new program to CCHS — STEAM.
"We've all heard of STEM: science, technology, engineering, and mathematics," Peterson said. "Well back, probably six years ago, we started looking at our students and we thought, well shoot, we don't want to emphasize the science, technology, engineering and math at the expense of somebody who's a really good musician or artist. We felt like it would actually make some more well-rounded students if you made sure you encourage arts in your STEM program, so that's why we went with STEAM."
A STEAM program at Chamblee would entail a tailored schedule for students in an effort to help them be more prepared for the workforce, as well as providing interdisciplinary instruction.
"[STEAM students] would take a certain set of classes, including electives, and it would mean that there would be an opportunity for an internship during your senior year or during summers in the other years," said Peterson. "That would be facilitated through us, to make sure you actually had some real time experience outside these four walls."
Besides taking specific classes and providing internship opportunities, the STEAM program would involve a lot of project work and require the completion of a CCHS career pathway.
"[Students] would also leave with a really nice portfolio of projects that they have done over your high school career," she said. "It would also mean that you would finish some kind of technology oriented career pathway, like engineering or drafting or computer science. We've also added the healthcare and cyber security pathways, so those would be all types of career pathways you would complete in addition to your regular classes."
To clarify, there wouldn't be classes with only STEAM students; it just means you would follow a specific set of classes and complete a pathway.
"You would also be doing cross curricular projects, one of the main components," said Peterson. "Let's say you were in precalculus and physics and engineering III at the same time. You would do a single project for those three classes that had elements of each, so there would be a rubric from each of those classes for the big project, but it would emphasize specific aspects from all three classes."
Although Peterson has all of these ideas, right now it's still only a passion project and is not yet in the works.  Despite the Academic Achievement Committee having a hopeful start date of 2021, Peterson isn't so confident.
"I've been trying to get this pushed through since we were in the old building. I looked at my old files and I've actually got some files from 2012 and 2013 when we first started [talking about] doing this program. Because of new buildings, moves, change in principals, it's never really gotten off the ground here. We would love to do it, the Governing Board is behind us, but, I don't know," she added, laughing out loud. "You can quote me on that laugh."
Peterson was able to draw inspiration from other metro Atlanta schools for what she was looking for with STEAM at Chamblee.
"There's a couple of Cobb County schools that do this really well. They have a STEM coordinator that helps make sure that they get internships at [local] hospitals, at the airforce base, manufacturing places, [etc.]," she said. "There's some good schools that are really doing this well."
As for long-term benefits, Peterson sees it as a step forward into the future, in both college and beyond.
"Think about the portfolio you would have from your high school career," she said. "If you completed these cross curricular projects, can you imagine how easy it would be to talk to an admissions officer at college? Can you imagine how easy it would be to talk to someone for your college internships? This would give you [advantages] to do really cool things both in college and when you graduate."
About the Writer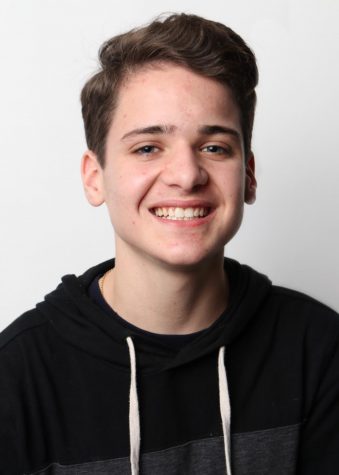 Foster Cowan, Staff writer
Foster Cowan is a junior and staff writer. He likes to eat prepackaged salads, wear sweatshirts for schools he doesn't attend, and avoid Boy Scout meetings. This is his second year on the staff.