Conviction of Larry Nassar Leaves Students Shocked and Angered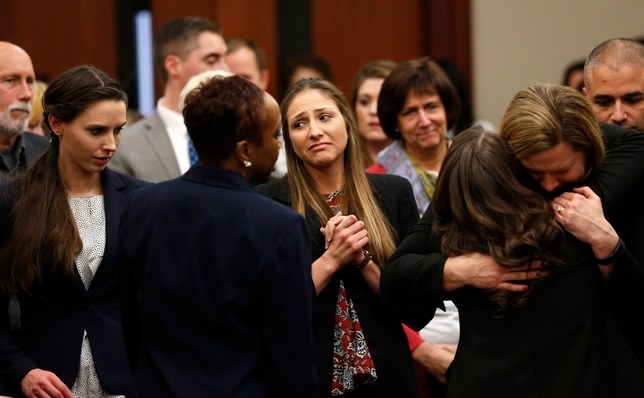 Larry Nassar, the long-time doctor of so many world-famous gymnasts such as Simone Biles, Gabby Douglas, and Aly Raisman, has finally been convicted for the 265-plus sexual assault charges he was accused of.
"It was shocking to see people you know from the Olympics, and have been your heroes go through that," former gymnast Sarah Wright said. "They all just told about their stories with him just standing there."
Nassar began his work with gymnasts at North Farmington High School in 1978 and joined the USA Gymnastics national team medical staff as an athletic trainer. From there, he had gained a good amount of prestige and love from his many, many patients and had been recommended countless times to friends and family alike.
"You see these girls with their perfect lives on TV and you never considered for one second that something like this could have happened to someone so powerful," Wright said. "You can never really know what happens behind closed doors."
Prior to her injuries, Sarah Wright was a devoted gymnast who worshipped these victims and survivors her entire life. Now in light of current events, she is left shocked and appalled at what has come to light.
"It really makes me more aware of the dangers in the world because those gymnasts were just following their passion and someone hurt them in the process and they couldn't do anything about it," Wright said. "I see now that the world can be harsh and unforgiving and I think, 'What if I had followed the same dream?' and how it could have been me."
The case's publicity and relevance in the news have not only affected many gymnasts but also affects women and girls as a whole. Recent news of Women's marches and Golden Globes protests also highlight the importance of speaking out and being strong in the face of tragedy. Despite this, however, many young women are still furious that this occurred in the first place, such as senior Julia Hufford.
"The fact that this gymnastics group hid it, like, knew about it and hid it, is preposterous," Hufford said. "Honestly, they should all go to jail, too."
Hufford and her group of friends passionately discussed the subject, all agreeing on its horrific consequences on many young girls learning about it.
"I can't imagine seeing this on TV as a little girl and thinking this was normal," Hufford said. "It's disgusting and horrifying and is not going to be our 'normal'."
Similarly to Hufford, news of these events hit very close to home with senior Marshall Peters, whose family of seven sisters have competitively swum for many years and have seen what the world of sports doctors is like. Peters said he and his family knew firsthand the pressures of high-level sport, and immediately became aware of the case through his mother.
"[My mother]  told me that the gymnastics doctor, Larry Nassar, was under fire for sexual assault and what not," Peters said. "Since I have five sisters, seven if you include step-siblings, I wasn't really shocked since I know all the screwed up things that go on in the professional side of the world."
Peters has long known what goes on with so many women in the world and what they have to endure to become successful in the business of sports, but he says that the pain so many have felt because of Nassar's crime is a different business in itself.
"I know one in four women experience sexual assault or harassment in their life and I know for a fact that my older sisters have gone through such trauma," Peters said. "They have been harassed even if it's not the same level of severity in this case."
Considering the case in its entirety, Peters also strongly believes that Nassar's sentencing of 40 to 175 years in prison is justly given.
"I feel like he deserves every bit of suffering he can get," Peters said. "He did that stuff to girls as young as nine years old. He's worse than just a pedophile in my eyes and should have the book thrown at him."
Despite the heartbreak and hardship experienced by so many due to Nassar's crimes, the case gave so many women and girls a voice that would be heard near and far. Judge Janice Cunningham's decision to let more than 150 victims speak in court after two decades of abuse has made so many of those watching believe they too have a voice, and they too are a force to be reckoned with.  
"He just had to lose mainly because of the amount of people he hurt and how they stood up for what was right," Wright said. "He made these physically and mentally strong, independent women his enemies, and that was his downfall."
About the Contributor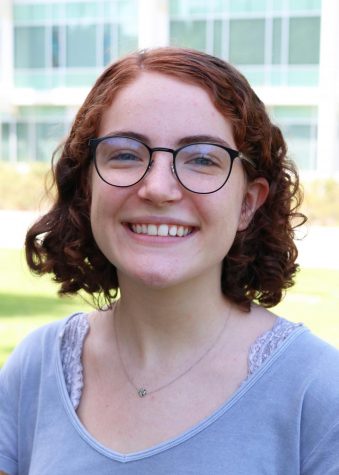 Ava Lewis, Editor in Chief
Ava Lewis is the Editor in Chief of The Blue & Gold. Outside of journalism, you can find her reading anything by Alice Oseman, drinking copious amounts of tea, and waking up at two a.m. to write down an idea for an article. This is her third year on the staff.