The Buzz About Tech: Chamblee Alumni at GT
Hang on for a minute...we're trying to find some more stories you might like.
This article is part of a series on college life for CCHS alumni. The other stories can be viewed here. 
Recognized as both a top ranked public college and one of the leading research universities in the United States, the Georgia Institute of Technology has drawn in students from all over the globe — including many former Chamblee students. The university is known for providing a technology-focused education to both undergraduate and graduate students in fields ranging from engineering and science to business and liberal arts. 
"I love the environment the campus has," said current freshman Dani Villaroel. "Everywhere you go, you see student projects that have impacted the world in some way and it makes you feel like you're a part of something bigger. Everyone you meet has such an interesting story and it blows my mind that we have all led such different lives yet somehow we are all at Tech."
Villaroel, an architecture major and German minor, is involved in multiple extracurriculars at the school.
"I'm in the Alpha Xi Delta sorority as well as Student Alumni Association and Women in Architecture," she said. " I think it's really important to find a group of people that aren't in your major to separate yourself from school because we're here 24/7."
She is one of the 25% of Tech students who belong to a sorority or fraternity, compared to the 9% nationwide.
"I love being in a sorority because it opens your eyes to the amount of diversity here at Tech," said Villaroel. "Within my sorority there is a girl from every single major, from all over the country, and even a couple international students. It makes the campus seem bigger and like a global community." 
Freshman Caleb Sparks, a mechanical engineering major, is in a fraternity at Tech, along with a club corresponding heavily to his major.
"I'm in two extracurriculars right now: Greek life (Sigma Phi Epsilon) and GT Motorsports, where we build a smaller, less advanced version of a Formula One car every year." said Sparks. "Extracurriculars are definitely very important because college is about having fun too. You don't always want to be doing schoolwork because you'll burn yourself out."
Sparks also believes that activities outside of class are beneficial for both social and professional life.
"Extracurriculars provide a community of friendly faces, which really helps ease the transition from high school to college," he said. "Just like extracurriculars are important for getting into colleges, they can be really helpful for getting jobs as well. In my case, I'm hoping that my experience in GT Motorsports will help me land a job with a top tier automotive company. We have companies of all kinds that want to come meet with our team to find potential employees."
Freshman Le Changivy is a member of both Archery Club and the Asian American Student Association. She warns against overloading oneself in college.
"Clubs are important not only for the social and mental health aspect, but also for your resume," said Changivy. "That being said, it's not necessary to join 10 different clubs like in high school; if you can't keep up with academics, you're gonna ruin job prospects later on."
According to Changivy, Georgia Tech has many aspects that are similar to an education at Chamblee.
"This school is so diverse in terms of personalities, goals, and culture — a lot like Chamblee." she said. "But since it's bigger, you meet more people like you and those you'd never expect to get along with. That has really made the experience so much better."
The negative aspects of Georgia Tech mirror the pressures that can sometimes be found at Chamblee.
"I'd say the pressure is the worst part," said Changivy. "It's a lot like Chamblee, but in some ways worse. There are some of the most brilliant people from all over the nation and world, and you feel like you aren't good enough to be here. And then you doubt yourself and a lot of other questions come up and it's hard not to go down that rabbit hole sometimes."
Villaroel explains that the effects of this pressure can be both mentally and physically overbearing.
"The thing I dislike about Tech relates back to the rigor [it] places on students and [its] disregard for the consequences it has on students," she said. "There isn't a single conversation that doesn't revolve around how exhausted the students are. The school does not place enough importance on the mental health of students."
In some cases, the emphasis on rigor has resulted in devastating consequences.
"Kids at Tech naturally will push themselves to the limit, and rather than helping these overachievers find a balance, [school administrators] encourage taking in more than you can handle," said Villaroel. "We had three [students die] last semester, and it wasn't until the third death that the school reached out and told us to take it easy. That was three deaths too many."
Many students agree that the drive for success, though a defining factor at Tech, should not be the main focus.
"[Both Tech and Chamblee] place a hierarchy of quantity over quality and it can drive students over the edge," said Villaroel. "College is not just about school, it's about learning to be a functioning human when school is done and grades aren't the most important thing. I think this is overshadowed at Tech by the drive to create this image of successful students."
To remedy the stress she feels at Tech, freshman and biology major Sophia Wiesenfeld tries to balance her academic life with social activities.
"The degree to which everyone emphasizes having and maintaining good grades can be mentally [exhausting], as it's easy to get caught up in the almost obsessive mindset," she said. "Having and maintaining hobbies and social lives outside of classes helps alleviate this. My friends and I keep each other sane."
On the topic of Tech's workload, Villaroel feels that Chamblee prepared her for college level education.
"Chamblee taught me how to manage my time wisely without having a teacher breathing down on my neck," she said. "College professors really don't care if one student out of 100 is doing their work.  The amount of work you have to do depends on your motivation."
She believes that the teachers at Chamblee helped her gain the independence necessary for success.
"Just like Ms. Tulchinsky used to say, 'You forget work, I forget grade,'" said Villaroel.   "Chamblee teachers do a good job of translating why the work you do will benefit you. Everything you learn at Tech, you learn because it is somehow going to benefit you, and it is up to you if you want to learn it or not."
Sparks believes that the rigor at Chamblee, though stressful at times, proved useful for Tech's workload.
"All the hard work really does pay off," he said. "I don't feel overwhelmed at all or like I'm playing catch-up. One of my favorite things about college is that your time is your own; you decide how you're going to spend it."
To students both recently accepted into Georgia Tech's early action decisions and prospective students for years to come, Villaroel shares what she wishes she had known going into college. 
"I wish I had known that I don't have to live the same life as other people," she said. "There are some many different people here. Some are crazy smart in physics and can't write an essay for the life of them, whereas some are amazing interpersonal communicators but struggle sitting down and reading a textbook. But that's what makes Tech amazing."
She believes that, amongst the buzz of a college atmosphere, it is important to be yourself.
"I go to a school that celebrates diversity in strengths," said Villaroel. "It's ok to be different from your roommate. It's ok to show off your weird obsession with 80s music or how you love calculus. More than likely, people will be drawn to those confident in themselves rather than people trying to be someone else."
About the Writer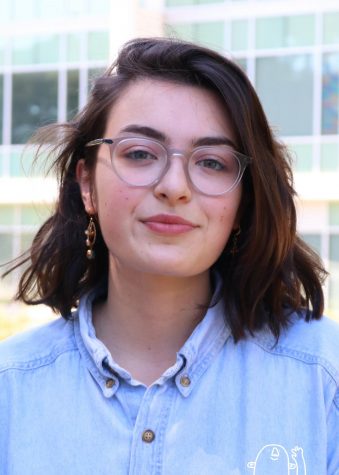 Ashley Veazey, Photo Editor
Ashley Veazey is THE photo editor for The Blue & Gold. When she's not in school, you can find her ordering coffee at Crema Espresso Gourmet, listening to Italian trap music, and talking to herself auf Deutsch. This is her third year on the staff.