World Literature Returns, Accompanied by Anger
Hang on for a minute...we're trying to find some more stories you might like.
Update: After publication of this article, an exemption for the 2019-2020 school year English progression was approved. This means that rising juniors will be allowed to exempt the required course, world literature, with AP English Language and Composition.
With a new year come goals, resolutions, and planning ahead for the months to come. As students begin to consider which classes to take next year, they should consider a change in English course progression that will be implemented in the 2019-2020 school year.
Sophomores at Chamblee Charter High School are currently taking American literature (American lit), a change from previous years, when sophomores took world literature (world lit).
Word spread rapidly at the beginning of spring semester that sophomores might be required to take world literature as juniors next year. Sophomore Anna McKinzey found out from word of mouth.
"I found out from a kid in my American lit class," said McKinzey.
Although she has enjoyed her American literature class, she and other sophomores are angered by this decision, especially due to the fact that many juniors opt to take AP English Language and Composition [AP Lang], which replaces the required Milestone course, American literature.
"I was told that we have to take world lit next year as a definite course and that if we wanted to take AP Lang, it would have to be as an elective," said sophomore Jai Ponkshe.
Sophomore Olivia Hogan points out the challenge this will cause.
"I was going to take both of the AP English classes; now, to do that, I would have to double up one year for English," said Hogan. "That might take away me being able to do other AP classes that go into an elective spot."
As of publication, DeKalb County has not formally issued a statement or plan about this issue. Interim principal Terese Allen confirms the speculations for rising juniors.
"They still have to take world lit," said Allen.
The sophomores are not the only group angered by this new change.
"It's unfair to the students […] if our thing is to act in the interest of the students, then we find a solution to this," said AP Lang teacher James Demer.
Allen, however, wants to remind students that college credit for AP Lang and AP Literature [AP Lit] is the same, so the situation won't affect exempting college classes.
"When you're applying to colleges, they're only going to take one of the two […] you can't get both credits," said Allen.
For some students though, it is not just about the college credit.
"We had all kind of planned on taking AP Lang next year, we were all kind of excited about it," said sophomore James Hardy. "We've heard great things about Mr. Demer's class, especially."
Looking forward, English teacher Amy Branca potentially foresees next year as being a transition year to return to the original English progression.
However, Branca is open to encouraging DeKalb County to allow for the class of 2021 to exempt world literature with AP Lang due to special circumstances. Allen would also like to examine what can be done.
"We're trying to figure it out and seeing if there's alternative or some options," said Allen.
Demer agrees that an exception would make the situation much better.
"We could make a change and still follow the state requirements if we just get an exception for this one DeKalb thing," said Demer. "We also have a charter [so] that we have some leeway with our requirements for graduation, so I know the charter doesn't cover magnet students but it covers everybody else."
The initial decision to flip progression was made by Rebecca Braaten, Chamblee's previous principal. Although some reasons were given, such as lightening the number of standardized tests taken by students in one year, many are still confused by the decision.
"I'm not exactly sure [why it was flipped]," said Allen. "I just know that past administration flipped it so they were going to have, apparently, ninth grade [lit], American lit, world lit, and then your AP or British lit. Why, I don't know. Approval, I don't know either."
One of the issues with the switch was the difference between county and state requirements.
"DeKalb's requirements for graduation are different than the state's requirements for graduation," said Demer. "State requires ninth grade lit and American lit and two years of other ELA [English language arts]. The county requires ninth grade [lit], world lit, American lit, and Brit lit, but allows substitutions for American and Brit lit."
For now, Allen's main focus is making sure that regulations are met.
"I'm going to try to work closely with them [the administration] in scheduling to make sure we're meeting all the needs of the state and the district to make sure we don't have any loopholes for our students to fall in, and all the sudden, they can't graduate," said Allen. "That would be horrible."
As sophomores begin the process of selecting their classes for next year, the counselors have incorporated the change into their advising.
"They were kind of saying 'It is what it is.' They're trying their best to clean up what happened last year," said Hardy. "I guess we have to give them credit for that. It's not really their fault this happened."
Moving forward, many groups at the school have varying ideas about how classes should be scheduled in the years to come, especially what English course offerings should be available.
Branca used to teach word literature for several years at Chamblee. One of the benefits of the class was the ability to coordinate with the world history course, another class sophomores must take.
Hogan has a similar appreciation for the alignment of history and English classes.
"It makes sense to do world lit and world history at the same time and American lit and U.S. history at the same time," said Hogan.
Ponkshe would prefer any changes to be made earlier in the school year.
"I just think that the change should be made early first semester, so that we have a long time to think about what our schedule is going to be for the next year," said Ponske.
Allen would like multiple voices to be heard whenever scheduling changes are going made.
"The school, counselors, principals, they should all be involved in that process," said Allen.
Additionally, feedback should be gathered.
"You've got to find out what the needs are of your student body before you put in your classes," said Allen.
In general, Demer sees no point in the standardization of English courses each student must take.
"I think the requirements should be you take an English class every year and we decide what English classes we offer," said Demer.
Many English teachers have expressed interest in teaching specialized electives.
"Why don't we have a one semester Hemingway, or one semester women's lit, or mythology?" said Demer.
He sees learning basic skills as the most important goal of a class.
"What's the argument for it has to be ninth grade lit, world lit, American lit?" Demer said. "How about we learn to read and write and think, and who cares what the subject is? It doesn't make any difference."
About the Writer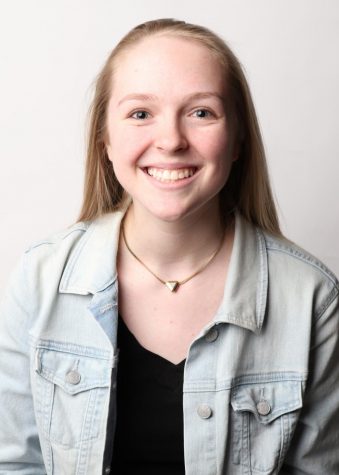 Hope Williams, Staff writer
Hope Williams is a senior staff writer. When she's not churning out articles, you can find her playing with her cats or going on a hike. This is her second year on the staff.