Chamblee Seniors Breathe a Sigh of Relief with DSD II Behind Them
Hang on for a minute...we're trying to find some more stories you might like.
After years of preparation and endless studying in class, 21 Chamblee Charter High School seniors just took part in the German proficiency exam, known as the Deutsches Sprachdiplom (DSD II) or the German Language Diploma. The test is administered by the German embassy and serves as official proof of students' fluency in German. Over 70,000 students worldwide are involved in the program.
On November 28, the written portion of the exam was administered, consisting of a listening comprehension section, a reading comprehension section, and an essay. On January 8 and 9, the oral portion of the exam was evaluated, where students were tested on both a prepared presentation and spontaneous language skills. If passed, the exam serves as certification that allows Chamblee students to study abroad in Germany. 19 of the participants passed the oral portion at the highest level: C1. The scores for the written portion have yet to come back.
Dr. Mihaela Lalic is currently the German teacher that has worked with the seniors this year in her German 6 class in preparation for the DSD II exam. Many students also credit their success with their former teacher, Herr Uwe Neuhaus, who served as their German teacher for three years. Senior Theo Hardy sees the DSD II as a goal he has been working towards for a very long time.
"The DSD is a big accomplishment for me because it is a culmination of the years of work my peers and I have been putting in since Kittredge," said Hardy. "Herr Neuhaus had always over-prepared us, but it is very satisfying to finally have reached the top of the mountain, so to speak."
The oral exam was performed in front of a panel, including CCHS German teachers and a representative from the DSD committee.
"There were a written portion and an oral exam a few weeks later," said Hardy. "For the oral exam, I had to prepare a presentation for three examiners about seven minutes long. I was also given a topic on the spot and had to speak for four minutes before answering several questions asked by the proctors."
The oral exam consisted of two parts: one prepared presentation and one that was timed, more spontaneous presentation. Senior Hailey Maxwell explains.
"You [a DSD II participant] go into the room and you're given a piece of paper with a topic on it," said Maxwell. "That topic has around it six mini-topics within that topic and you're supposed to talk about at least three of them. You have 20 minutes to prepare that presentation… After that, they ask you a couple questions and then you move on to your big PowerPoint presentation."
Senior Savannah Lawrence found that preparation was the most important factor for the oral exam.
"It was a lot less stressful than I thought," said Lawrence. "When I started and went in the exam for the fluency part, I… was really nervous but as soon as I started speaking, I [realized it was]  not that bad. I felt well prepared for the most part."
Lawrence prepared by frequently practicing her language skills.
"I listened to German music a lot or I just practiced writing," said Lawrence. "I would speak with my twin or my younger sister and help her. And then, for my presentation, mostly [I] just rehearsed over and over."
German 6 students prepared for the written exam during class in the first semester.
"For the written part, we did a bunch of practice exams," said Maxwell. "There are three big topics that they say are going to make up most of the exam, so Dr. Lalic had us do a unit on each of those topics, so we were familiar with different viewpoints and vocabulary, but what really mostly helps is just practicing."
Maxwell believes that practicing was most beneficial for the essay.
"There's a bunch of different specific parts of the essay you have to have: you have an introduction, then you have to talk about an article, then you have to talk about a diagram, and then you have to talk about pros and cons of whatever your topic is, so just practicing and learning how to do those different parts was the big thing for the essay," said Maxwell.
Students also practiced their presentations once in class.
"With the presentation, I made a PowerPoint and I presented it in class one day in December and that was about all I did with that," said Maxwell.
For CCHS students, taking the DSD II gives a sense of finality in their German careers.
"I feel like it's a culmination of my high school German," said Maxwell. "I've been working towards this since freshman year when I started here. And it just feels satisfying that that's over… I will feel very satisfied when I get my score especially if I pass and then maybe I'll do a graduate program in Germany or something and this will help me with that."
Lawrence described passing the DSD II as something she has had in her sights since elementary school. Taking the DSD I, a preliminary version of the DSD II administered to middle schoolers, also motivated her to continue.
"Well, ever since fourth grade, that [passing the DSD II] was the dream," said Lawrence. "You wanted to be fluent in German. In eighth grade, I took the DSD I and… I passed it and then I [wanted to move on to the next step]."
Hardy hopes to continue to use his German skills in college.
"I hope to study German in college as a minor," said Hardy. "I will major in economics, but my German language skills will help me find internships and work abroad. The DSD also qualifies me to take classes taught in German, which is a cool opportunity."
Lawrence sees German as beneficial for her career aspirations as an engineer.
"Engineering is really central to German culture… so learning German will be helpful because I want to be an engineer," said Lawrence. "If I went [to Germany], I could do an internship."
Lawrence is excited about her prospects to use German in the future.
"The reason why I decided to take German again this year even though Neuhaus was gone was because I wanted to take the DSD II," said Lawrence. "Now, I'm really excited that I'm fluent. I'm more excited to study abroad in Germany or maybe go to school in Germany."
About the Writer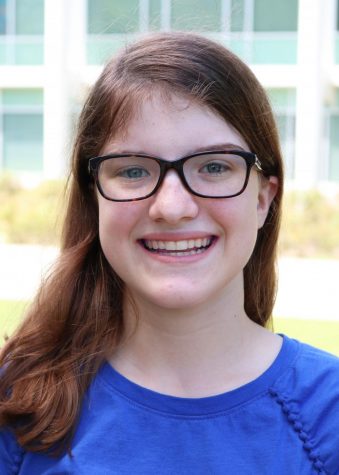 Catherine Cossaboom, Staff writer
Catherine Cossaboom is a junior staff writer. When she's not writing articles, she enjoys leading the CCHS math team, running cross-country, and playing the flute and piano. This is her second year on the staff.