Lacrosse Team Welcomes Newbies to the New Season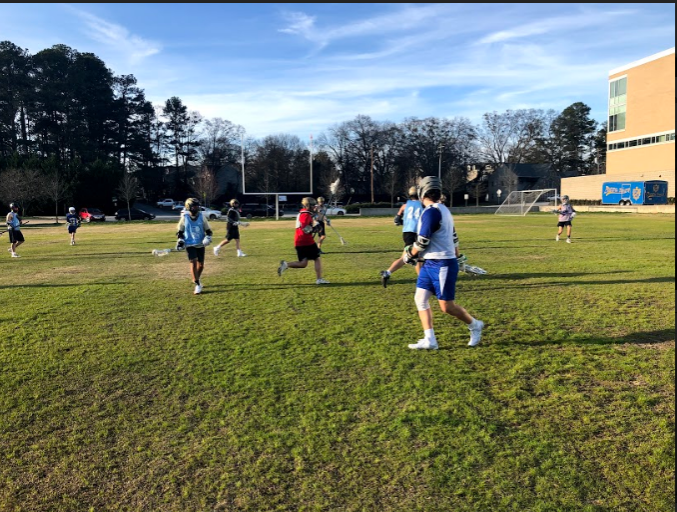 Watch out, future opponents! The Chamblee Charter High School lax teams will not be re-lax-ed.
Lax, short for lacrosse, is a spring season sport with both a girls' and boys' team. Although it is relatively new at Chamblee, the sport has already made an impact on the players' lives and many look forward to a new season.
For girls' team player Madalyn Klaja, the season is already shaping up to look promising.
"I feel like we're going to do really good this season because we have a lot of new people that are very energetic and devoted to it," said Klaja.
The teams have both received an influx of new players and hope to lead them to a successful season.
"We have a lot more freshmen this year, which is really good because we … [didn't have] any underclassmen last year, and we have mostly underclassmen this year," said senior Jake Thompson.
Senior Davis Cooke emphasizes that those that have experience will take on the responsibility of running the team.
"We're looking to be mostly senior-led this year," said Cooke.
The girls' coach, world history teacher Theresa Abernathy, sees a similar trend on the girls' team.
"We have a lot more experienced girls now," said Abernathy. "We're still building experience, more than anything. This year, we still have some new people, but almost everybody returning on varsity has playing experience."
The new players joined for a variety of reasons.
"My mom wanted me to try it … so I thought maybe to try something new," said Lily Moss.
Klaja, a freshman, initially joined the team in eighth grade and played on junior varsity.
"I started playing lacrosse because I thought it was fun and my friends were doing it," said Klaja.
Hawanatu Kamara uses lacrosse as catharsis.
"I like how aggressive it is because I've been going through a lot, so it helps me a lot," said Kamara.
So far, the newcomers have found a welcoming and encouraging atmosphere.
"They're [the team] all really nice and they help you if they're having trouble and it's overall just a great team," said Moss.
Senior Jamie O'Melia is able to compare the team with previous seasons and is optimistic.
"In past years, we've been really divided and just haven't been a team," said O'Melia.  "This year, I think we're going to be all together."
Abernathy is also proud of how the team has clicked socially.
"I think the girls have a good attitude. I think they're optimistic about the season," said Abernathy.
The boys echo this sentiment.
"The team this year is very excited, mostly to learn and see how good we can get by the end of the season," said Cooke. "We're a close group this year and I think that will help us to learn and grow as a team."
Senior Cody Shaw sees everything as a balance.
"We jokingly have fun, but we also do what we have to do," said Shaw.
When determining the team rosters, the girl's coaches decided to take a different approach from previous years, by spreading out the experienced players on both varsity and junior varsity.
"I tried to schedule [games against] teams that were more equitable to our talents [as well]," said Abernathy.
Abernathy hopes her new players learn skills outside of the game basics like throwing and catching.
"Probably just game procedures," said Abernathy. "They know how to catch and do the fundamentals, but then they've got to apply it in a game situation."
Their main opponents are from high schools around Atlanta.
"[In] region games, we play Marist and Saint Pius and Decatur and Druid Hills and Southwest DeKalb," said Abernathy.
Not all of the opponents they are going to face are on the same skill level.
"Obviously, it's hard with Pius and Marist — they're tough. Decatur's good too," said Abernathy. "We're about mid-level right now in the conference, so it's still tough playing these teams."
One of the hurdles they must cross is developing strategies.
"We're still such a young team," said Abernathy. "We [have] some strategies as far as just trying to keep the ball away from the opponent. We don't really run official plays."
It can be especially difficult for games when playing a private school.
"It's hard, when you're playing Marist, to run a play," said Abernathy. "Really, it's just taking it down, trying to score and then trying to keep them from scoring."
O'Melia has one game particular in mind that she is looking forward to.
"I hope, and I think we should, finally beat Dunwoody for the first time ever," said O'Melia, though she has yet to see what Dunwoody's team looks like.
O'Melia also has some personal goals, especially since she is a senior and this is her last season.
"This year, I'm back. Last year, I had torn an ACL, so I didn't play, so we didn't have a goalie," said O'Melia. "Making it to the end, not getting hurt … that's been an issue."
Additionally, she has her sights set on playing for a collegiate team.
"I hope to get recruited … make it college and get to play, so hopefully that happens," said O'Melia.
Thompson is also interested in carrying lacrosse into his future.
"The University of Georgia has a club team and I might try out for it," said Thompson.
For now, though, all the players on the lacrosse team are eager for the season to come.
"Everyone gets along, everyone is just trying to make everyone else get better," said Thompson.
O'Melia agrees that the atmosphere is positive.
"All the girls seem so happy," said O'Melia. "Everyone's really happy to come to practice. People don't have excuses, and when Coach tells us what we're supposed to, we just do it and it's a really good time. It's fun."
About the Contributor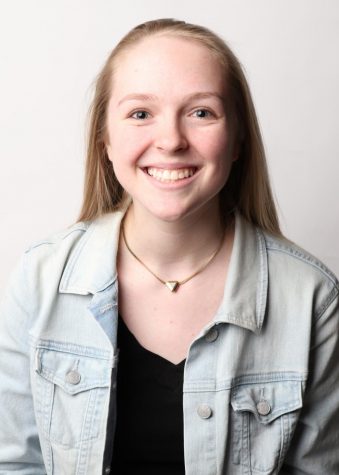 Hope Williams, Staff writer
Hope Williams is a senior staff writer. When she's not churning out articles, you can find her playing with her cats or going on a hike. This is her second year on the staff.