County Success Propels Bullsharks to State
Hang on for a minute...we're trying to find some more stories you might like.
Chamblee Charter High School's swim and dive team, the Bullsharks, is swimming their way to state.
On January 25 and 26, the DeKalb County swim and dive meets were held in the Chamblee natatorium. At the meet, the girls' swim team placed first overall and the boys' swim team placed third, sending both teams to the state meet.
Several members of the dive team will be competing again at the state-level meet. For the boys' dive team, sophomore Andrew Stowe placed second and senior Max Stephens placed third. For the girls' team, seniors Emi McCollum and Rachel Jordan qualified for state, placing third and sixth, respectively.
"To qualify for state, you have to get a total of 200 points in a six-dive meet, and a total of 300 points in a 11-dive meet. Most meets are six-dive while we had about four 11-dive meets this past season," said senior diver Max Stephens. "The competition varied for each team. There were some schools who didn't have any divers, and some like Lakeside, who [has] a kid committed to Georgia Tech on a dive scholarship."
On Friday, February 8, at the Georgia Tech natatorium, CCHS swimmers will be preparing to swim against the most competitive members of the most impressive teams in the state.
"State is different than most meets because there's a lot more pressure to do well. Also, it's just a different environment than most meets cause there are so many more swimmers and coaches around you," said sophomore Stephanie Lynch, one of the Bullsharks who will be swimming at state.
The upcoming state meet is a prime opportunity for relay teams to prove that they have what it takes to show up and win. The Bullsharks have high hopes for their teams competing in the medley relay, in which each swimmer performs a different stroke. The boys' group, consisting of Tyler Trocchi, Louis Cardot, Theo Hardy, Aaron Boyer, and Will Decker, is a contender to win their race, and the girls' relay is also aiming for a first-place finish.
"For the girls, the stakes are high for a top five finish. For the first time we have some depth with the additions of some talented freshmen led by Kyla Maloney," said Chamblee's head swim coach, Lori Reynolds. "Jade Foelske hopes to become the first four year gold medal winner in the fly, and our medley relay of Kyla Maloney, Teresa Maloney, Jade Foelske, and Sophie Bell hope to win the gold as well."
About the Writer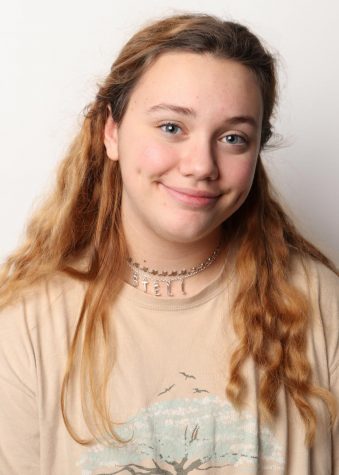 Stella Garrett, Staff writer
Stella Garrett is a sophomore and staff writer. Outside of journalism, she likes thrifting, taking naps, and listening to music. This is her first year on the staff.