A Chamblee Students' Guide to Applying to Art School
Hang on for a minute...we're trying to find some more stories you might like.
This article is part of a series on college life for CCHS alumni. The other stories can be viewed here.
With the college admissions process nearing its end, seniors can take a step back from months of writing essays, giving interviews, and completing applications. For a select few, however, this time was devoted to navigating the art school applications process. From the insight of current applicants, alumni, teachers, and admissions officers, the Blue & Gold has put together this guide in order to shed some light on the unique requirements of the art school admissions process. 
The Portfolio
A process that is equal parts demanding and rewarding, submitting a portfolio is arguably a deciding factor for the majority of art schools.
"Your grades and test scores are important [in your application], but the portion that is the most stressful is creating a portfolio of work that you can use to get in," said Chamblee alum and School of the Art Institute of Chicago (SAIC) student Todd Barrera-Disler. "The burden that most students place upon themselves to get incredible grades is lessened, but balanced by the stress of putting out consistent and quality work."
Although portfolio submissions are generally expected from applicants, portfolio requirements and expectations do vary from school to school.
"Sometimes, some schools have more esoteric portfolio requirements, like life drawings or renderings of particular objects," said Barrera-Disler.
One of these schools is the Rhode Island School of Design, or RISD. Known as "The Assignment," RISD will give applicants three intentionally vague prompts, where they will have to choose one to make two pieces from. This year's prompts were error, verify, and forge.
"Schools like [RISD] will give you actual assignments to do for their admissions process," said art teacher Mattie Bell. "But for the portfolio, it's usually around 20 images, I would say, sort of like a breadth of your skill but also showing that you're creating art that's unique and with a personal vision."
Chamblee alum and University of the Arts student Georgia Wescott had a more systematic approach. As a photographer, she divided her portfolio into two parts in order to maintain a balance between technique and creativity.
"I submitted mostly portraits. I tried to display my technical skills as well as creative images," said Wescott. "I definitely recommend [to] do like a 60/40 in relation to what you submit, 60% creative and 40% technical."
Although applicants are encouraged to be creative, there are some portfolio elements that art schools discourage. In a 2017 admissions presentation uploaded to YouTube, RISD Assistant Admissions Director Antonio Peters addresses this:  
"Avoid artwork done from photograph, major focused portfolios, fan art, anime,… [and] master copies," said Peters. "No film scripts or architecture CAD drawings. We want to see architecture done from life."
Peters also stressed the importance of documenting the process behind art in the portfolio.
"In one 'image,' you can have three pictures, and that would be considered one project," said Peters. "You can show process in your portfolio [this way]. We like to see what journey you took to get to that finished piece… You do not have to show a process for each image."
If an art school partners with the Common App, portfolios are submitted online through a website known as SlideRoom. Senior and SAIC applicant Sawyer Lawrence recounts submitting a mixed painting and photography portfolio through the website.
"[You] have to go into SlideRoom and make an account, and they had a section for your artist statement, which is about your portfolio," said Lawrence. "[Then] it was 15 to 20 images of what I consider my best work."
For students that are having trouble getting started, RISD Professor Clara Lieu describes some staples that a good portfolio should include in her blog.
"Create work from direct observation. […] Just doing this one directive will distinguish your work from the crowd and put you light years ahead of other students," said Lieu. "Include drawings, paintings, sculptures, mixed media, digital media, printmaking, or anything else that you've had experience with."
In addition to this, Lieu says that when judging portfolios, art schools tend to focus on the expression behind a piece.
"Drawing is not about just copying a photograph as accurately as possible; we now have cameras that can do this instantly with incredibly precision and quality. Ask yourself what you can express with your drawing that a camera would not be capable of producing by itself," said Lieu. "[Admissions officers] want to see that you are able to express an opinion, a narrative, a mood, an emotion, perhaps a political statement even, etc."
As one final piece of advice, Barrera-Disler highlights the importance of individuality in a portfolio.
"You don't need technically perfect work, but rather an exploration of depth within ideas," said Barrera-Disler. "Stray away from copying work that others make and explore your ideas. Realism is not the highest form of art, and expand your work rather than necessarily specializing."
Portfolio Day
Once high school artists complete their portfolios, they have a chance to attend a portfolio day, where they can receive critique from admissions officers prior to submission.
"The whole idea of a portfolio day is to conglomerate school representatives to get portfolio reviews from multiple sources to improve your body of work before you submit it to the school you're applying to," said Barrera-Disler.
Portfolio days do not only offer opportunities for portfolio improvement; they also are a way for students to find art schools they want to apply to. Through the November 17 National Portfolio Day in Atlanta, senior Olivia Brant-Krenek was introduced to the school she plans to attend this fall: Watkins College of Art in Nashville, Tennessee.
"I actually met the vice president of [Watkins] while I was at the portfolio day," said Brant-Krenek. "She stayed in contact with me, and [that] made the application process ridiculously simple."
Schools will often award perks to those with exceptional portfolios at portfolio day. During her senior year portfolio day, Wescott experienced this with the University of the Arts in Philadelphia.
"I met with [the admissions officers] and showed them my work," said Wescott. "They really liked it, so they waved my application fee and the need for me to submit another portfolio."
As for the actual portfolio day, it is a free event that is open to the public on a first come first served basis.
"Every grade level in high school can go to [a portfolio day]," Brant-Krenek said. "You bring your portfolio with you. It can be digital, [or] it can be physical. […] They have about 50 schools there, and you just jump from place to place."
But like all convention-style events, portfolio day is not exempt from large crowds or chaos.
"Some of the lines get really long," said Brant-Krenek. "[Therefore], I recommend checking out the smaller schools because they don't get as much popularity, but they tend to be really good."
Because lines tend to be longer for popular schools, Barrera-Disler recommends finding ways to get reviewed by them in a different way.
"Going to first party meetups for more popular schools is almost necessary to get a review before the submission of your portfolio," he said.
For a more local option, Chamblee's art teachers are also open to reviewing student work, specifically art teacher Lisa Guyton.
"We work together [with students] and sort of discuss what are the stronger pieces and what are the weaker pieces," said Guyton. "If you have 15 pieces and three of them are really weak, then you'd be better off putting in 12 pieces. [We help in] culling it down to your best work."
The Artist Statement
As a supplement to the portfolio, art schools also look for an original artist statement from applicants. Although many art schools, like traditional universities, have applicants write additional essays, the artist statement holds a position of special importance. Essentially, it is a written representation of the artist's work.
"An artist statement is the thesis of your practice: an explanation of the formal aspects of your work and the conceptual ideas put forward by your work," said Barrera-Disler. "So how you make art, and then why."
Despite the process appearing straight-forward, writing a compelling artist statement can still pose challenges.
"An artist statement is not the easiest thing to do because you're still developing as a person," said Guyton. "As a student, you're often just doing things that a teacher requires you to do."
In order to overcome this challenge, Guyton suggests that students do a little soul searching prior to composing the statement.
"If you really like to draw people or portraits, then you could talk about going and doing more portraits," said Guyton. "Think about what it is that motivates you as an artist and what you like to work on aside from what the teachers are requiring you to do."
Final Thoughts
Senior Stella Demer maintains that while an art school application still includes the essays, interviews, and teacher recommendations that other colleges require, there is an added layer of difficulty to the process.     
"It just goes farther past having to write essays and focusing on what your grades are," said Demer. "It's so much of thinking about what schools are going to want to see from you and your art. Since it's so subjective, how are you supposed to judge your standing compared to others?"
Demer, who applied to SAIC, Pratt Institute, Rochester Institute of Technology, and both art departments at the University of Georgia and Georgia State, was originally considering schools like RISD and Parsons School of Design. From her original 12 choices, Demer ended up applying to five schools.
"I decided to not apply to RISD because I felt like it was going to be too hard. When I talked to an admissions officer, they were very harsh. […] [I thought that] maybe I needed to go somewhere that is a little more on level," said Demer. "When I talked to the admissions officer at Parsons […] they were so focused on their conceptual work [rather than technical skill]. I thought that if I'm going to be doing a design-based major, I don't know if I really want to go to a college where so much of their school philosophy is based on the ideas and not the actual technique of making it."
For choosing schools, Demer also suggests that applicants only consider colleges that they feel motivated to apply to.
"Thinking about going into a college that you really love and that you love to attend, it just gets you really excited about wanting to do your application. While it's stressful, you do want to put in the work, and you do want to give your best effort," said Demer. "I would find that if I wasn't really doing that, perhaps I didn't really feel passionate enough about [attending the school]."
Meanwhile, art school hopefuls can do a number of things to prepare themselves before applications.
"My goal is for when students are applying to art school to have experienced as many types of art as possible," said Bell. "If I can have already exposed [students] to all of those types of art and if they already have a foundation in that, it's going to make their life much easier with getting into the groove of college. […] The best way to prepare yourself is to have a good foundation."
Once students do establish a solid foundation, Brant-Krenek and Demer both suggest that students immerse themselves in the artistic world early.
"If [going to art school] is a path you want to take, decide on it as early as possible," said Demer.
Brant-Krenek additionally highlighted the importance of competition, specifically through the Scholastic Art and Writing Awards.
"Try to enter in the Scholastic Art Competition," said Brant-Krenek. "I got a $6000 dollar scholarship from there. […] If you can get a Gold Key or a Silver Key, which is first or second place, it's really useful. […] If you win a Scholastic [Award], you have a very big chance of getting into SCAD."
As a final takeaway, Guyton emphasized the importance of overcoming artistic limits as part of the art school applications process.
"[Try] to show more than one aspect of your interest. […] So many people are now taking their work and making them into videos or animating their drawings," said Guyton. "[In terms of art], the world has become very overlapping. Don't be afraid to diversify."
About the Writer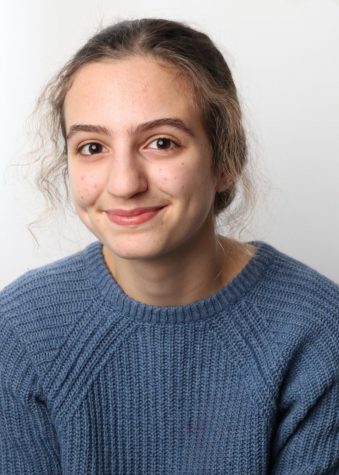 Iris Tsouris, Staff writer
Iris Tsouris is a sophomore and staff writer. Outside of the paper, she likes drawing, playing the piano, and eating pasta. This is her first year on the staff.