ThesCon Puts Spotlight On High School Theater
Hang on for a minute...we're trying to find some more stories you might like.
While the Chamblee Charter High School community eagerly awaits the yearly musical production, another exciting event on the musical theater calendar took place in early February. ThesCon is an annual event that takes place in Columbus, Georgia.
"ThesCon is the statewide convention of all of the Georgia high school members of the International Thespian Society, which is basically an international club for actors and just anyone who's involved in theater in any way," said senior Blair Varney.
Although the attendees may range in skill level, age, and interest, they share one goal.
"We all came together to celebrate theater," said Varney.
The conference is split into several types of events.
"Generally, it's broken up into a few events," said junior Benjamin Harding. "They have shows that you can go see from other troupes. They have a lot of workshops, which are done by locals or sometimes professionals from New York or other parts of the country, or even world."
The workshops educate fledging thespians on a variety of topics.
"They have workshops for basically any aspect of theater you can imagine," said Varney. "They had makeup demos and on-camera workshops and like lectures about the difference between working on camera and working on stage, and monologue workshops and technical workshops and directing and marketing yourself as an actor."
Varney's experience taught her skills that will benefit her career in the future.
"I went to a workshop that talked about headshots and resumes and so I'm able to go back and refine mine and really see what I want to do, and I went to a monologue workshop, where I brushed up a monologue that I'm using for a college scholarship audition," said Varney, "So all of the stuff that I've learned is really applicable to just the day to day jobs of an actor."
Senior Natalia Carlson had a few workshops that she also enjoyed in particular.
"The first night I took an introduction to lighting class," said Carlson. "… The other days I took a set design class where we learned how to go through the script and successfully take out all the parts and cues that we need to build into the set. It was a really interesting class."
Some workshops, though, are just for fun.
"I went to a few minutes of a 'Dance Like Beyonce' class," said Carlson.
Besides workshops, there are performances from troupes of high schoolers in musical theater.
"My favorite part of ThesCon is most definitely going to see the shows," said Carlson. "Schools from all over Georgia get to perform one act shows for the other students there, and they are always amazing. It is so much fun to go see other high school students perform in professional level productions."
Finally, there are Individual Events (IEs), which Chamblee participated in multiple of.
"Individual Events are basically, they're where either a solo or a group of people, and they don't have to be from the same troupe, they get to perform something that they want to by themselves and they get ranked on the that from judges for ThesCon," said Harding.
The ranking process might be familiar to musicians.
"It's like the state evaluations for band or orchestra, where you get rated on a superior scale, and they just give you great feedback and it really helps give you practice performing in front of people and performing in front of strangers and having yourself evaluated in that way, so it's always super beneficial," said Varney.
This year, both Harding and Carlson got superior rankings for their IEs.
"I did a solo IE this year …. I chose a song from a musical and then I practiced starting in December of last year and I worked on it that song for ThesCon," said Harding. "It's pretty simple, it's just you perform the song and they rank you on certain characteristics like characterization or your vocal technique or your movement … but you just try to prepare something that you want to, and ultimately, individual events are really fun to do."
There are different kinds of IEs, including solo, group, and technical. As a solo performer, Harding was able to choose a musical piece that appealed to him.
"I did 'Donnie Novitski' from 'Bandstand,'" said Harding.
Carlson participated in a technical IE.
"For my Individual Event, I had to prepare a presentation about the lighting design I did for a show of my choice. I picked 'Theory of Relativity,' the show we performed last semester," said Carlson.
Unlike solo or group IEs, Carlson did not perform but instead had to explain her lighting to the judges.
"For my presentation, I created a board with photos from the production, as well as samples of the gels, colors, that I used, and a printed copy of my cue sheet," said Carlson. "I also presented a binder that had my script with all my notes and cues written in it, sketches that I had done of the lights, and a plot of our auditorium lights. I gave a short presentation and then the judges asked me questions about the show, how I worked with the other crew members, costumes, set, etcetera, and why I made the design choices that I did."
Earning a superior is no easy feat.
"In the state, out of 6,000 thespians, not all of them did IEs, but a lot of them did. There were roughly just under 40 people that got superiors, or around 40 to 50," said Harding.
Besides the IEs, there are smaller challenges, including one that Carlson, Abby Starr, Clara NeSmith, and Jeremy Carlson participated in called the Tech Challenge.
"A group of four students competes against other schools in different tasks. This is the first year that we participated, so we were in a little over our heads. It was still super fun," said Carlson. "We had to leg a platform, fold a drop, change a prop table, tie knots, hang a light, and change a costume."
Looking forward, both Carlson and Varney are graduating, so this was their last ThesCon. Varney, however, has huge plans for the future.
"I hope to double major in theater and business, so I can one day run a theater myself," said Varney.
Harding has one more ThesCon to attend.
"I had a great time doing an individual event this year and look forward to next year," said Harding. "… They're really fun to do. It's a great experience. It really encapsulates the spirit of ThesCon overall."
About the Writer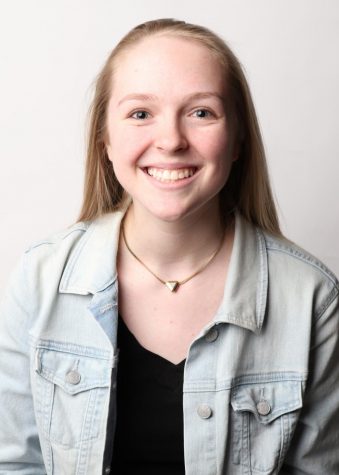 Hope Williams, Staff writer
Hope Williams is a senior staff writer. When she's not churning out articles, you can find her playing with her cats or going on a hike. This is her second year on the staff.