MLK Day Service Brings Light and Hope to CCHS Participants
Hang on for a minute...we're trying to find some more stories you might like.
On January 21, MLK Day was celebrated around the country. As Martin Luther King Jr's hometown, Atlanta held one of the most important events, The Martin Luther King Jr. Annual Commemorative Service, at Ebenezer Baptist Church, where King served as a pastor for almost 30 years.
There were many influential speakers present, including Bryan Stevenson, founder of the Equal Justice Initiative in Montgomery, Alabama, and King's youngest daughter, Dr. Bernice King. Two Chamblee Charter High School students, junior Phoenix Rosso, and senior Rubaiyat "Ruby" Shopon, also took part in the event. They, along with 12 other high school and college students across Atlanta, recited portions of the "I Have a Dream" speech.
"[The program] helped us have a voice and helped us have the strength and the power to feel the speech," said Shopon. "It was a wonderful eye-opening experience and it helped me see many things that I didn't and… understand the speech a little more."
The event reached a large audience.
"The event was broadcast on Fox 5 and live on Facebook," said Rosso. "For the attendance, I'd estimate at least 200 people there."
Shopon also noticed the size of the crowd.
"The audience was very big," said Shopon. "Each row was filled from the top balcony to the bottom of the church."
Preparing for the event required a lot of time and dedication.
"We practiced a lot and it required us to go to rehearsals on Tuesdays, Thursdays, and Saturdays," said Shopon. "The rehearsals were very on-time and strict because this was live TV and it required us to know our scripts and what we were supposed to say."
Rosso found that the rehearsals, which began in mid-December, became less stressful over time.
"The rehearsals were about two to three hours each," said Rosso. "At times, they were really frustrating and nerve-wracking, but near the actual performance, they got a lot less stressful and [calmer]."
Shopon found out about the program through her mentor, who knew Ms. Connie, the director of the program. Shopon's role in the nonprofit organization, CAT (Community Action for Teens), also helped with the selection process.
"I personally was selected by my mentor," said Shopon. "I believe he had some kind of contact with Ms. Connie and I believe that's how he was able to get a hold of her. I also volunteer for a nonprofit organization. They give a lot of opportunities for teenagers like us to volunteer and help our community."
Rosso also participated in the application process.
"My mom submitted my name and I had to do an over-the-phone interview to be selected," said Rosso.
Many of the guest speakers had an impact on Rosso.
"There were a lot of other speakers," said Rosso. "I can't remember exactly what was said by each individual, but Lucy McBath was there and what she said and how she said it was really impactful."
Shopon was inspired by the originality of their words and the stories they conveyed.
"Their speeches were a piece of them, so their portion of the speech gave me a vibe of their energy and also showed me the true meaning of each individual's American dream," said Shopon.
Rosso sees the importance and reasoning for reciting a speech that remains relevant today.
"We were trying to connect the speech and what it was saying in the 1960s and the Civil Rights movement to what's happening today," said Rosso.
Shopon was empowered by the speech to advocate for herself, her family, and the people around her.
"[The speech] shows me that I have a voice and it's very meaningful to me because many people in my parent's home country [Bangladesh] don't have a voice because it's such a little country," said Shopon. "Being able to recite part of the speech shows me that I can do stuff for my country and I can speak for the people. It shows me that… I have freedom of speech and I can use that to help other people."
Rosso sees the importance of the speech in the future of our often-polarized world.
"As a person at the intersection of so many minorities, it was really important and meaningful to me because it brought a lot of hope for our generation [and those] after us for a brighter and more tolerant future," said Rosso.
About the Writer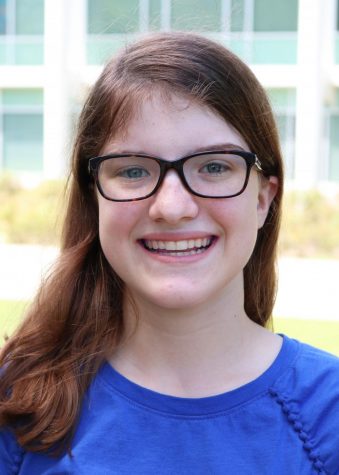 Catherine Cossaboom, Staff writer
Catherine Cossaboom is a junior staff writer. When she's not writing articles, she enjoys leading the CCHS math team, running cross-country, and playing the flute and piano. This is her second year on the staff.