Band Students Bring CCHS to District Stage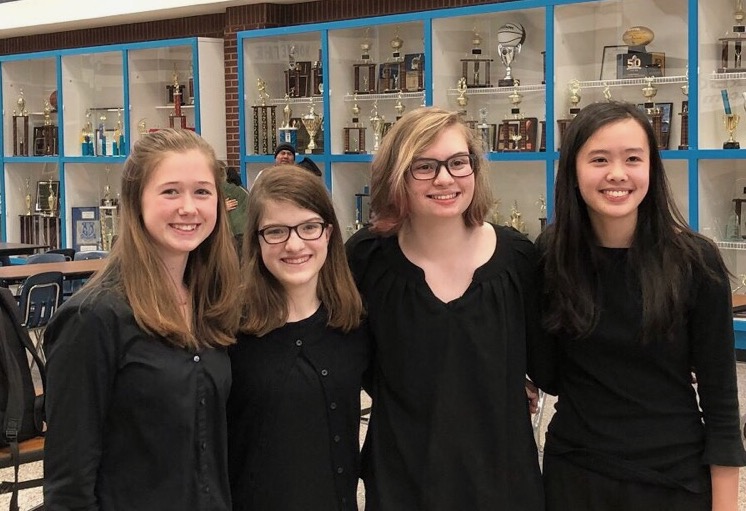 Learning four brand-new pieces of music in 48 hours surrounded by complete strangers — surely that must be an unrealistic goal.
For a small group of band students at Chamblee Charter High School, this was a goal they achieved on the weekend of February 8 through 9. They participated in the District 4 Honor Band, sponsored by the Georgia Music Educators Association (GMEA).
District Honor Band is a part of the All-State program for students in middle and high school who want to participate in music education outside of the school.
"Basically, everyone from our district, which I believe is District 4, if you auditioned for All-State and you get a high enough score in your instrument, you can go to the district honor band, which is about 80 students from our district," said senior and flute player Camille Becker.
The audition process for All-State has two steps. The first is the district audition, in which auditioners can qualify for both the honor band and moving on to the second round. The second is the state audition which determines who qualifies for the statewide band.
"It [the process] begins in August and that's when you get etudes and you have until December and that's your audition day and you just play it and you have sight reading and scales too and then they score however you played and then they tell you if you got in or you didn't," said sophomore and flute player Megan Woo.
Every musician uses a different method for preparing for the audition.  
"I personally took private lessons because I wanted to get in," said sophomore and trumpet player Brady Cossaboom.
Fellow trumpet player and freshman Adam Brock has advice for people auditioning for the first time.
"You're going to want to practice the etude more than you need to and also, if you can, practice sight reading, because that's one of the hardest parts, especially for the all-state audition, because a lot of people don't do it very often," said Brock.
After the audition process is finished, District Honor band takes place every year in the spring semester on a Friday and Saturday.
"[We] go and get four or five pieces and a guest conductor and we basically have to learn all of the pieces in about 48 hours and also have a concert," said Becker.
The two days are quite intense and involve lots of practice.
"We do all day Friday, it's like 10 hours of playing and then we have another three hours on Saturday and then we play the concert around [3 p.m.]," said Cossaboom.
For Cossaboom, the long period of time playing his instrument became painful.
"This is my second year with braces playing the trumpet, which is the second hardest instrument, next to French horn, to play with braces," said Cossaboom. "12 to 16 hours with braces isn't fun."
Brock echoes this sentiment. 
"In my case, it was a bit of a pain because I got braces, and when you're playing trumpet, they kind of mess up your embouchure," said Brock.
However, the exciting music makes up for the pain.
"This year we played four pieces," said Cossaboom. "We sight read the first three hours and then we went in-depth on each one."
Each piece has a different feel.
"My favorite piece was 'Our Castaways,' it was by Julie Giroux," said Woo. "It was kind of a slower piece and it was really good and it was really well written and it was a lot of fun to play."
Brock reveals its deeper meaning
"Apparently, it was supposed to be about animals that have been rescued,"  said Brock.
In fact, Giroux incorporated this into her score.
"In the score, the composer had asked for pictures of stray animals people had rescued, and it was like five pages long, which was really cool," said Brock.
Additionally, they played a march called "Cyrus the Great." The final two pieces were slightly different.
"Then we did two really fast ones, called 'Scramble' and there's like a technical one, percussion oriented, 'Undertow,'" said Cossaboom.
Brock also found 'Undertow' as a unique piece.
"The third piece was called 'Undertow', which was interesting because the measures, it was in 7/8 and then 4/4 and it was interesting because it was unbalanced," said Brock.
4/4 and 7/8 refer to the piece's time signature or beats per measure (period of time in music) written over which type of note receives the beat, whether it be a longer one or a short and fast one.
Brock, Cossaboom, and Woo all played in the ninth/tenth-grade band. Becker, however, played in the eleventh/twelfth band and thus, played different pieces of music.
"We […] played a song called 'Tight Squeeze,' which was interesting because it had a pre-recorded electronic track that we had to play along with," said Becker.
Their band also played a march and Latin-inspired piece.
The music was not the only part of the two days that was new for the musicians. Each band was lead by a special guest conductor from different schools in Georgia.
"He [our conductor] was from Lassiter High School," said Woo. "He was really good. He definitely, I think, he brought out the best in the band, because, in the beginning, we weren't playing very expressively and stuff, but he really got the style and everything and emotions out of us."
Additionally, the band was composed of musicians from several high schools in the metro Atlanta area, so students had to work with complete strangers.  
"It's kind of weird to be working on all this music around people that you've never met before, because normally you pretty much know who all the people [who] are at school, but with all of the new people, it's kind of more challenging, but it's kind of not because you're all around the same skill level," said Becker.
Playing with a new group of musicians can take time to adjust with a new sound.  
"The most challenging part was probably just playing in each ensemble is different and getting used to that ensemble and like, the balance of how loud, how much you need to play out, different dynamics like that," said Woo.
This challenge, though, leads to a valuable learning experience.
"There was a lot of kind of teamwork-related skills, because you're working with people that you probably don't know, and if you do know them, they're not close to you, so you're working around very different people, but you're all kind of striving towards the same goal," said Becker.
Looking into the future, Woo, Cossaboom, and Brock all plan on auditioning again next year.
"It's awesome, I've done it a few years now and it's always really cool," said Brock.
About the Contributor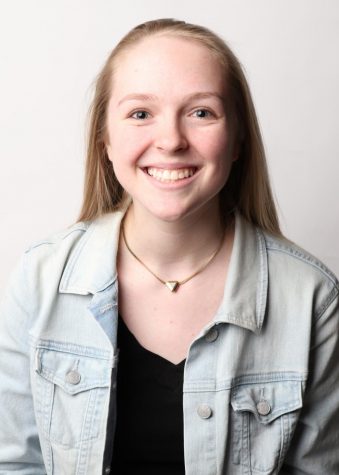 Hope Williams, Staff writer
Hope Williams is a senior staff writer. When she's not churning out articles, you can find her playing with her cats or going on a hike. This is her second year on the staff.